3-time Vegas champ Jim Furyk reminisces about wins, Ryder Cup
October 31, 2018 - 5:24 pm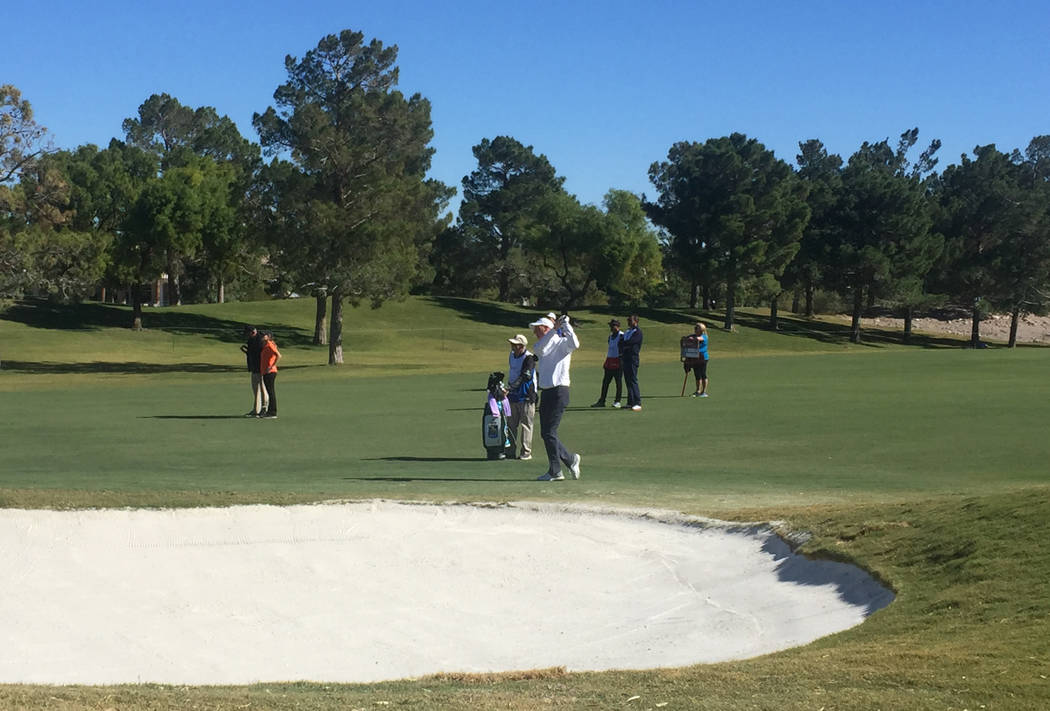 Jim Furyk, the 2018 U.S. Ryder Cup captain, had no idea he was the all-time leading money in Shriners Hospitals for Children Open history.
"Is that right?" Furyk said. "Las Vegas has always had a special place in my heart. Three of my first four wins were here. My very first win was here in 1995 and back then it was a five-round tournament. You feel like it should be over after four rounds, but you still have 18 more holes to play.
"Anytime you're trying to get over a hump or win your first event, it's as much a mental battle as it is a physical battle. Winning here showed me dreams do come true."
Furyk is playing in the Shriners Hospitals for Children Open for the first time since 2009 and has pocketed $2,129,619 in 14 appearances. He could have also won several more times. He finished tied for fifth in 1994, fourth in 2004, runner up in 2005 and tied for fourth in 2009.
This year could be a little different because Furyk has no idea where his game stands following a hectic two years as Ryder Cup captain. Expectations are low and Furyk said this week will be an "evaluation process for my game."
Moving forward off the course, Furyk will forever be known as a Ryder Cup captain. Despite the loss by the Americans to the Europeans, he is keeping everything in perspective.
"The players and team room dynamic are what comes to mind about the experience," Furyk said. "In some respect, you wish you could share more about what that room is like, but that's what is so fun about it. It's personal and has an intimate feel to it. I love those 12 players and the vice captains have been friends of mine for a long time. They will always be my 12 guys and I will root for them and pull for them. I enjoyed the process and poured my heart into it.
"When you take the job in any sport as captain or coach, you know you are going to get second guessed and we didn't win so, of course, that's going to happen. I am going to second guess myself as well. If that team would've gone out there and played their hearts out and won the Ryder Cup, I wouldn't deserve any credit. The first thing I said in the press room after was we all hoped for a different outcome, but ultimately I was the captain and I take the blame."
Rebel's Shriners cause
Recent UNLV graduate and All-American Shintaro Ban knows TPC Summerlin very well and said "stretches" are important.
UNLV All-American and 2018 graduate Shintaro Ban gears up for the @ShrinersOpen. pic.twitter.com/B4qrNt1f5D

— PGA TOUR (@PGATOUR) October 31, 2018
"There are a lot of (different) stretches of holes at Summerlin, like hole one starts off pretty easy, but then two through five are kind of tough," Ban said. "Once you come towards 10-13, that's tough again, but then coming in, there are going to be a lot of low scores."
Shriners Stars on, off course
Emily Jillette, wife of Penn Jillette of Penn and Teller fame, played the pro-am with Furyk.
The daily Shriners Open notebook is written by freelance writer Brian Hurlburt, a two-time author who has covered golf in Las Vegas for more than two decades. He can be reached at bhurlburt5@gmail.com or @LVGolfInsider.