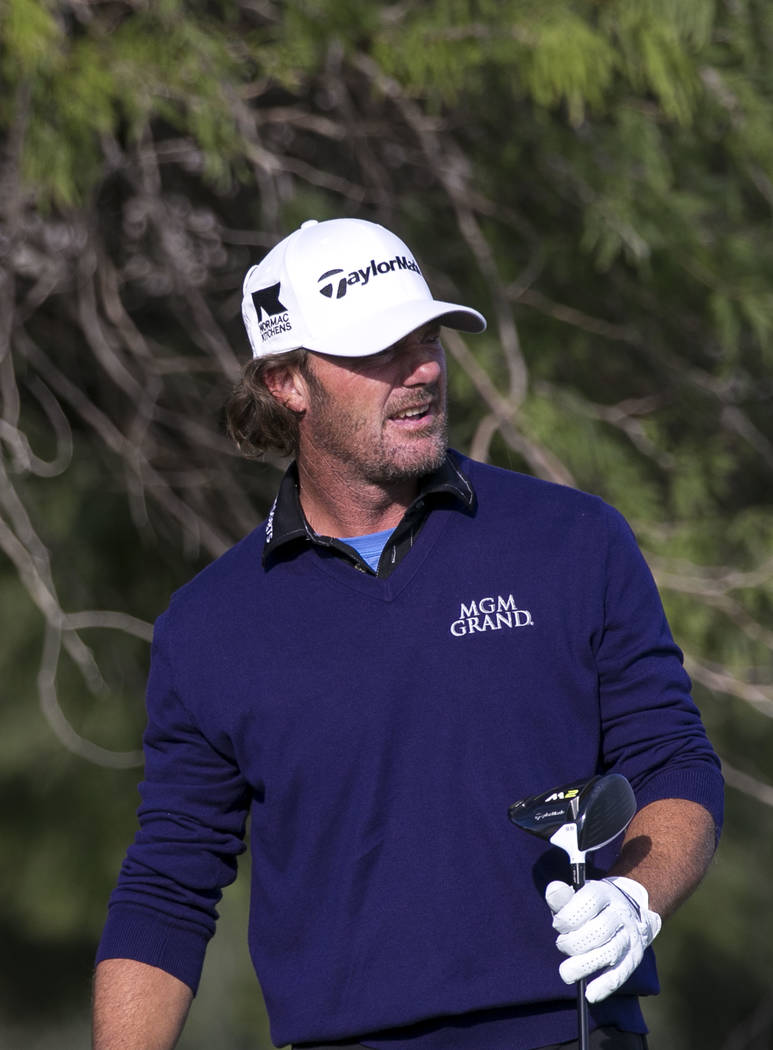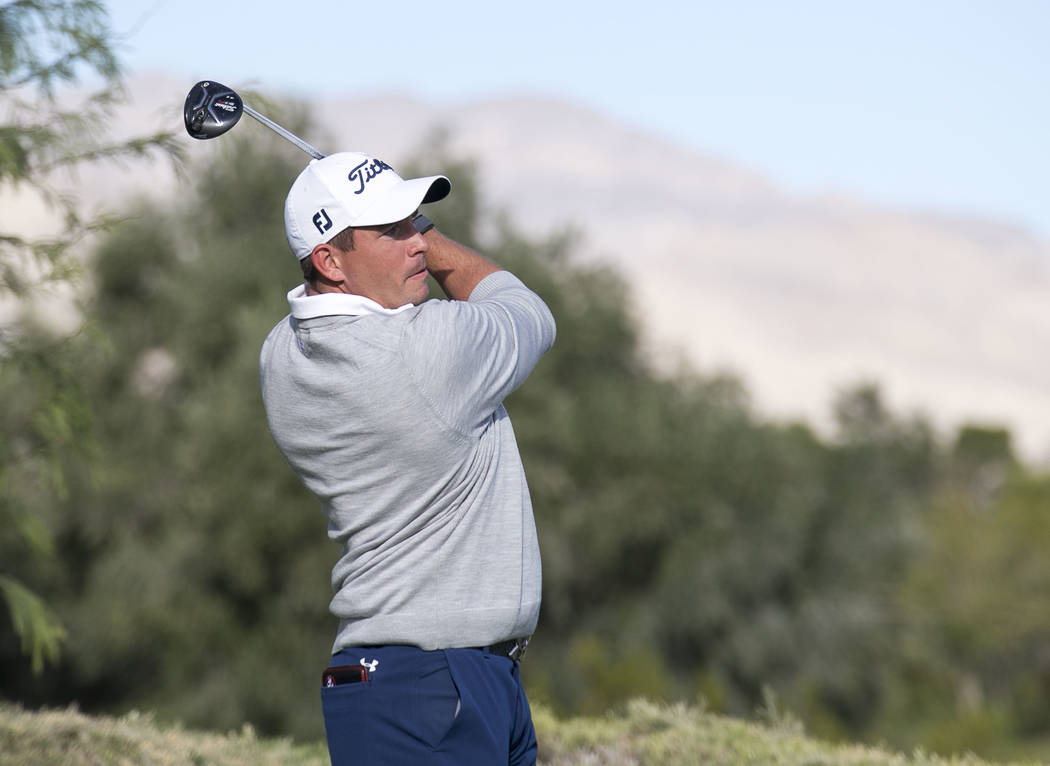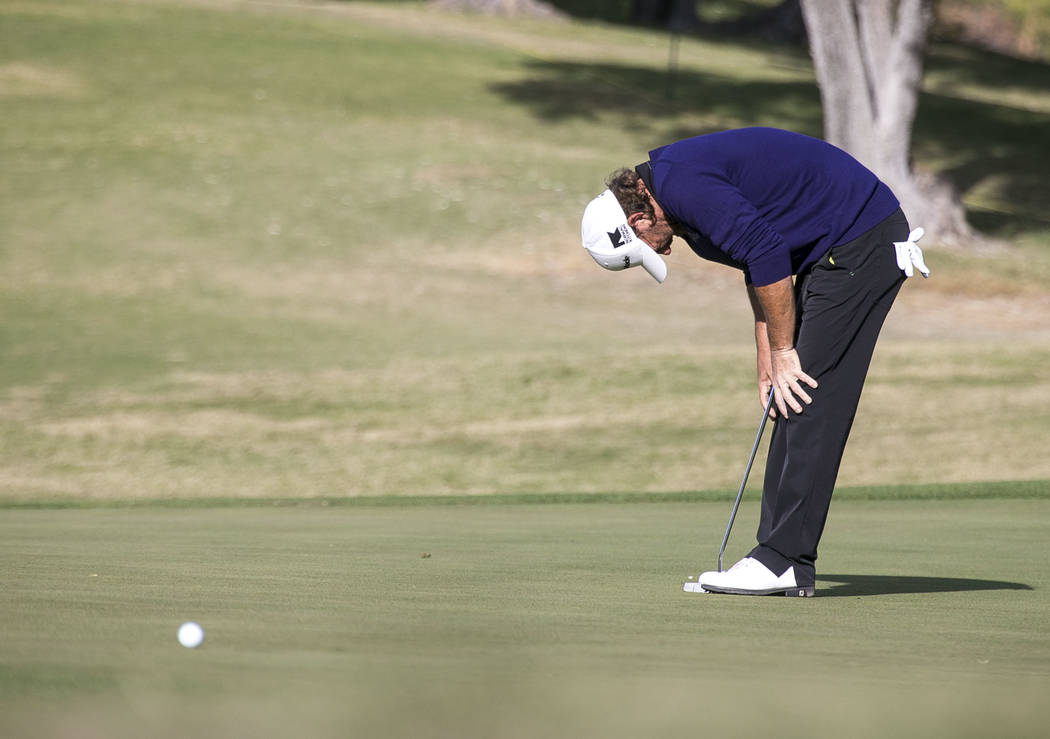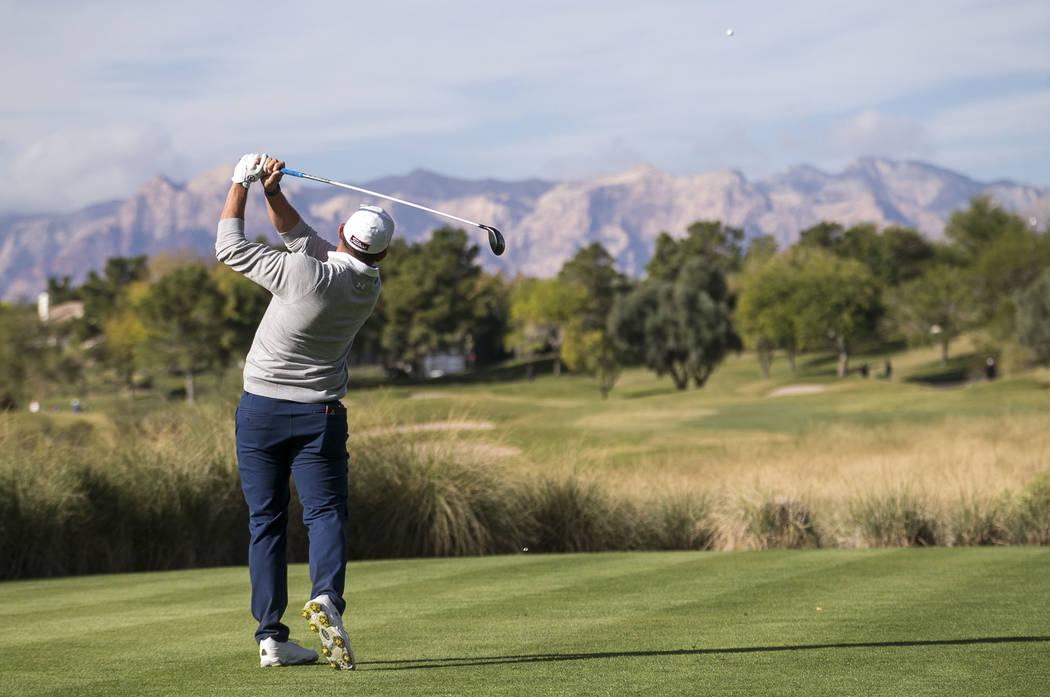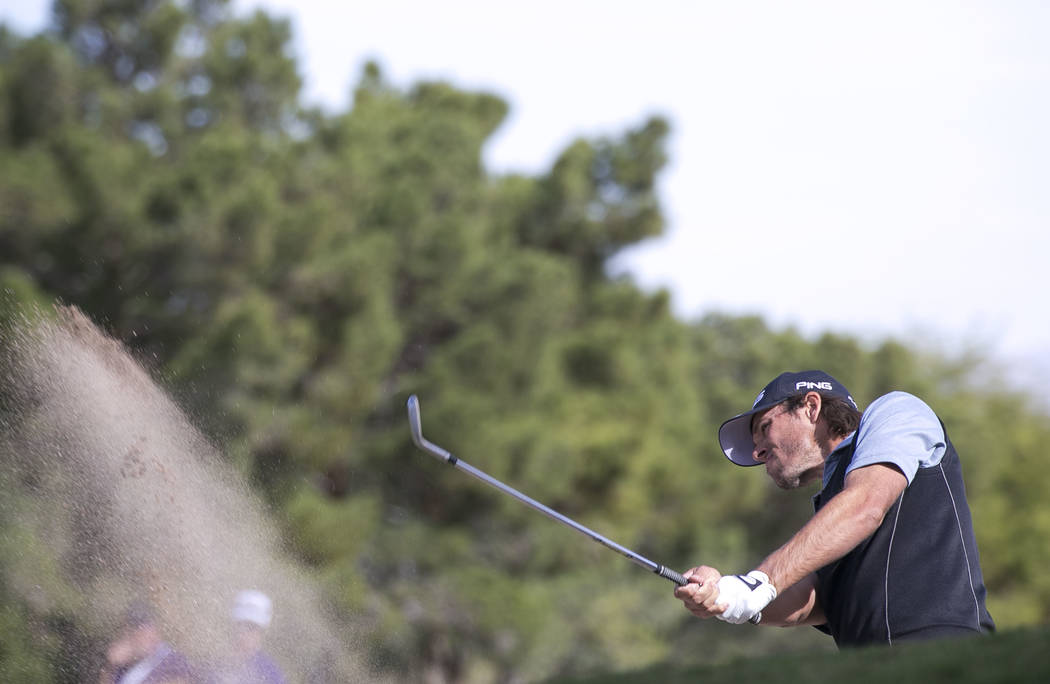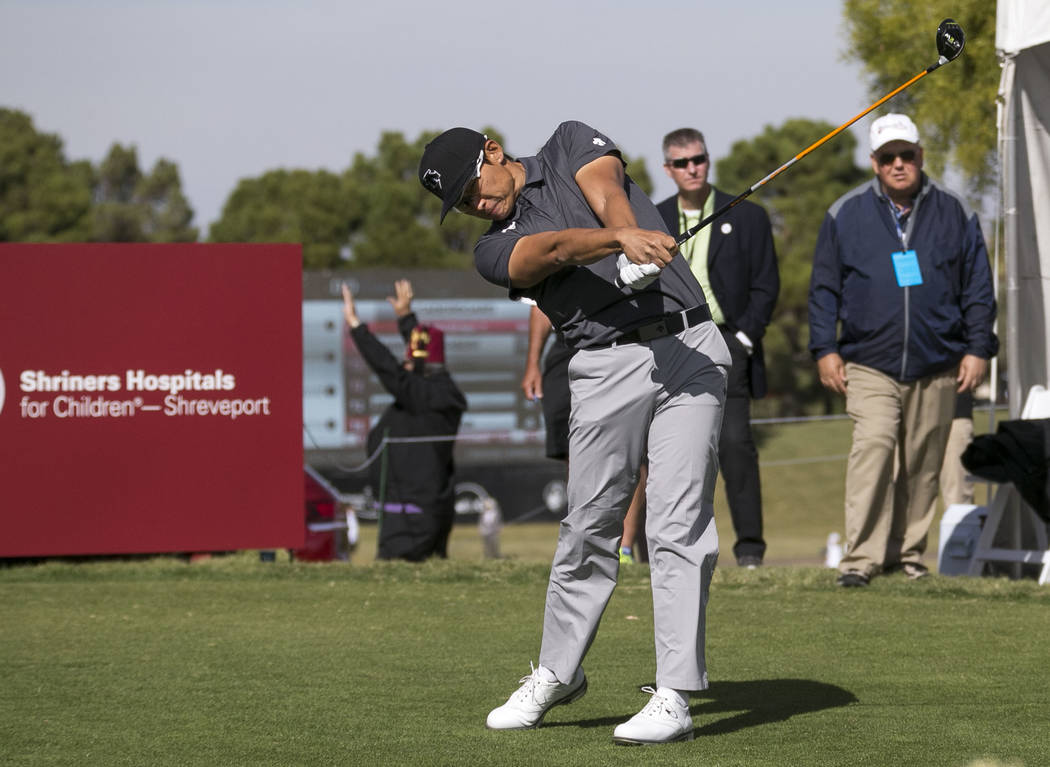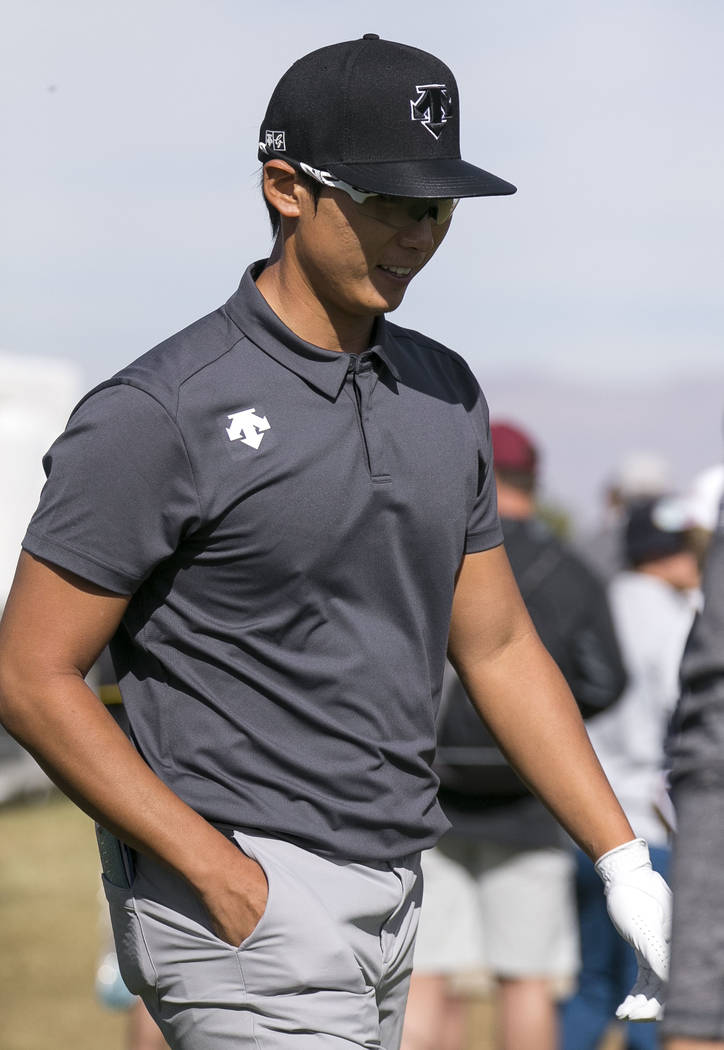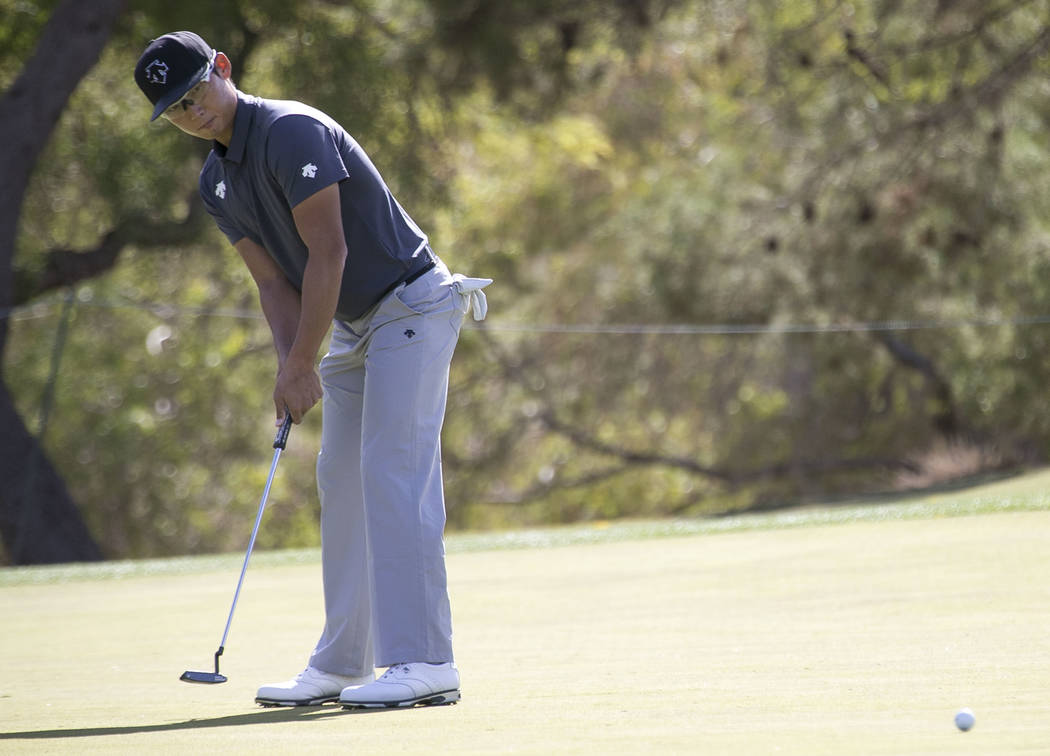 J.J. Spaun lists a few interesting personal details in his PGA Tour bio. He's Filipino, 27 years old and from Los Angeles. He plays guitar and played golf at San Diego State.
Oh, and he's a season-pass holder at Disneyland.
Still, outside the fairways of TPC Summerlin, not much more is known about Spaun, a tour rookie who appears ready for his breakout moment.
"It's time to step up if I want to do something big out here on tour and make a name for myself," Spaun said.
Spaun fired a 6-under-par 65 Friday amid winds that snapped flags and blew hard against tents during the second round of the Shriners Hospitals for Children Open. Add that to his opening 66, and the 5-foot-9-inch Spaun was at 11 under par and holding at least a three-stroke cushion.
His official lead will be determined Saturday morning because play was again called due to darkness at 5:48 p.m., this time with 28 players still on the course. Upon completion, the 36-hole cut will be made — it was projected to be at 1 over — and the third-round pairings announced.
Kelly Kraft was in second place at 8 under, but he still had three holes to play. He highlighted his round with an ace at the 174-yard fifth hole and was 4 under heading to the par-5 16th when the horn sounded.
He was followed by Robert Garrigus, who grabbed the early lead with a 6-under 65 that moved him to 7 under.
Garrigus, a 39-year-old from Nampa, Idaho, let out a quick laugh when asked about the windy conditions he no longer had to navigate. He wasn't wishing any ill will on his competitors, but he was clearly relieved his round was finished and predicted an afternoon struggle for the rest of the field.
"It's going to be pretty hard," said Garrigus, whose round included eight birdies and a double bogey. "It's going to get firm and nasty. I hope it doesn't blow too much that they have to take them off the course, but there's going to be a lot of high numbers."
Aaron Baddeley and Patton Kizzire each shot 66 and were tied for fourth at 6 under. Baddeley, who also played early Friday, didn't make a bogey and figured players faced a "two or three club wind" on some shots.
"It really brings out the good ball hitters and also the people who can be patient in this type of weather," he said.
Spaun certainly practiced what Baddeley preached. Spaun was steady off the tee and spectacular with his approach shots, hitting 16 of 18 greens Friday (31 of 36 for the tournament). He knocked down seven birdie putts and made only one bogey as he looks to author his first victory.
Spaun flirted with success most of this year, notching three top-10 finishes, including a tie for fourth in Phoenix. He took five weeks off during the summer because of a rib injury.
His game plan now is to shed his rookie label and finish the Shriners Open with a flourish.
"It's kind of like you need to grow up, you're not a rookie anymore," he said. "You feel like when you're a rookie, everything is stacked against you, you're getting your feet wet. Now it's time to actually go to work, put yourself in contention and try to get Ws out here and make a name for myself."
Contact Tom Spousta at tspousta@reviewjournal.com or 702-387-5205. Follow@TheRealTSpou on Twitter.