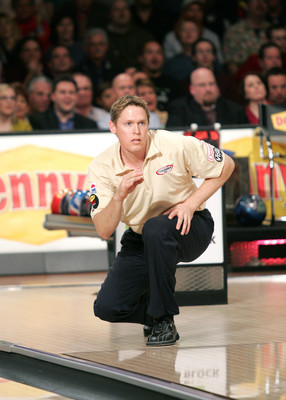 The No. 10 pin is the nemesis for many right-handed bowlers, but it shouldn't be for one of the sport's top professionals. For Chris Barnes, it's nearly always a "gimme."
But when his ninth-frame spare attempt fell into the right channel — perhaps six inches from its target — Michael Haugen Jr. couldn't wait to step onto the approach.
"You can't give me that," Haugen said. "You just can't.
Barnes' gaffe helped Haugen, a rangy right-hander, rally from a 52-pin deficit in the final four frames to beat Barnes, 215-214, in the PBA Tour Tournament of Champions on Sunday at Red Rock Lanes.
Haugen's second victory of the year — and his career — earned him $50,000 and a two-year Tour exemption. He also will be invited to play in the Tournament of Champions, one of the Tour's four majors, as long as he's a PBA member.
When Haugen lived in Las Vegas a few years ago, he was able to watch the final stages of construction on Red Rock Casino. But his championship performance Sunday began like an implosion.
Barnes struck in five of his first six frames while Haugen opened with splits in the second and fourth. Barnes led by 52 pins in the fifth and sixth frames, and it looked like Haugen would have to settle for second place and $25,000.
But he struck in the seventh and eighth before Barnes left the telltale corner pin.
"I never expected him to miss a 10-pin. (When) he missed that I knew I had a chance," Haugen said.
Haugen, bowling before Barnes, struck again in the ninth and twice in the 10th before closing with a nine-count.
Barnes — one of the sport's best spare shooters — could have won with a double and one pin in the 10th or forced overtime with a 20 total. But after leaving a 2-pin and converting the spare, he couldn't strike to force overtime.
"There's a lot of pressure and prestige in this event and you just want to make good shots and not embarrass yourself," said Haugen, who lives in Cave Creek, Ariz.
"I looked at the scoreboard around the seventh frame and knew if he didn't strike the rest of the way and I did, the most he could get was 220s and I could get to the 210s.
"I knew I could at least make him think about it. Anything can happen … but I never thought it would be a missed single pin."
Barnes had lost seven straight matches in televised finals before beating Ryan Shafer, 257-205, in the semifinals. Shafer advanced by beating Pete Weber, 215-213.
Haugen climbed to second in the PBA Player of the Year standings, trailing Walter Ray Williams Jr. by four points with eight events remaining.
In Sunday's PBA Tour Exempt Doubles finals, a missed spare in the 10th framed helped Michael Fagan and Danny Wiseman win the title. Joe Ciccone could have tied the game but opened in the last frame to place second with partner Ronnie Russell.
Contact reporter Jeff Wolf at jwolf@reviewjournal.com or (702) 383-0247.