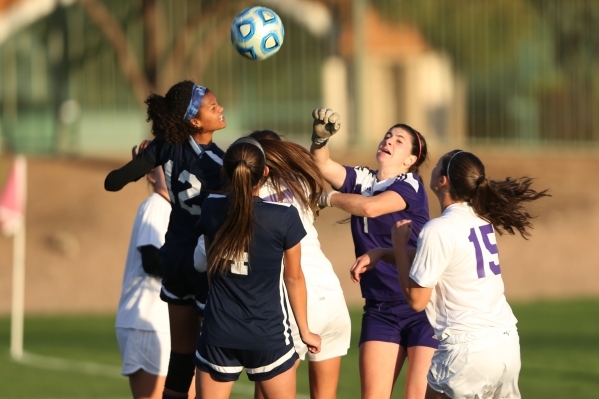 Doug Borgel is considered the soccer expert in town and doesn't mind answering questions about the sport.
Yet the board member of the Las Vegas Premier Sports Academy had more than his share of questions from concerned parents recently about headers possibly being banned in youth soccer.
The United States Soccer Federation announced last month it was prohibiting the use of headers in matches and practices of children 10 and under. In addition to the header ban, the guidelines will limit heading in practices for children between 11 and 13.
"They (parents) were angry toward the rule," said Borgel, who has coached soccer players of all ages the last 25 years. "Their official statement wasn't as crazy as people want it to be. It was more of a recommendation instead of a rule. We're not going to see a referee throw out an 8-year-old next week for using a header in a game."
Borgel, also the director of the boys' and girls' soccer teams at Bishop Gorman High, said parents are afraid that limiting the common move would dumb down the sport.
"Parents want their kids to learn the fundamentals early, and headers are a big part of it," Borgel said. "Everyone needs to relax. (The governing body) can't regulate the rules in local sports. They could with their national teams, but there's not much they can do at the local level."
The country's governing body made the announcement on Nov. 10 in a joint statement along with other soccer entities and the law firm Hagens Berman Sobol Shapiro LLP, which filed a class-action lawsuit last year against FIFA and others over what it deemed the sport's inadequate concussion protocol.
Borgel, a former UNLV men's soccer standout, is against the new proposal, but is in favor of raising awareness of concussions.
"Unfortunately, when there's a lawsuit involved it makes everyone overreact," Borgel said. "No one wants to see headers banned, but it's an idea because of the lawsuit. After a few months they'll be a better way of handling this situation.
"This move will lead to more coaches being on the cautious side and getting more medical information. That's a big positive from this."
Borgel said he makes sure his players learn the skill of heading a ball at a young age. He fears that players not learning the move until high school would cause more injuries later on.
"You teach technique at a young age to avoid injuries," Borgel said. "Concussions in soccer don't come from heading, it comes from elbows, head to head contact."
Dr. Thomas F. Kinsora, a neuropsychologist at the Center for Applied Neuroscience/Sports Concussion Specialists of Nevada, backed up Borgel's words of concussions in soccer mainly coming from rough play.
Although headers aren't the majority cause, the move can lead to long term brain damage, according to Kinsora.
"There is growing evidence that long term use of the head as an equipment of hitting the ball can result in damage to the brain," Kinsora said. "There's some very interesting data that seem to only occur with younger brains, people under the age of 21.
"Unlike a lot of other things, where younger people fare better in terms of recovery, the brain is different. There are things about the adolescent brain that can actually result in more injuries to the brain than adult brains."
There are roughly 300-350 concussions recorded per year from high school sports in Nevada, Kinsora said. Football is at the top of the list, but soccer isn't too far behind.
From a JAMA Pediatrics study released earlier this year, researchers looked at the number and cause of concussions reported among soccer players at 100 high schools across the U.S. between 2005 and 2014. They calculated that there were 627 concussions among girls and 442 among boys. Many were caused by physical contact with another player rather than headers.
"We know that the vast majority of concussions occur when there is contact between players trying to head the ball," said U.S. soccer chief medical officer George Chiampas in a statement. "Whether that is head-to-head contact, elbow-to-head or their head hitting the ground while challenging for the ball in the air; by reducing the number of those aerial challenges to head the ball, we believe we will decrease the incidence of concussions.
"While the science on head injuries is still developing, these rule changes and recommendations are based on the advice of the U.S. Soccer medical committee. As we continue to learn more, we'll have the flexibility to adapt to the findings and make the appropriate changes."
Kinsora said banning headers "is a little over cautious" and would rather have youth soccer players wear protective head gear.
Another concern for the ban of heading is the U.S. continuing to fall behind when it comes to the world stage.
"It's going to be hard to ask players who take soccer serious not to use headers until college," Kinsora said. "To suddenly begin doing that as an adult, they'll be less skilled unlike other athletes around the world and that would put them at a disadvantage.
"We almost have to come up with a consensus rule, either everybody has to wear head gear or nobody can head the ball period around the world."
The U.S. is the only country in the world flirting with this idea and it could be because of football.
Look no further than the cinema, where one of the most publicized films debuting this month is "Concussion," the story of the doctor who discovered Chronic Traumatic Encephalopathy in pro football players. The issue has trickled down to youth football — and now youth soccer.
"American Football rules everything here," Borgel said. "It's a big issues in that sport and it's now starting to affect soccer. Someone sees a lawsuit work and they want to try it in another sport."
It's going to take time before parents, soccer coaches, players and the U.S. Soccer Federation agree on a solution.
"This is not an easy situation," Kinsora said, "but we have to absolutely protect the brain."
Contact Gilbert Manzano at gmanzano@reviewjournal.com. Follow him on Twitter: gmanzano24