Here are 5 players to watch during the Reno-51s series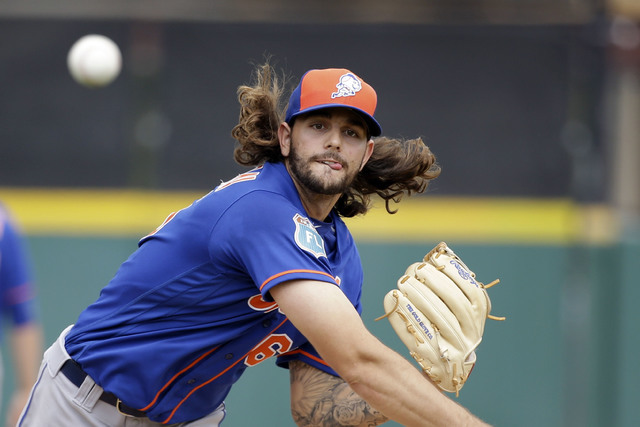 The 51s return home for a four-game home stand against the rival Reno Aces before hitting the road again. Here for five players to keep an eye on in the battle of the Silver State.
Robert Gsellman, RHP, Las Vegas
He made his Triple-A debut on Saturday against Albuquerque and would certainly take a mulligan if he could have one. The Mets No. 12 prospect lasted just three innings and allowed nine runs, five earned.
It will be intriguing to keep an eye on Gsellman, who was 3-4 in 11 Double-A starts with Binghamton this season, pitching 66 1/3 innings with a 2.71 ERA.
Mitch Haniger, OF, Reno
Replacing one of the best players in the Minor Leagues is not an easy thing for a young player to handle, but it is Haniger who is the new left fielder for the Aces after Peter O'Brien's call-up to the Diamondbacks.
He only has played in three games, but he's off to a good start in Triple-A. He is batting .500 (5-10) with a homer, a double and four RBIs in his first series with Reno. At Double-A Mobile he had a slash line of .294/.407/.462 with five home runs and 30 walks to 37 strikeouts.
Tuffy Gosewisch, C, Reno
Better known for his defense and unique name than his bat, Gosewisch has done nothing but hit this season in Reno. His .349 batting average is second on the team and his .920 OPS tops all Aces. He has never had an average over .300 or OPS above even .800 during a full season in his career.
His defense has remained strong, throwing out 38 percent of would-be base stealers and he is one injury in Arizona away from playing in the big leagues.
Logan Verrett, RHP, Las Vegas
When closer Erik Goeddell got called up to the Mets, New York sent down Verrett.
He joins the 51s at an interesting time, particularly in the bullpen. Las Vegas has had trouble closing out games and Verrett could get some attention in the late innings, particularly after Sunday night's game against Albuquerque in which the bullpen blew three saves before serving up a walk-off home run in the 12th inning.
He could also get a look in the rotation. He made 19 appearances for the Mets this season, starting four games.
Edwin Escobar, LHP, Reno
Escobar had a short stint in the major leagues with the Diamondbacks recently, making two starts over the last two weeks. He struggled in Arizona and the team sent him back down Triple-A.
He is scheduled to start Monday against the 51s in what will be his first appearance since being sent down. In Triple-A this season he is 2-1 with a 5.40 ERA.