Hockey beats business for Wrangler
November 3, 2013 - 8:50 am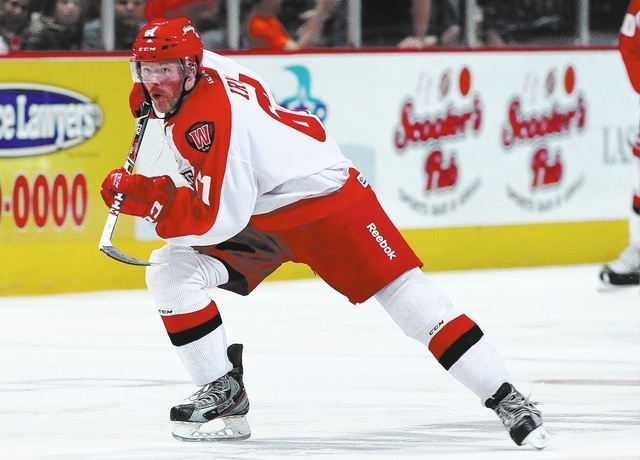 It took a year away from hockey to make Geoff Irwin realize how much he still loved the game.
The Wranglers forward scored 19 goals and 48 points in 2011-12 for Ontario (Calif.) of the ECHL before taking last season off to explore a business venture.
"I kind of wanted to try to see if there was something else I wanted to pursue with my life," he said. "I started up a business with a buddy of mine and worked an office job and realized that wasn't my calling.
"I definitely missed the game a lot. I felt that's where my heart was."
When first-year Las Vegas coach and general manager Mike Madill learned the 28-year-old Irwin — a former formidable foe — was available, he wasted little time signing him.
"He was definitely very hard to play against," Madill said. "He's full of energy, he can play in any situation, he scores goals, he gets to the hard areas on the ice, and he'll run you through the boards.
"He'll do everything he can to help his team win the game."
After not skating for more than a year as he focused on his online glove business (thegamergloves.com), Irwin — who has a goal and three assists in eight games — still is striving to regain his top form.
"Taking a year off, it's a bit of an adjustment period, but I'm definitely feeling close to being back on my game right now," he said. "It wasn't too much of an adjustment on the ice, it's more about getting my body back to being in shape to handle a 72-game regular season."
While he focused on his business, Irwin said he deliberately stayed away from hockey, lest he get lured back.
"I was actually convinced if I did get back on the ice it would call me back again. That should be a sign right there that I should be in the game," he said. "Sometimes you have to take a different path to find what your calling is."
Irwin is grateful to be back.
"Every time I step on the ice, I feel like I have a second chance," he said. "I'm really just glad to be back playing the game.
"It's definitely enjoyable to show up to the rink every day, be in there with the guys joking around and to get out there and compete every day. Just to have that back in my life again has been great."
However, for a player who joined the reeling Wranglers (3-5-0) with hopes of competing for a Kelly Cup title, Irwin's return has been bittersweet.
"I definitely came here to win a championship," he said. "We definitely need to find something within ourselves to get this turned around here."
Las Vegas, which opened the season 2-0, snapped a five-game home losing streak Saturday night with a 2-1 victory over Fort Wayne (1-2-2) before 4,988 at the Orleans Arena.
Defenseman Greg Coburn netted the winning goal with 4:44 left.
The Wranglers have only had one losing season in 10 years, in 2004-05. After their fifth straight loss Friday, Irwin said some veterans told the team losing is unacceptable in any fashion.
"Not just the game, but every battle on the ice, every shift, every loose puck, every race," Irwin said. "You've got to take pride in those things.
"It's just going to come down to the mentality that it's something that can't be accepted."
A native of Victoria, British Columbia, who played college hockey at Minnesota State (Mankato) before turning pro with Idaho (ECHL), Irwin had a goal and an assist in the season opener, but has produced only two assists since.
"I would like to be a little bit more consistent," he said. "When you've lost five straight games, you can't say you played your best."
If Irwin is able to regain his stride, he could be key to the Wranglers' success.
"He's a natural leader," Madill said. "He's a new guy here, but you can see that in him."
Contact reporter Todd Dewey at tdewey@reviewjournal.com or 702-383-0354. Follow him on Twitter: @tdewey33.