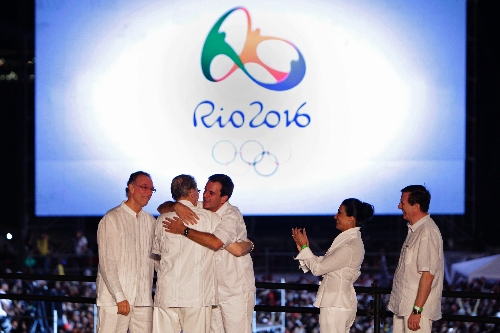 BASKETBALL
Anthony returns to Nuggets
after mourning death of sister
Carmelo Anthony practiced with the Denver Nuggets on Friday, returning to the team after taking eight days to mourn the death of his sister.
The Nuggets' star forward left the team Dec. 22 and missed five games while helping his family deal with its loss. He is expected to play today when the Nuggets host the Sacramento Kings.
Anthony was glad to be back on the court with his teammates.
"There's no place like the gym, especially when you go through tough times like I just went through," he said. "But I'm glad to be back, glad to be here. My spirits are up. The worst is over with, and I'm back here, and I can just focus on basketball."
Michelle Anthony, a 38-year-old mother of four, died Dec. 21 in Baltimore. The cause of the death was not disclosed, though the Nuggets released a statement that she had died of a "pre-existing condition."
Anthony attended the funeral of Michelle Anthony on Monday, and he returned to Denver on Wednesday.
Also: Cleveland Cavaliers center Anderson Varejao will miss at least the team's next two games with a broken cheekbone.
Varejao was injured during Wednesday's loss to Charlotte. The team said Varejao's face swelled up on the flight back to Cleveland. He did not travel with the team to Chicago for today's game, and he also will miss Sunday's home game against Dallas.
Varejao will wear a mask when he returns.
Centennial High product Italee Lucas scored 23 of her 29 points in the first half as No. 10 North Carolina rolled to an 83-62 victory over Gardner-Webb in Boiling Springs, N.C.
Lucas, a 5-foot-8-inch senior guard and the 13-0 team's leading scorer with a 17.9 average, hit five 3-pointers in the first half and finished 10 of 16 from the field, including 5 of 6 on 3s.
BASEBALL
Orioles, veteran first baseman Lee agree to one-year contract
The Baltimore Orioles and free-agent first baseman Derrek Lee reached an oral agreement on a one-year contract pending a physical.
Orioles president of baseball operations Andy MacPhail has been looking for a power-hitting first baseman since Ty Wigginton left as a free agent to sign with Colorado in mid-December.
Lee, 35, split time with the Chicago Cubs and Atlanta Braves last season, totaling 19 homers and 80 RBIs in 148 games.
Lee has never played in the American League.
Also: Tom Vandergriff, the former Dallas-area mayor who lured the Texas Rangers out of Washington nearly 40 years ago, has died. He was 84.
The former Arlington mayor's son, Victor Vandergriff, said his father died of natural causes Thursday at a Fort Worth, Texas, hospital.
MISCELLANEOUS
San Francisco wins contentious
bid to host 2013 America's Cup
San Francisco won the bidding to host the America's Cup in 2013, which will be sailed in fast catamarans with a backdrop of the Golden Gate Bridge, Alcatraz and Coit Tower.
The announcement by the America's Cup Event Authority came after talks with San Francisco and Newport, R.I., went to the deadline for picking the venue for sailing's marquee regatta.
"We sought a venue that fulfills our promise — to showcase the best sailors in the world competing on the fastest boats," America's Cup Event Authority chairman Richard Worth said in a statement. "And hosting the America's Cup in San Francisco will realize that promise."
Also: Top-ranked Rafael Nadal of Spain defeated Tomas Berdych 6-4, 6-4 and will face Switzerland's Roger Federer in the final of the World Tennis Championships in Abu Dhabi, United Arab Emirates.
Federer rallied to defeat Robin Soderling 6-7 (3), 6-3, 6-3 in the other semifinal.
Nadal is the defending champion of the exhibition tournament.
Chris Krieder and Mitch Callahan scored, leading the United States to a 2-1 hockey win over Switzerland at the World Junior Championship in Buffalo, N.Y.
The win assured the U.S. team (4-0) first place in Group A and a bye into the semifinal round.
The Anaheim Ducks acquired center Maxim Lapierre from the Montreal Canadiens for defenseman Brett Festerling and a fifth-round draft pick in 2012.
Lapierre has eight points while playing in all 38 games this season for the Canadiens, leading the club in penalty minutes. He scored a career-best 28 points for Montreal in 2008-09.
Festerling has played in one game for the Ducks this season, spending most of the year with Syracuse of the American Hockey League.