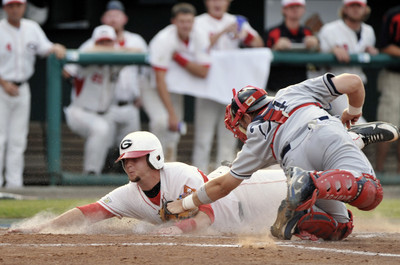 The end result wasn't what he wanted.
But Bryce Massanari won't complain about his first full season of Division I college baseball.
The Centennial High School graduate and former standout at the College of Southern Nevada wrapped up his junior season Wednesday night, when his Georgia Bulldogs came up one victory short of winning a national championship. Fresno State defeated Georgia 6-1 in the championship game of the College World Series in Omaha, Neb.
"There were only two teams left out of about 300," Massanari said in a phone interview from Athens, Ga. "I wish it could have ended differently, but it was one of the best experiences I've had in my life."
Without Massanari's contributions, the Bulldogs (45-25-1) might never have experienced as much success.
The No. 5 hitter and catcher in Georgia's lineup, Massanari hit .325 with 11 home runs and 65 RBIs. He trailed only Gordon Beckham (77) and Rich Poythress (75) in RBIs on his team. Georgia averaged more than seven runs per game.
"I didn't envision us being this successful," said Massanari, who was named to the All-Southeastern Conference first team. "We had a lot of older guys on the team, a lot of guys who helped each other out. The chemistry was great."
Massanari played at CSN in 2005 and 2007. He sat out the 2006 season with a broken foot and began the 2006-07 school year at Georgia before returning to CSN to play.
"The guy can hit," CSN baseball coach Tim Chambers said. "We've sent a lot of kids to big-time programs, but Bryce is the first local kid we've had go on to Omaha. What he has done is pretty special."
Special, but not completely unexpected from someone who has been a top performer since early in his high school career.
"The more important the situation, the better player he became," Centennial baseball coach Charlie Cerrone said. "Call it clutch or whatever you like, but with the game on the line, he was the guy we wanted up."
A 41st-round pick by the Philadelphia Phillies in the 2004 Major League Baseball Draft, Massanari's goal has been to play professionally. Still, baseball isn't his main concern.
Massanari and his wife, Lauren, a former Miss Nevada, have a 2-month-old daughter, Marley.
They joined other members of Massanari's family and friends in Omaha.
"You know, it really helped me out," Massanari said of becoming a father. "It calmed me down and helped me put everything in perspective."
Massanari said he is "leaning toward coming back to Georgia" next season to earn his degree in housing and consumer economics, then trying to play professionally.
"This whole year helped me grow as a player," Massanari said. "I got to face the best pitching in the country. I got to play against or with just about every first-round (draft) pick in college.
"It was an awesome experience. I'll remember it for the rest of my life."