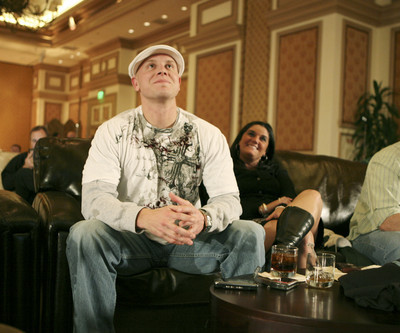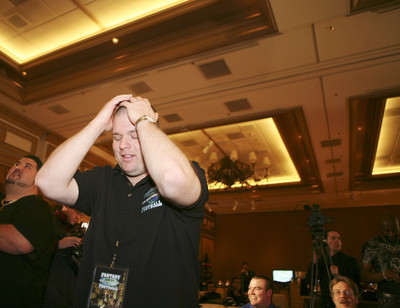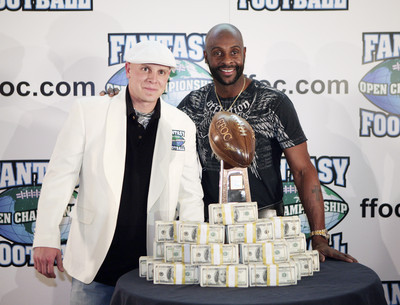 In a city where fantasy often becomes reality, Shane Schroeder was awarded $1 million in cash Monday at Bellagio for winning a fantasy football contest.
Schroeder's team, Xfactor, topped a field of more than 6,600 teams from across the country to win the first Fantasy Football Open Championship, which awarded nearly $2 million in prize money — said to be the richest payout in fantasy football history.
"It's crazy, $1 million bucks. It will definitely be a good Christmas," said the low-key Schroeder, who also was awarded a championship trophy and white sports jacket by FFOC commissioner Jerry Rice, the Hall of Fame wide receiver who wore his Super Bowl XXIV ring on a chain around his neck.
"It's amazing. I can't really explain it. Meeting Jerry Rice and coming here to stay at the Bellagio was enough for me. To put $1 million on top of that, it's one of the greatest experiences I've ever had."
Schroeder, 31, a youth corrections officer in Fort Collins, Colo., all but sealed his victory Sunday night when Carolina Panthers running back DeAngelo Williams rushed for 108 yards and four touchdowns in a 34-28 overtime loss to the New York Giants.
Williams' performance staked Schroeder to a commanding 21-point lead heading into Monday's game at Chicago between the Bears and Green Bay Packers.
With Packers quarterback Aaron Rodgers starting for Schroeder and seven of the other 15 finalists — who each received an expenses-paid trip to Las Vegas — Ken Stithen's Giantboys was the only team capable of catching him.
Stithen, a 34-year-old factory supervisor from Claremont, N.H., started Bears running back Matt Forte and the Chicago defense, but had to settle for third place — and $50,000 — when Rodgers threw for 260 yards and two scores and his players fell short.
A late blocked field goal by the Bears lifted Stithen from fourth place to third, worth an extra $10,000, and he nearly toppled Chad Schroeder's Cocktails & Dreams XIV team for second.
Forte, who caught a 14-yard pass on the Bears' winning drive in overtime, needed three more yards to boost Stithen into second place, but he never got them, letting Cocktails and Dreams XIV win the $100,000 second prize.
"It feels awesome to have some good fortune tonight, because of what we went through last night," said 34-year-old Chad Schroeder, no relation to Shane. "It was so brutal how it unfolded."
Cocktails and Dreams XIV appeared positioned to win the grand prize heading into Sunday night, but Williams' exploits spoiled the team's $1 million hopes.
Stithen, who was fortunate to reach the top 15 when Donovan McNabb threw a late touchdown pass last week — took his third-place fate in stride.
"I'm happy to be here, honestly," he said. "McNabb had to throw that touchdown last week just to get me in. That's fantasy football. Finishing third is not too shabby."
The FFOC entry fee was $125 per team. Each team drafted 20 players and featured active rosters of 10 players: one quarterback, two running backs, three wide receivers, one tight end, one other offensive option, one kicker and one team defense.
Each squad competed in a 10-team league, in which participants engaged in head-to-head play for the first nine weeks of the NFL season. In Week 10, the top two teams in each league played each other, with the winner advancing to the championship round, or the Las Vegas Week 16 Bracket.
From Weeks 11 through 15, a percentage of teams were cut from the bracket based on points scored, until there were 15 teams remaining heading into Week 16.
The top 15 finalists received payouts ranging from the $1 million grand prize to $3,500 for 15th.
Shane Schroeder, who planned to fly to his native Iowa today to spend the holidays with his family, said the $1 million was "life-changing" money and he planned to pay off some bills with it and share it with his parents.
"It will feel good to be able to help them out," he said. "That's something I've always wanted to do."
He also planned to purchase a special Christmas present for himself.
"I'm going to get online, possibly tonight, and see if I can find a DeAngelo Williams jersey."
Contact reporter Todd Dewey at tdewey@reviewjournal.com or 702-383-0354.
Video FIRST PLACE — $1,000,000 SECOND PLACE — $100,000 THIRD PLACE — $50,000