Jordan tourney wards off autograph professionals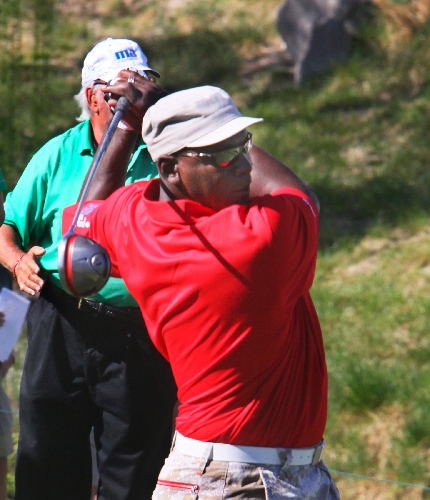 It was the "Invasion of the Autograph Hounds."
Professional collectors and memorabilia dealers, who have been known to stalk their prey in hotel lobbies at 3 a.m., descended upon Shadow Creek for last year's inaugural Michael Jordan Celebrity Invitational golf tournament like vultures to a carcass in the desert. It got so out of hand at times that organizers decided to put a stop to it for the second edition, which begins today and runs through Sunday.
Anyone trying to bring sports memorabilia or collectibles into Shadow Creek will be stopped at the gate. If you're bringing a jersey, you better wear it, or it will be confiscated.
"Our concerns were for the gallery, especially the little kid who wanted an autograph or a picture that they could put on the wall of their bedroom," Shadow Creek general manager Mark Brenneman said. "We didn't want them being overrun by these (memorabilia) professionals."
That doesn't mean fans won't be able to try to get an autograph from the myriad celebrities playing this week, including NFL star Aaron Rodgers, hockey icons Wayne Gretzky and Mario Lemieux, boxing Hall of Famer Sugar Ray Leonard and baseball legends Greg Maddux and Roger Clemens. But things got so out of hand at times last year that it took away from the event, and restrictions have been put in place to prevent a repeat episode.
The tournament, which drew more than 10,000 people last year and raised more than $6 million for charity, will benefit the Make-A-Wish Foundation, the UC San Diego Nevada Cancer Institute, Opportunity Village and the James R. Jordan Foundation, along with Cats Care, the Charlotte Bobcats' charity arm.
"I had very high expectations for last year's event, and they were definitely surpassed," Jordan, who owns the Bobcats, said in a statement. "As I've said before, Shadow Creek is one of my absolute favorite golf courses, and I was so honored that it was open to the public for the first time during my tournament.
"To see all the spectators out there experiencing Shadow Creek and enjoying themselves was truly gratifying for me."
The tournament is actually two events in one weekend. The celebrity-amateur tournament, which pairs one celebrity with four amateur participants, is today and Friday, beginning at 7:30 a.m. The Michael Jordan Celebrity Invitational, a two-person, 36-hole scramble format, will be played Saturday and Sunday starting at 9 a.m. each day.
Tickets are $30 for a daily pass, and children 16 and under are free when accompanied by a paying adult. Parking is $10 in lots located off Losee Road and Washburn Avenue. Shuttle bus service to the course will be provided from the lots. For more information on daily tee times and directions, visit the tournament's website: MJCIgolf.com.
"We want everyone to enjoy themselves," Brenneman said. "We were very happy with the turnout, and we have twice as many sponsors as last year. But to be honest, we didn't change that much. We put some bleachers at the green at No. 18, and we added some seating at No. 17. But we didn't feel we needed to reinvent the wheel. We just needed to polish up a couple of things."
Contact reporter Steve Carp at scarp@reviewjournal.com or 702-387-2913. Follow him on Twitter: @stevecarprj.