Juarez finds groove, hopes to harness it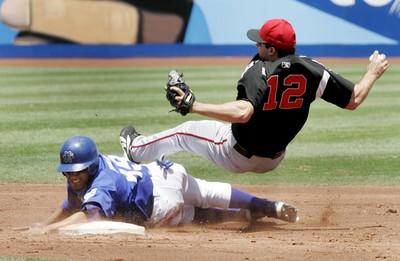 He left the team early last season to tend to a personal problem in his native Nicaragua. But the only problem Las Vegas pitcher William Juarez faced in his most recent start was a high pitch count.
Otherwise, the right-hander might have become the fourth pitcher in the franchise's 25-year history to throw a no-hitter.
Juarez, who threw 100 pitches, 62 for strikes, was pulled after hurling six no-hit innings against Portland in the 51s' 7-4 victory Saturday night at Cashman Field.
The 26-year-old struck out 10 and walked two, retiring 14 straight batters from the first inning through the fifth.
"He was not going to finish the game," 51s manager Lorenzo Bundy said. "If he can tell me he can get nine more outs in nine pitches (then he could've continued), but it's not going to happen.
"He told me he was tired."
Las Vegas left-hander Greg Miller also was pulled after tossing six no-hit innings in a 9-5 victory over Colorado Springs at Cashman Field on April 19.
Bundy said Juarez possesses savvy on the mound.
"He rarely throws the same pitch and same speed two pitches in a row," he said. "He changes speeds and moves the ball in and out.
"He's not overpowering, but he pitches to both sides of the plate, mixes in his split finger and he gets outs. (Pitching coach) Kenny Howell loves him."
The Los Angeles Dodgers acquired Juarez in a trade with the Arizona Diamondbacks for Shawn Green on Jan. 11, 2005. He went 4-5 with a 4.08 ERA for the 51s last season before leaving the team on June 3 for a family emergency.
Caught in a numbers crunch in spring training, Juarez started this year at Double-A Jacksonville, where he went 4-2 with a 4.79 ERA in eight starts.
The 6-foot-2-inch, 205-pounder was promoted to Las Vegas on May 18 and got shelled in his first outing, allowing six runs on eight hits in 3 1/3 innings of the 51s' 8-3 loss to Tacoma on May 21.
Juarez said through a translator that he worked hard on his control between starts and located his pitches much better against Portland.
"He did a good job with his pitch location," Howell said. "He uses his fastball well and gets ahead in the count, and then he goes to his off-speed stuff, and he's got a good split finger that he uses.
"His curveball was his plus pitch (Saturday). He used it well, and it carried him most of the game."
If Juarez can stay consistent, he's headed for a bright future, Howell said.
"He can't have just one good outing, he has to have several, but that's a start for him," Howell said. "He just competes. He mixes his pitches well and moves the ball around good. He keeps hitters off balance, and if he can continue to do that, he's going to go a long way."
* NOTES — 51s infielder Mitch Jones saw his streak of reaching base in 10 straight plate appearances stopped Sunday when he grounded out to first base in the first inning of Las Vegas' 10-9 loss to the Beavers. Jones belted a go-ahead two-run homer in the eighth inning and leads the Pacific Coast League in homers with 14 and RBIs with 47. …
Sunday wasn't a good day to be a former major leaguer named Matt for the 51s. Reliever Matt White allowed a grand slam to the first batter he faced in the top of the ninth inning, and Matt Kemp struck out to end the game with the potential tying run on third base.
Las Vegas 51s
PORTLAND — 10
LAS VEGAS — 9
KEY: Pete Laforest hit a two-strike, two-out grand slam in the ninth inning — his second homer of the game and fourth of the series — to give the Beavers a 10-8 lead.
NEXT: Beavers (Jack Cassel) at 51s (Hong-Chih Kuo), 12:05 p.m. today