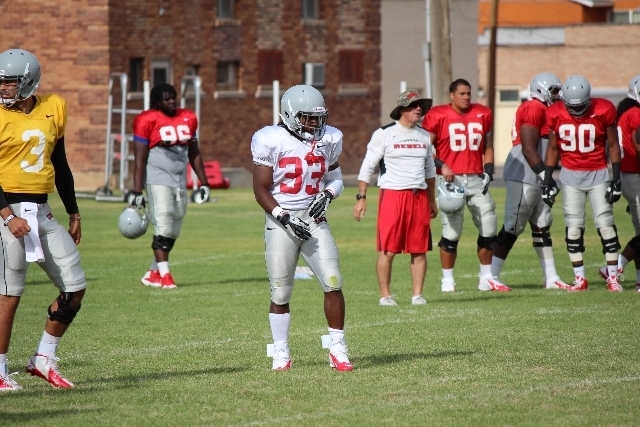 ELY
He discovered the news via Facebook. His school, his junior college, his football team, gone. Shut down.
Pronounced dead at the scene.
It's a frightening truth for any sophomore about to enter a recruiting season, about to hopefully show Division I coaches what they either missed out on or need or, well, both. Shaquille Murray-Lawrence had no idea where to go, what to do, who to call.
"I was lost," he said. "It was ugly."
Lon Morris was the oldest junior college in Texas when it closed its doors in June 2012 after filing for bankruptcy, and with its termination came the end of a football program that recently had been reinstated after a nearly 70-year hiatus in hopes of increasing enrollment and bringing excitement and creating revenue to aid with all the mounting debt.
Murray-Lawrence was a running back on that team, a kid from Scarborough, Ontario, who had dreams of turning his junior college experience into a major college scholarship.
He eventually caught on at Tyler (Texas) Junior College.
His dream is now being played out at UNLV.
Of all the questions a program with just six wins in the past three seasons might have, running back isn't one for the Rebels. Tim Cornett is a senior starter who is another productive season from being the school's all-time leading rusher; Adonis Smith is a junior transfer from Northwestern and solid backup.
But also fighting for carries, and expected to get his share, is a 5-foot-8-inch Canadian with a name long enough to fill the backs of two jerseys. There is a story behind Shaquille Anfernee Murray-Lawrence. More on that later.
The Rebels had a fall scrimmage Saturday, and this is all you need to know about how the offense looked: The afternoon's best catch was made by Taylor Bern, a sports writer for the Las Vegas Sun who was standing well beyond the end zone when making his grab while holding a notebook and pen.
The pass, in staying with the day's theme, was overthrown by 15 yards.
Cornett barely played, and that's a good thing. This doesn't appear a team with many dynamic weapons, so the last thing UNLV needs is for one of its best players to get hurt now.
Murray-Lawrence caught a pass and rushed only one time for no yards, but he might have gained 200 elsewhere. His carry ended with a fumble, which caused coach Bobby Hauck to instruct his assistant coaches to send the junior on a nice jog or two around the field.
"He's going to play a lot for us if he doesn't (fumble)," Hauck said. "Shaq has had a terrific camp. He has unbelievable vision and better top-end speed than we had thought off watching him on film. He will get more physical in time. I've said it 100 times already — we really hit it big with him. "
Here's why his was an important signing: The Rebels lost a 600-yard back from last season when Bradley Randle decided to depart school early and eventually sign a free-agent contract with the Minnesota Vikings. There are freshman backs in the program Hauck likes, but a junior college player brings more experience against bigger, stronger, faster defenders.
UNLV is the type of program Murray-Lawrence knows something about.
He switched high schools in Ontario to be closer to his father and ended up leading a perennial losing team to a state final. His first season at Lon Morris, the team was more a recreation side than anything else, playing exhibitions instead of real games.
"I'm all about helping build things," Murray-Lawrence said. "Finding the program that won the most didn't mean a thing to me. I want to be part of building something and then watching it grow.
"I also played hockey growing up in Canada — it's sort of recommended — but quit at 13. I had to decide between it and football. Couldn't do both. It was an easy decision."
It just wasn't one his father, a big NBA fan, had always envisioned.
Murray-Lawrence was born in 1993, a year after Shaquille O'Neal was drafted by the Orlando Magic. Hence, the first name. Anfernee comes from former pro Anfernee Hardaway. Murray is his father's last name and Lawrence his mother's last name.
He gained just 211 yards on 21 carries at Tyler Junior College, a late addition once Lon Morris went belly-up.
He went from virtual pickup games at a financially strapped school to UNLV in two years. Yep, this is an underdog story that could offer the Rebels productive depth at a critical position.
Next step for UNLV: Inquire whether Taylor Bern has any eligibility remaining.
Las Vegas Review-Journal sports columnist Ed Graney can be reached at egraney@reviewjournal.com or 702-383-4618. He can be heard from 11 a.m. to 2 p.m. Monday through Friday on "Gridlock," ESPN 1100 and 98.9 FM. Follow him on Twitter: @edgraney.