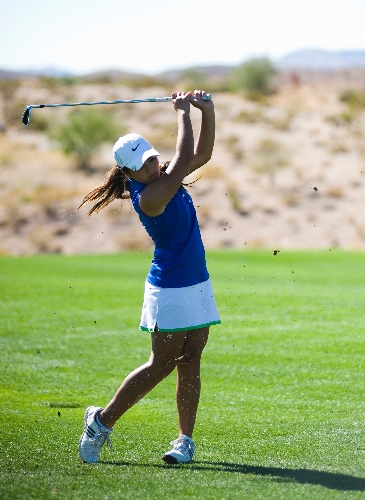 Alex Kaui said she felt confident Thursday as she approached her old nemesis: the 18th hole at Bear's Best.
The Green Valley junior wasn't rattled after enduring nine shots on the par-4 18th hole a day earlier, and it turned out to be crucial. Kaui needed only four shots on No. 18, nailing down her second straight Class 4A girls state championship and the Gators' third consecutive team title.
Kaui shot a 2-over-par 74 for a two-day total of 2-over 146 and won by two strokes over Faith Lutheran junior Annie Freman.
"What went well for me? The last hole, I did not get a nine," Kaui said with a smile.
"Other than that, not much. I couldn't make many putts, and I just tried to par as many times as possible. But my main improvement was the last one."
Kaui was glad the final hole wasn't as much of an adventure as Wednesday, when she got caught in a bunker.
"I hit it to the fairway, hit it to the green and tried to get birdie, but got par instead," Kaui said. "I just wanted to keep it out of the bunker."
Kaui's performance was not record-setting like her state title last year, but she was the most consistent golfer in the field. She shot 1-under 35 on the front nine, a stretch without any bogeys that included a birdie on the par-3 seventh. This came after she shot a steady 33 on the front Wednesday.
"One, (Kaui) is fearless, and two, she has the total game," Green Valley coach Greg Murphy said. "She could have made a few better decisions, but I'm never going to argue with the decisions she makes on the golf course."
Green Valley won with a 629 total for its eighth state title. Faith Lutheran was second at 643, followed by Coronado (672), Bishop Gorman (703), Spanish Springs (722) and McQueen (756).
Thursday's low round belonged to Freman, who shot 70 to finish at 4-over 148.
Faith Lutheran's Brianna Becker was third at 150, followed by Coronado's Melanie Chambers (151), Silverado's Brittany Whatley (152) and Green Valley freshman Mercedes Khumnark (153).
Khumnark improved to a 73 Thursday after shooting a first-round 80.
"She stepped up bigger than anybody today," Murphy said. "She's just a tremendous talent, and I'm proud of her."
Freman sank four birdies Thursday to rebound strong from an opening 78.
"It feels really good. I was in it to win it today," Freman said. "I had a lot of strength from my mom, because she was out there watching me, and I took my time today. That was really important."
Kaui left not only with the medal but a piece of the state record book. She became the 10th girl to win multiple individual state titles, and the first in Class 4A since former Bishop Gorman star Inbee Park in 2004 and 2005. Park went on to win the 2008 U.S. Women's Open.
"It's great. It makes me feel that I represented Green Valley well," Kaui said.
Contact reporter Tristan Aird at taird@reviewjournal.com or 702-387-5203.
In-depth high school sports coverage