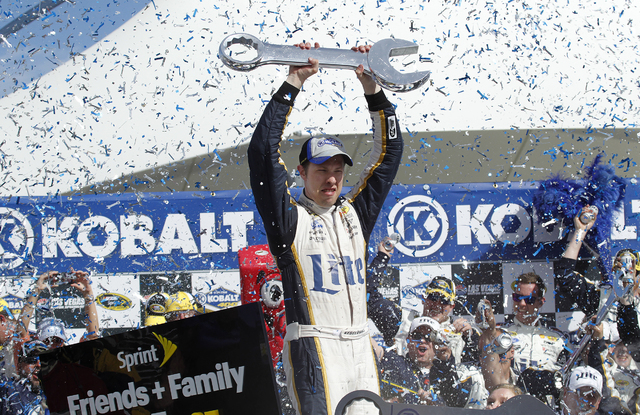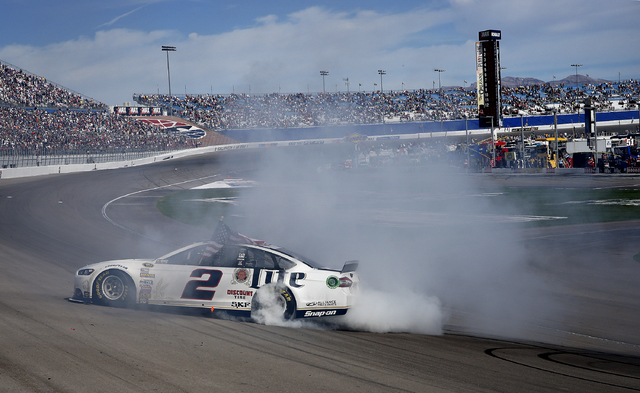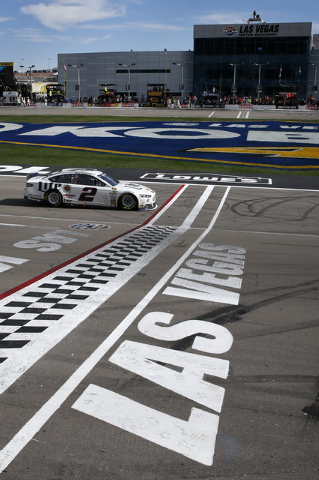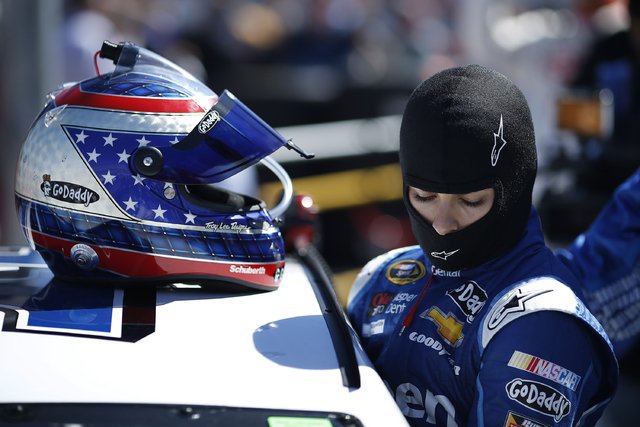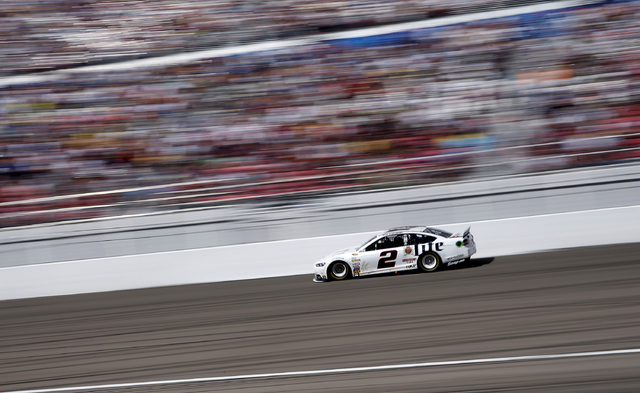 Brad Keselowski knew Dale Earnhardt Jr., the man who gave him the break of a lifetime, didn't have enough fuel to finish Sunday's race.
All Keselowski, then in third place, needed to do was pass the driver in front of him, Carl Edwards.
He did easily with just more than 20 laps left, setting up a duel with Earnhardt as well as a waiting game.
"I felt like we could run him down," Keselowski said. "I could tell he was saving a little bit based on the lines he was running compared to where I had seen him earlier in the day.
"It was going to play out one of two ways. He was going to get in fuel-conservation mode, and I think I could have passed him and drove away, or he was going to have to burn fuel to keep me behind him. At that point, it was just a matter of whether a yellow came out or not because it was a ticking time bomb."
The risk to go for the victory blew up on Earnhardt when his gas tank went dry midway through the final lap, allowing Keselowski to cruise by and win the Kobalt 400 before a crowd of about 100,000 at Las Vegas Motor Speedway.
Las Vegas native Kyle Busch, driving the No. 18 Joe Gibbs Racing Toyota, rallied from 41st to the front and led for 52 laps before finishing 11th. Brother Kurt, in the No. 41 Stewart-Haas Racing Chevrolet, was 26th.
It was quite a week for Penske Racing. Keselowski joined Jeff Burton in 2000 as the only ones to win the NASCAR Sprint Cup and Nationwide series races on the same weekend at LVMS. Team owner Roger Penske also nailed a hole-in-one on the No. 4 hole at Augusta National on Friday, the same day his other driver, Joey Logano, won the pole for the Kobalt 400.
The victory all but assures Keselowski that he and his No. 2 Ford will be in the Chase for the Cup. NASCAR changed the playoff format this year to accentuate the importance of victories.
Keselowski, 30, felt the sting of criticism after missing out on the Chase last season, one year after winning the Cup championship.
"He's certainly focused," Penske said. "You have to have a little bit of adversity before you get better, and I think that's what happened to Brad Keselowski."
Adversity especially hit Keselowski hard when he was trying to make a career in NASCAR, and his chances weren't promising until Earnhardt gave him a shot in 2007.
Keselowski ate up the opportunity, spending so much time trying to improve himself that it left a lasting impression.
"He's competitive, loves to win, very driven," Earnhardt said. "He studies his team and his crew chief really hard. He overthinks everything, and he comes up with 20 ideas and 18 of them are crazy, but two of them are great."
Keselowski said he thought about what Earnhardt has meant to his career when he drove up behind him with about 20 laps remaining.
He also knew Earnhardt was in trouble in the No 88 Hendrick Motorsports Chevrolet. Junior, who entered this race having won at Daytona and finishing second at Phoenix, decided not to pit late in the race and hope he had enough fuel to make it to the finish line.
"We weren't going to run in the top five if we hadn't used that particular strategy," Earnhardt said. "If we'd have run the same strategy as our competitors, we would have probably run just inside the top 10 where we were all day."
Earnhardt said he wouldn't let the runner-up finish bother him, that he needed to keep an eye on the big picture.
Keselowski also has his sights set on big goals, especially after this victory. Winning the season opener allowed Earnhardt to be risky because it essentially puts him in the Chase.
Now Keselowski has the same opportunity.
"That chance that Dale and Stevie (Letarte, crew chief) took with the 88 car was way out there, and it was a good, risky move on their part because they had nothing to lose because of this format," Keselowski said. "I think that shows some of the opportunities that come up and how they can be stress-free days. I'm looking forward to being able to take those same opportunities because, believe me, I'm not scared to take them.
"So look out. It's going to be a lot of fun."
Contact reporter Mark Anderson at manderson@reviewjournal.com or 702-387-2914. Follow him on Twitter: @markanderson65.