Kyle Busch finally finds way to Las Vegas' famous sign
December 2, 2015 - 3:35 pm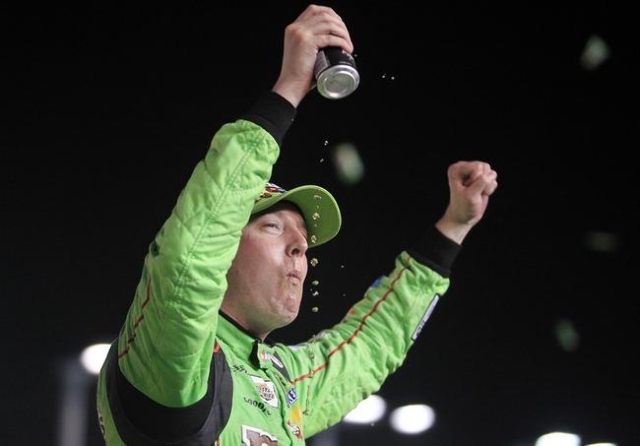 Sign, sign everywhere a sign, blockin' out the scenery, breakin' Kyle Busch's mind.
Not anymore.
On Tuesday, the recently crowned NASCAR Sprint Cup Series champion finally had his picture taken in front of the iconic "Welcome to Fabulous Las Vegas Sign" on the southern end of Las Vegas Boulevard.
Despite growing up here, the 30-year-old racer had never been photographed at the sign, probably because bridal parties always were there first, and he had to qualify for this race or that one, and he couldn't wait around.
"Just this morning, I was finally able to take the photo at the Las Vegas sign there on the Strip," Busch said after speaking to schoolkids at Lawrence Junior High School when engines were started for NASCAR Champion's Week.
"I told my wife (Samantha) years ago — she wanted to go out there and take a photo — that it's not our turn yet. We'll go do it when it's our turn for the champion's photos. And so (Tuesday) was the first time I've ever done that. That was pretty cool."
As for the things he misses most about Las Vegas since having moved to North Carolina to trade paint with older brother Kurt and the world's best stock car drivers, he said the weather, the sand dunes on the outskirts of town and "first and foremost, In-N-Out Burger."
Las Vegas Review-Journal sports columnist Ron Kantowski can be reached at rkantowski@reviewjournal.com or 702-383-0352. Follow him on Twitter: @ronkantowski
Like Sports News on Facebook: