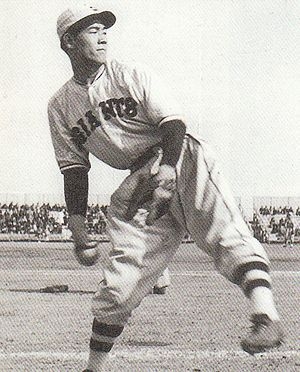 From time to time I receive little nuggets of baseball information through email from a local baseball fan named Mark Cole. They are usually about a little-known baseball statistic or fact with which most people not named Bob Costas would not be familiar.
Such as this, about the origin of Japanese baseball's Eiji Sawamura Award, the Japanese equivalent of the Cy Young Award:
After the end of the 1934 major league baseball season, a team of U.S. players went to Japan to play 17 games in 12 Japanese cities against Japan's first-ever professional team, a collection of former high school and college stars who called themselves the Tokyo Giants. The U.S. won every game. The closest the all-Japan team came to scratching out a win came at Shizuoka on November 20, 1934, where a 17-year-old 5-foot-8 and 156-pound high school flamethrower by the name of Eiji Sawamura entered the game in the fourth inning.
Sawamura struck out nine batters, including Babe Ruth, Lou Gehrig, Jimmie Foxx and Charlie Gehringer in order. In five innings, he gave up just one hit, a solo home run to Gehrig. He lost the game 1-0 to Earl Whitehill.
Sawamura died during World War II when the ship he was on was torpedoed near the end of the war.
Cole was watching the Yankees' game against Cleveland on Tuesday night when Yankees broadcaster Ken Singleton told the story of Eiji Sawamura — Masahiro Tanaka was pitching for New York — on the air.
After a word from sponsors and probably a couple of reminders about an upcoming bobblehead promotion, Singleton said: "A thank-you to Mark Cole in Las Vegas for sending us this information."
So it sounds like I'm not the only one on Mark Cole's email list.