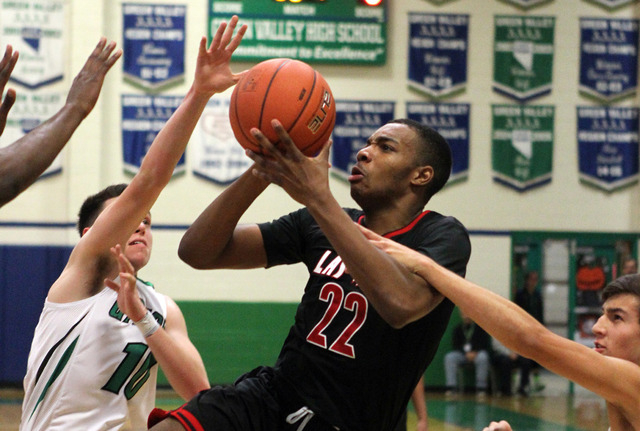 Patrick Savoy didn't receive any scholarship offers after completing an all-state senior season with Las Vegas' boys basketball team.
The 6-foot-4-inch shooting guard hopes that will change this spring.
Savoy is expected to play with Dream Vision AAU on the travel basketball circuit, and he is confident a strong showing there will catch the eye of college recruiters.
"I feel like it will work out. I just have to be patient with it," Savoy said this week. "I had a great team with me (at Las Vegas), and they let me shine when relevant. I definitely think I proved I can work within a system and proved what I have."
Savoy earned first-team all-state honors after he averaged 17.7 points, 7.1 rebounds, 2.1 assists, 1.6 steals and 1.1 blocks for the Wildcats. Savoy had five 30-point games and proved to be one of the top outside shooters in the area, making 39 percent of his 3-pointers.
Savoy said he was hearing from schools in the West Coast Conference, along with UNR and Weber State, before his senior season. Las Vegas coach Jason Wilson said Kent State, Nicholls State and Youngstown State recently started to show interest.
The spring signing period begins April 15 and runs through May 20 (Division I) and Aug. 1 (Division II).
"I think teams are missing out on a kid that can help them at the next level," Wilson said. "After the next signing period, when kids transfer and teams see what they need, I think it'll open up a little bit. He'll get something."
■ PILOTS EARN BID — Findlay Prep's boys basketball team was selected to participate in the High School National Tournament from April 2 to 4 in New York City.
The tournament features six of the top eight teams in USA Today's Super 25 rankings, including No. 1 Oak Hill Academy (Va.) and second-ranked Montverde Academy (Fla.), the defending champion. The Pilots (28-2) are seeded sixth and open against third-seeded Blanche Ely (Fla.), which is 28-0 and won the Florida 7A state title.
The quarterfinals and semifinals take place at Christ the King High School and will be televised on ESPNU and ESPN2, respectively. The title game at Madison Square Garden airs on ESPN.
■ GATORS DEDICATE TRACK — Green Valley renamed its track the Blaine W. Thompson Memorial Track in honor of its former coach. Thompson, who died in January at age 50 after a brief battle with pancreatic cancer, was the Gators' track and field coach for 18 years, leading the boys to the state title in 2003.
■ RECENT COMMITMENTS — Desert Oasis senior Chase Adams to McCook Community College (Neb.) and Cimarron-Memorial senior Noah Given to Colorado Northwestern College for baseball. … Desert Pines senior Andre Watts to Arizona Western for football. … Bishop Gorman junior Christian James to Pacific for men's golf. … Canyon Springs seniors Ivan Adame, Jose Gonzalez and Nate Eshleman, and Desert Oasis senior Marcellous Curtis to Spokane Community College (Wash.) for men's soccer. … Del Sol senior Angelique Deittrick to Highline College (Wash.), Palo Verde senior Jordan Goyeau to Utah State Eastern and Sierra Vista senior Jasmine Morice to Arizona Western for women's soccer. … Shadow Ridge senior Easton Clements to Northwest College (Wyo.) for women's volleyball.
Contact reporter David Schoen at dschoen@reviewjournal.com or 702-387-5203. Follow him on Twitter: @DavidSchoenLVRJ.