Las Vegas Lights FC to open season with 3 MLS exhibition games
November 27, 2017 - 10:29 am
Updated November 27, 2017 - 1:18 pm
Las Vegas Lights FC owner Brett Lashbrook is dreaming bigger than just the United Soccer League before his team begins its first season in 2018. So the Lights will play their inaugural matches against three Major League Soccer teams at Cashman Field in February, a hint of larger goals to come.
The team will host Montreal Impact on Feb. 10, the Vancouver Whitecaps on Feb. 17 and D.C. United on Feb. 24. All matches take place on Saturdays at 8 p.m and are included in the team's season ticket plans.
"We want to do this with big goals. There are a lot of teams that would launch and try to play against lesser teams," Lashbrook said. "That's just not in our DNA. We're going to go for broke. We're going to try to create fun. We're going to compete against the best and we want to be the best."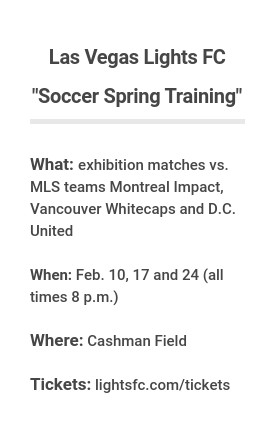 Montreal and D.C. both missed the playoffs in 2017, finishing ninth and 11th, respectively, in the 11-team Eastern Conference. Vancouver finished third in the 11-team Western Conference, losing in the conference semifinals to the Seattle Sounders.
"We are going to play a much more aggressive and entertaining style of soccer than most fans are accustomed to, and testing ourselves against three MLS clubs to start the season will be valuable for my team," Lights head coach José Luis Sanchez Solá, commonly known as Chelís, said in a statement. "The only way to improve is to test yourself against the best competition available. These MLS clubs will also get a true taste of what Lights FC soccer is going to be all about, and they will taste it on our turf."
The matches will be played two years after Findlay Sports & Entertainment officially dropped its bid to bring a MLS expansion franchise to Las Vegas in February 2015. Now with the Lights bringing in three first-divison teams, the city's big-league soccer dreams are alive again.
"We really just want to see this grow. We want to prove Las Vegas is a home for soccer," Mayor Carolyn Goodman said. "Ultimately, a few years out, the goal will be MLS."
MLS is looking to add four more teams in the next few years and announced in February that 12 markets had submitted expansion bids, with Las Vegas not among them. Of the 12 cities, 11 had or will have second-division teams in either the USL or North American Soccer League in 2017 and 2018. The last city, Detroit, has a team in the fourth-division National Premier Soccer League.
"The clear path for Las Vegas to get Major League Soccer is through USL, and we couldn't be more excited to help accelerate that," Lashbrook said.
Contact Ben Gotz at bgotz@reviewjournal.com. Follow @BenSGotz on Twitter.