Las Vegas runner battles light sensitivity
December 3, 2011 - 2:02 am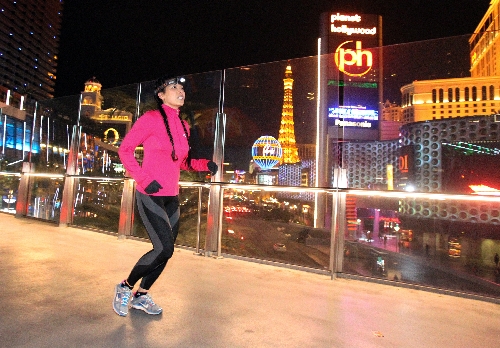 On Sunday evening, 44,000 runners will engulf the Strip, taking advantage of one of the most unusual opportunities ever presented by their chosen sport.
For one runner, the event presents an even rarer opportunity, one most of us take for granted: a return to normalcy.
Because if the Rock 'n' Roll Las Vegas Marathon and Half-Marathon weren't being held at night — for the first time ever — Clarita Kendall probably wouldn't be competing.
Kendall, now 40, said she has had light sensitivity issues for much of her life, but nothing she found unusual, provided she wore adequate sunblock, long-sleeve shirts and a hat. In fact, she loved being outside and particularly enjoyed swimming.
Then in May 2010, she was stricken by a severe sensitivity to sunlight, this time in a full-blown form.
"It was life-changing, disabling," Kendall said. "When exposed to sunlight, I experience excruciating, burning pain. My skin turns red and peels. I become weak and fatigued, and have difficulty breathing. I'd have horrible reactions and get really sick."
Her doctors haven't pinned down the exact issue, but she is being treated for possible lupus and porphyria
"The porphyria is extremely rare, and usually genetic, but it can also be induced by envirotoxins," Kendall said. "My case is very complicated, and I have limited options."
Right now, the main option is twofold: a regimen of 22 pills per day, with a strict avoidance of sunlight.
Even indoor lighting — particularly fluorescent lights and light emitted from TVs and computers — can be a problem.
"I'm wearing SPF 100 sunscreen right now," Kendall said as she discussed her condition in a moderately lit room Thursday evening. "I just think of it as my lotion. It's just something I have to do."
Something else she has to do is remain active — no easy task when, in daylight hours, going anywhere or doing anything is often impractical. The 17-year Las Vegas resident had to find an activity she could do at night. And that's where running came in.
She lived near UNLV and began jogging around the campus regularly, and extensively. It has helped her deal with the condition, both physically and mentally, and also gained her some new friends.
"I go running in the middle of the night, and people would get really worried about me. And I became friends with the UNLV police," she said, noting officers grew accustomed to her midnight jaunts around campus. "I told them they were my unofficial race crew."
She needed that support, particularly when she hit a milestone on July 4.
"I ran 30 miles at UNLV," she said, an effort that took her about 5½ hours. "As I was running, I just wished someone was there to witness it."
As it turned out, three UNLV police officers were monitoring her throughout the evening, and after she finished, she got a picture of her with the three officers on her I-phone.
"I really depended on them," she said.
Running even great distances became easier than things many people do with no thought at all.
"Driving 10 miles during the day is difficult," said Kendall, who must wear a balaclava during daylight hours, covering as much of her body as possible. "Once the sun went down, I could run those same 10 miles easily."
Then she just needed to find night-time races, and there were some smaller, lesser-known events that fit the bill. The ET Full Moon Midnight Marathon and Half-Marathon, run annually in Rachel near Groom Lake/Area 51 (hence the "ET" moniker"), fit the bill. Kendall ran the half-marathon in 2010 and the full marathon this past August.
"This is one thing I could do," she said. "I was desperate to do anything with people, where I was like everybody else."
She said she's been fortunate to have a strong support system, including her 16-year-old son, Hunter, a junior at Durango High School.
"I have a lot of very supportive friends and family," she said, noting Hunter is volunteering at Sunday's race. "People expected me to crumble, and I have had some bad flare-ups, but this has really motivated me to do things. If this hadn't happened, I wouldn't run a marathon."
After finding a refuge through running, Kendall said she and a friend originally planned to compete in the New York City Marathon, held in October — an event that would have required her to cover up to the extreme. But upon finding out earlier this year that the Rock 'n' Roll event was moving to nighttime, she changed her plans and will run Sunday's half-marathon.
"This is the only thing better than New York, and it's just as big," said Kendall, who has lived here since finishing a three-year active-duty stint in the Army. "We thought, 'New York? Oh, who cares!' These are the streets I know, that I drive on, these are my stomping grounds."
And she said the lights of the Strip shouldn't be a problem. Kendall will have to be fully covered as the 44,000 runners get loaded into corrals because the sun will still be out.
But by the 5:30 p.m. race time for the half-marathon, she will be able to peel off some of the excess cover and fit right in.
"I can be part of the world again for a while," she said. "I have these parameters, and I want to fill these parameters to the very edges. It doesn't matter how I finish. It's not about finishing, it's about starting."
The starting gun can't go off soon enough for Kendall.
"I'm so excited about this race. I wish there was something like this every week," she said. "This is probably one of the best things to ever happen to me."
Contact reporter Patrick Everson at peverson@reviewjournal.com or 702-383-0353.
ON THE WEB
Las Vegas Marathon website