Las Vegas Speedway president resting easy as NASCAR weekend nears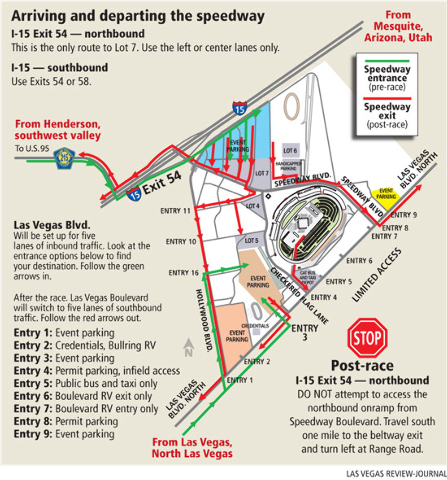 Chris Powell, the president and general manager of Las Vegas Motor Speedway, appeared relaxed last week as he talked about NASCAR weekend.
His staff does an extraordinary amount of work in the months leading up to the Sprint Cup and Nationwide Series races to make sure the weekend goes smoothly.
Powell had another good reason to be relaxed. LVMS has become so adept at welcoming NASCAR and the 100,000-plus fans every March that little has to be changed from previous years. This year's Cup race, the Kobalt 400, is Sunday, a day after the Boyd Gaming 300.
"We tweak it," Powell said.
He said relationships with various agencies have eased preparations because all sides value how important this weekend is to the community.
"We've done this thing a few times now," Powell said. "It's hard to believe this is the 17th year. I still remember as a PR guy being at Fremont Street announcing in '97 the March '98 race and attending that race and how brutal the track was."
LVMS did make one change, creating a third exit for its Lucky 7 parking lot by adjusting the configuration. It is the only pay lot at LVMS, costing $59 for all three days.
The speedway also is emphasizing that fans not ignore no-parking signs on Hollywood Boulevard, or their vehicles will be moved. Handicapped passes also will receive extra attention to make sure they're valid.
A video at lvms.com is available to aid drivers before they head to LVMS.
Powell said he would like to see one significant change — the paving of a dirt road near the Interstate 15 exit to the track. That road stretches to the 215 Beltway.
"If we could ever get that paved, then fans coming in from the west side of town could get off 215 there and take that road and come into Speedway Boulevard," he said. "That would be a nice bonus, and I think that will happen one of these days because there's so much construction. Somebody's going to want to build a hotel or something like that."
But while the adjustments at the speedway are minimal, LVMS is the beneficiary of major changes made in January by NASCAR when the organization overhauled its qualifying and playoff formats.
LVMS is the first track with the new three-segment qualifying system, which is at 3:35 p.m. Friday. Phoenix used a two-segment system last week because its track is shorter than 1¼ miles. LVMS is a 1½-mile circuit.
Under the new format, every driver will have 25 minutes in a race-like setting to cut the field to 24 racers. Then a 10-minute session slashes the field to 12, and the remaining racers compete in a final five-minute segment.
Attracting fans for qualifying often is challenging, and Powell said he has seen an increase in interest to see how these sessions play out. He cautioned, however, not to expect thousands of more fans to pack the grandstands.
"We have noticed an increase in phone calls and people who are calling in and buying Friday-only (tickets)," he said. "Not only is there intrigue in who can be the fastest, but — it might not happen here — inevitably somewhere, somebody's going to bump into somebody and piss somebody off.
"It's going to make it more fun, too."
Las Vegas also has a more prominent role in determining the field for the Chase for the Sprint Cup.
NASCAR is emphasizing winning, with the top 15 in victories in the first 26 events being guaranteed a spot in the playoffs. The 16th place goes to the leader in points without a victory.
Dale Earnhardt Jr. at Daytona and Kevin Harvick at Phoenix took major steps to making the Chase by winning the season's first two races. The winner Sunday won't necessarily be guaranteed a spot in the Chase but will be in excellent position.
"Already, there are 42 drivers feeling pressured they haven't won yet," Powell said before Harvick's victory at Phoenix. "I think this qualifying for the Chase format is wonderful, and I tell you, as this season goes on, there are going to be some nervous guys."
■ NOTES — The World of Outlaws STP Sprint Cars FVP Outlaw Showdown is at 6:15 p.m. today and Thursday at LVMS' Dirt Track. … The NASCAR Sprint Cup Series hauler parade is at 6 p.m. today on Las Vegas Boulevard.
Contact reporter Mark Anderson at manderson@reviewjournal.com or 702-387-2914. Follow him on Twitter @markanderson65.