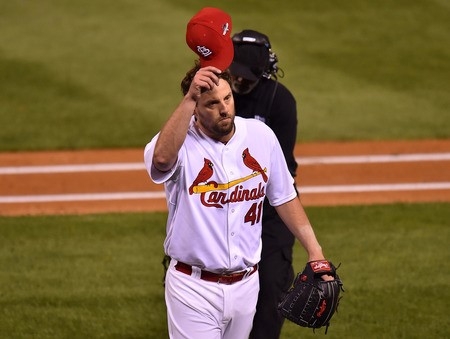 LOS ANGELES — Daniel Murphy homered and Jacob deGrom struck out a career-high 13, sparking the New York Mets to a 3-1 victory over the Los Angeles Dodgers in Game One of their National League Division Series on Friday.
DeGrom's 13 strikeouts tied Tom Seaver's franchise mark, which the Hall of Famer set in Game One of the 1973 National League Championship Series against the Cincinnati Reds.
DeGrom retired the final 11 batters he faced. He and Dodgers starter Clayton Kershaw, who struck out 11, became the first two opposing pitchers to strike out at least 10 hitters in a game.
Mets closer Jeurys Familia worked a perfect 1-1/3 innings for the save in front of a sellout crowd of 54,428 at Dodger Stadium.
With the win, the Mets took a 1-0 lead in the best-of-five series. Game Two is on Saturday, also at Dodger Stadium.
Kershaw lost his fifth straight playoff game. Kershaw (0-1), who is 1-6 in the postseason, was charged with three runs on four hits with four walks in 6-2/3 innings. Kershaw also lost to the Mets for the first time in 10 career starts.
Murphy gave the Mets an early lead, driving a 2-0 Kershaw fastball into the visitor's bullpen in right for a solo blast to open the fourth inning.
With two outs in the seventh and the bases loaded, third baseman David Wright laced a two-run single up the middle off reliever Pedro Baez to make it 3-0.
The Dodgers scored a run on first baseman Adrian Gonzalez's RBI single to left, scoring second baseman Howie Kendrick, who reached on a double, to slice the lead to two runs with two outs in the eighth.
However, Familia induced third baseman Justin Turner to line out to first to limit the damage.
Dodgers catcher A.J. Ellis, who went 1-for-3, had a fourth-inning single to extend his postseason hitting streak to a franchise record-tying 11 games. Ellis tied left fielder Carl Crawford's mark, set in 2014.
Cardinals rookies help clinch win over Cubs
St. LOUIS — The Chicago Cubs came to St. Louis with a highly regarded trio of rookie starters, but it was the Cardinals' one-two rookie punch that sealed victory in Friday's opener of their National League Division Series.
Eighth-inning home runs by Tommy Pham and Stephen Piscotty turned a 1-0 lead into a comfortable 4-0 win in the best-of-five series.
"Chicago has got great young guys, and we also got great young guys," the Cardinals' seven-times All-Star catcher Yadier Molina said, referring to the Cubs' Kris Bryant, Addison Russell and Kyle Schwarber.
Pham crushed a pinch-hit home run off Cubs starter Jon Lester and Piscotty lined a two-run shot off reliever Pedro Strop to back a sterling effort by Cards starter John Lackey.
"In the minor leagues we're kind of groomed to come up here and contribute," said 27-year-old Pham, a late bloomer. "The expectations are high for us.
"For me it's something I dreamed about as a little kid. Now it's happening. It's truly a blessing, kind of surreal."
Lackey, 36, said he enjoyed watching the new players.
"Those guys can hit," said Lackey. "It's kind of been our whole season. We've had to have contributions from young guys cause we've had some of our veteran guys hurt."
"For them to get involved in this first game like that, it was fun to see. As you get older as a player, it's fun to see younger guys experience some things for the first time."
Piscotty, a 24-year-old outfielder, showed his versatility by playing first base in his first Major League Baseball postseason game.
Cardinals manager Mike Matheny heaped praise on his rookies.
"Stephen has been as consistent as any young player you could ever bring into a situation, and was thrown into a position where he hasn't had much repetition," Matheny said about Piscotty, who hit .305 with seven homers and 39 RBIs in 233 at-bats.
"He's got a great baseball IQ, makes incredible adjustments for a young player."
Pham delivered five home runs in 153 at-bats with the Cards.
"Pham we brought in because we needed a spark. I think tonight kind of shows he has that potential," the manager said.
St. Louis, with a National League-best 11 World Series titles, have a tradition of success.
Piscotty said Cardinals veterans told the younger players "it was going to feel different" to play postseason ball.
"They just stressed relax, breathe and try to handle the nerves better than the other team," he said. "And I think everyone on our club did that tonight."
Rangers beat Toronto again to put Blue Jays on ropes
TORONTO — It came down to a battle of the bullpens. The Texas Rangers won that and ultimately the game Friday.
While the bullpen held the Toronto Blue Jays to two hits over the final seven innings, theRangers scored twice in the 14th inning to earn a 6-4 victory and take a 2-0 lead in the best-of-five American League Division Series.
"As far as our bullpen is concerned, what a phenomenal job they did today and the zeros they put up," Rangers manager Jeff Banister said. "
Blue Jays manager John Gibbons was not surprised by the strength of the Texas bullpen.
"No, no, we saw them early in the year," he said. "They've got some big arms."
The Blue Jays' bullpen took a hit when left-hander Brett Cecil suffered what Gibbons called "a significant tear in his calf."
Cecil was injured in a rundown play that ended the eighth inning.
The Blue Jays bullpen also excelled until the 14th inning when Hanser Alberto, filling in a third base for injured Adrian Beltre, singled in the go-ahead run against right-hander LaTroy Hawkins.
With his winning hit, Alberto atoned for an error that led to two unearned runs in the second inning.
"I feel pretty sour in the moment because that cost us a couple of runs," Alberto said.
"But you know, we fight until the last out. It was a team effort and, you know, just keeping my head up and ready for the next ground ball after that."
As for the winning hit.
"I'm just looking for the fastball every time, so finally I get it, put a good swing and thank Odor because he's hustling," Alberto said.
Hawkins retired the first two batters of the 14th before second baseman Rougned Odor reached first on an infield hit.
Catcher Chris Gimenez followed with a single. Odor rounded second and slid back to the bag after a throw from right fielder Jose Bautista nearly caught him.
The call stood after a video review although the Rogers Centre crowd disagreed.
"It looked pretty clear to a lot of us that there was a little bit of space in there," Blue Jays center fielder Kevin Pillar said.
"Besides, I thought it passed the eye test. But we've got the best umpires in the world for a reason so they're doing job as well."
After the review, Alberto singled to center to score Odor. Australian right-hander Liam Hendriks replaced Hawkins.
Center fielder Delino DeShields beat out an infield single to shortstop and another run scored.
Right-hander Keone Kela picked up the win and right-hander Ross Ohlendorf secured the save.
The Blue Jays know they must turn things around in a hurry.
"What do we have to do?" Pillar asked. "Not lose first of all. Just get back to what we've done. We haven't really played clean baseball. We've pitched outstanding but it's just a matter of stringing together some hits."
Blue Jays right-hander Marcus Stroman allowed four runs (three earned), five hits and two walks while striking out five in seven-plus innings
Rangers left-hander Cole Hamels allowed four runs (two earned) and six hits with six strikeouts in seven innings.
Royals edge Astros to even series
It was a survival game for the Kansas City Royals and a missed opportunity for the Houston Astros.
Ben Zobrist drove in Alcides Escobar with the go-ahead run in the seventh inning as the Royalsrallied from a three-run deficit to defeat the Astros 5-4 on Friday and even the American League Division Series at one win each.
Zobrist grounded a single to left on a curveball by Houston reliever Will Harris that scored Escobar, who led off the inning with a triple to right center.
The Royals play the next two games in Houston and on Sunday face left-hander Dallas Keuchel, who is 15-0 this season at Minute Maid Park.
"I just kept telling the boys we've got a long way to go, just keep plugging away," manager Ned Yost said after the Royals were trailing by three runs early. "Let it happen, don't try to make it happen. Just let it happen and it did."
Royals relievers Kelvin Herrera, Ryan Madson and Wade Davis shut down the Astros in the final three innings. Herrera picked up the victory and Davis logged his first postseason save.
Harris, the fourth of six Astros pitchers, took the loss.
The Astros jumped out to a 4-1 lead but managed just two singles after the third inning.
Both starters — Astros left-hander Scott Kazmir and Royals right-hander Johnny Cueto — were acquired in late July trades to bolster their club's chances for the postseason.
Kazmir departed after 5 1/3 innings, charged with three runs, five hits and a walk.
"From the first pitch of the game I felt I had good command of all my pitches," Kazmir said. "I was able to give the hitters a different look. I felt great. I felt I was getting stronger as the game was going on."
Cueto had a shaky first three innings, permitting four runs and six hits, including a home run by Rasmus, but only one hit after that. Cueto's final line was four runs, seven hits and three walks in six innings.
"I felt strong," Cueto said via an interpreter. "I felt like I was aggressive. Obviously this was a very important game that I had to go out and perform for my team.
"I didn't feel any pressure at all. I knows the magnitude of the trade and I know why I was brought here. I take a lot of pride in my stuff and a lot of pride in helping my club win."
The Astros again struck early and often, seizing a 4-2 lead after three innings.
Rasmus doubled with two outs in the first, scoring right fielder George Springer, who had walked. Rasmus has an extra-base hit in his first six postseason games, a major league record.
"I feel blessed," Rasmus said. "The Good Lord is with me. It's just one of those things.
"I'm just playing and not thinking about no records or none of that stuff. I'm just loving the game right now and trying to help these boys win a ball game."
But the Royals got the win, scoring three runs in the sixth and seventh inning to pull out a badly needed victory.