Miller all business in his decisive Cagefighting win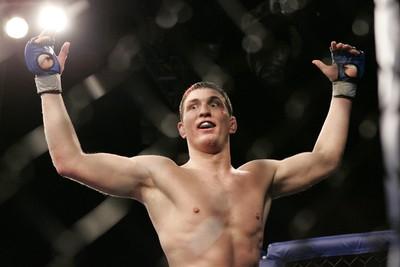 Jason "Mayhem" Miller entered the ring in a business suit, complete with clip-on tie, as if he were ready to go to work.
He then made the mat his office in winning a unanimous decision over Hiromitsu Miura in a middleweight bout Saturday night on the World Extreme Cagefighting card at the Hard Rock.
Miller got the fight to the ground in the first and third rounds and won both rounds on all three judges' scorecards.
He was close to choking out Miura on several occasions in the first round and again controlled the ground in the third.
"I really thought I was going to finish him," Miller said. "To tell you the truth, it was very disheartening. I thought I would finish him in that first round, but he was a really tough kid."
When the fighters were on their feet, however, Miller appeared to be on his lunch break. Miura controlled the second round as the fight became a stand-up battle.
Each fighter connected with a low blow in the final round. Miller pulled away from Miura and delivered a kick that landed solidly below Miura's belt 10 seconds into the third.
Miura was on his back for five minutes before getting to his feet to continue the fight. Miller took advantage by taking down Miura quickly after the restart.
"I was getting pretty bored standing there," Miller said. "I mean, what I did was wrong, but this is a fight."
Miura connected with back-to-back knees below the belt in the fight's final minute. He did his only damage from the ground late in the bout as he got Miller in an armbar. Miller escaped and again took control of the action on the ground.
In the first defense of his WEC light heavyweight title, Doug Marshall made quick work of No. 1 contender Justin McElfresh in the main event.
Marshall landed a barrage of punches before dropping McElfresh with two consecutive strong right hands at 2:16 of the first round, prompting the referee to stop the fight.
"Once I had tasted one of his combos, I knew that he couldn't hurt me," Marshall said. "I knew I could just go right at him and finish the fight."
After an entertaining first round, Sherron Leggett dominated Charlie Kohler in the second round of a lightweight bout and earned a stoppage victory at 2:25.
Las Vegan Eric Schambari remained unbeaten with a unanimous decision over veteran Art Santore. Schambari earned the judges' favor by fighting from the top in a bout that was on the ground for most of the three rounds.
Hawaiian Johnny Sampaio took the first loss of his career when he suffered a left knee injury while trying a hip toss against Ed Ratcliff, who was awarded a TKO victory to stay unbeaten in his young career.
Also on the card, Ariel Gandulla won a split decision over Gary Padilla in a light heavyweight bout.