Amanda Nunes offers sharp critique of Ronda Rousey's coach
January 2, 2017 - 3:30 pm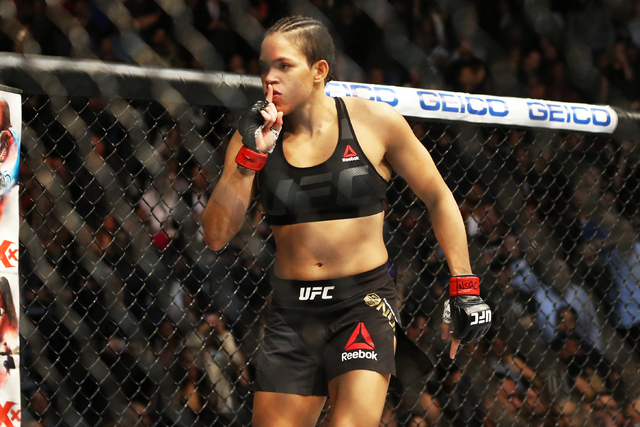 UFC women's bantamweight champion Amanda Nunes landed 27 crushing strikes in just 48 seconds in her dominant victory over Ronda Rousey in the main event of UFC 207 at T-Mobile Arena on Friday
Nunes may have landed her most crushing blows on Rousey's coach Edmond Tarverdyan at the post-fight news conference.
Tarverdyan has been the target of criticism from fans, media and even Rousey's own mother who said while Rousey was still undefeated that she should switch training camps because Tarverdyan is a poor coach who simply drew the good fortune of having an Olympic athlete walk into his gym.
Nunes took it one step further, pinning the blame for Rousey's two knockout losses squarely on Tarverdyan, who has a boxing background and has been vocal about how good of a striker he believes he has made her over the years.
"He thinks she's a boxer," Nunes said. "He keeps putting these things in her head and making the girl believe that. I don't know why he did that. She has great judo, but he put some crazy things about his boxing and her career started going down."
Nunes acknowledged she yelled in Tarverdyan's direction inside the cage immediately after knocking out Rousey.
"I told them, 'I'm the real striker here' and that's what I wanted to say to him," she said.
Before Rousey fought former world boxing champion Holly Holm in November 2015, Tarverdyan said in multiple interviews he believed Rousey could also win a world title in boxing and wasn't concerned with Holm's striking advantage.
Rousey got pummeled in that fight to suffer the first loss of her career and Nunes, a powerful striker herself, said she went into her fight doubting Rousey and Tarverdyan had learned their lesson.
"Her coach told her she had good striking so I knew she was going to try to punch with me," Nunes said.
Rousey had won her first 12 professional fights, nine by submission, with only one getting out of the first round.
ROUSEY'S MOM URGES RETIREMENT
Rousey's mother is no longer urging a switch in training camps.
She would prefer a new career.
AnnMaria De Mars, the first American woman to win a world judo championship, believes her daughter has too much going for her outside the cage to continue getting punched in the face.
"I would like to see her retire," she told TMZ. "I would have liked to see her retire a long time ago. Who wants to see their kid get hit? She's got a lot of talent in a lot of other things. Movies, writing, producing. She's really, really smart.
DeMars doesn't believe the fight game was made for people with options in their life.
"I told her that at the beginning when she started this. I said, 'You're smart and beautiful. Let the stupid people get punched in the face,'" DeMars said. "Sorry stupid people. I think she's an adult and she can make her own decisions.
"If you get in a fight with somebody or you're angry with somebody, that's not the time to make decisions. I think decisions are best made when you're not really emotional and obviously losing something is a real emotional thing."
Rousey, 29, has not made a decision on whether she will fight again.
LONGTIME EMPLOYEES LEAVE UFC
Friday night marked the last UFC event for two staples of the organization.
Matchmaker Joe Silva announced his retirement earlier this year and remained in his role through UFC 207, where longtime play-by-play voice Mike Goldberg called the action for the final time.
Goldberg first called a UFC fight in 1997 and became the regular voice at UFC 40 in 2002. Jon Anik will now move into the role for now, but UFC president Dana White has said he has a "dream team" of commentators in mind and hopes it is assembled at some point in 2017.
Silva's time as chief matchmaker predates even White's time at the company. He decided to retire after the organization was sold to WME-IMG in July. Sean Shelby has been promoted into Silva's role.
Contact Adam Hill at ahill@reviewjournal.com or 702-277-8028. Follow @adamhilllvrj on Twitter.
MMA Schedule
Invicta FC 21 (UFC Fight Pass)
Jan. 14, Kansas City, Missouri
UFC Fight Night (FS1)
Jan. 15, Phoenix
Bellator 170 (Spike TV)
Jan. 21, Los Angeles