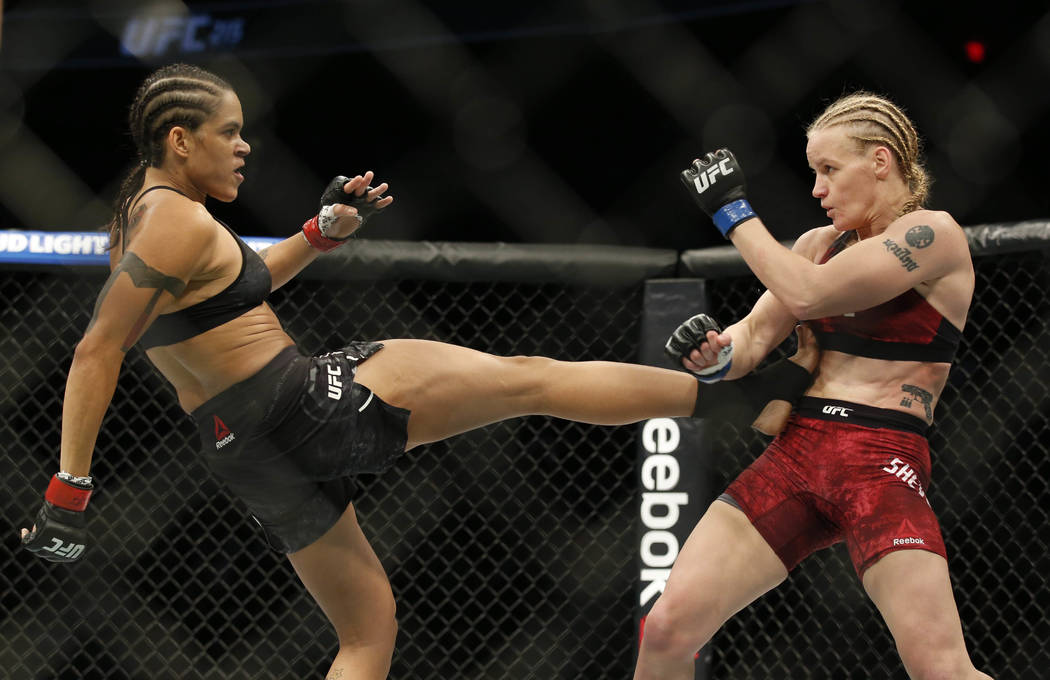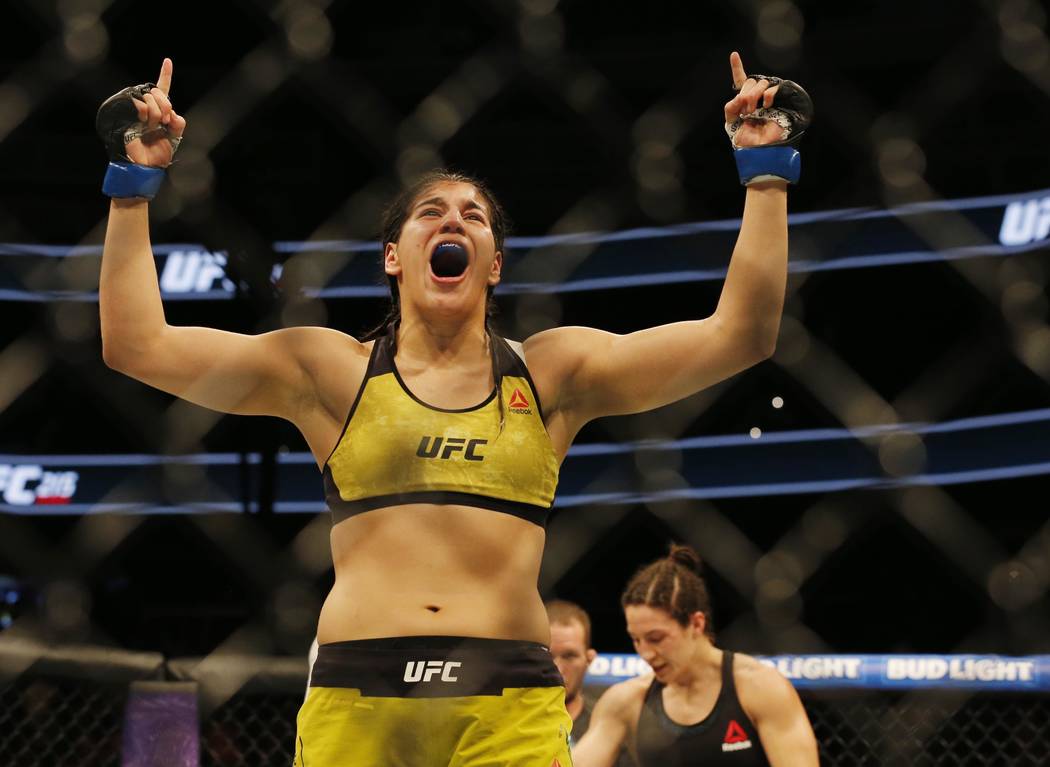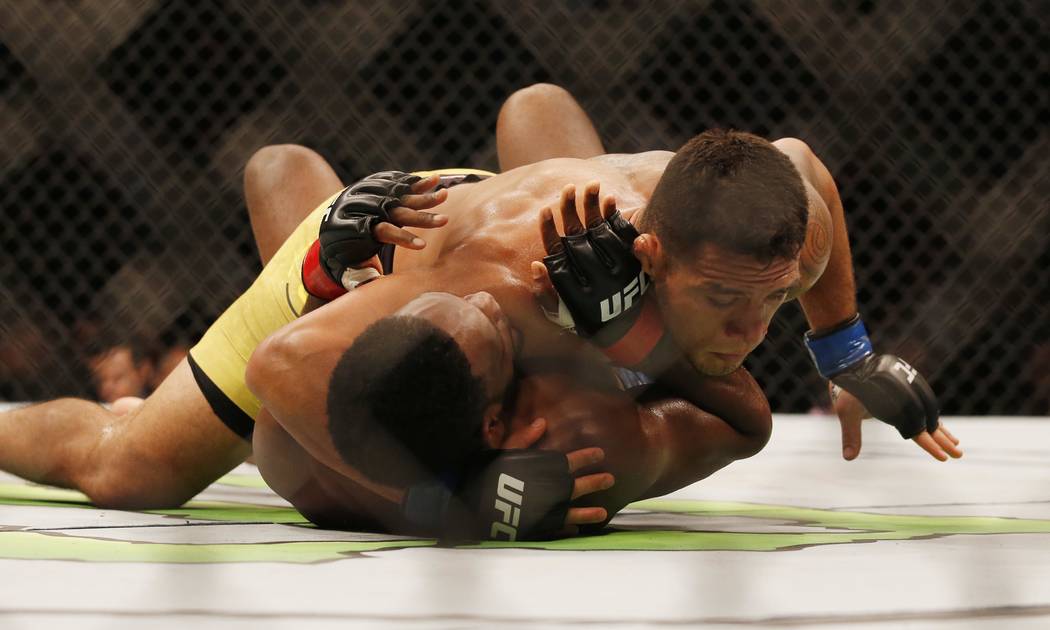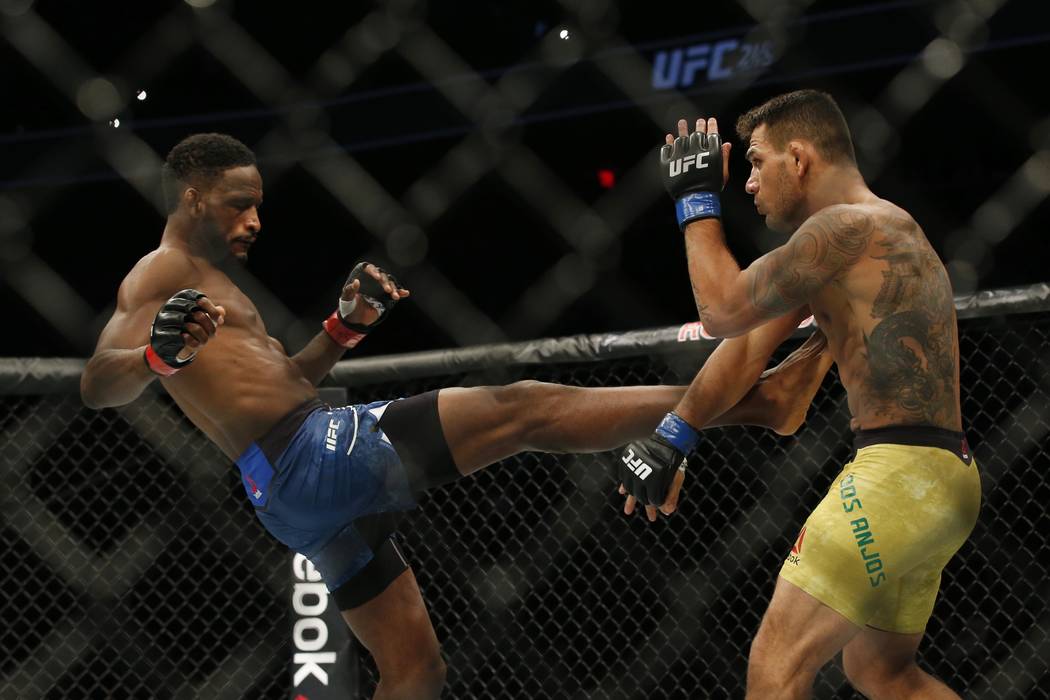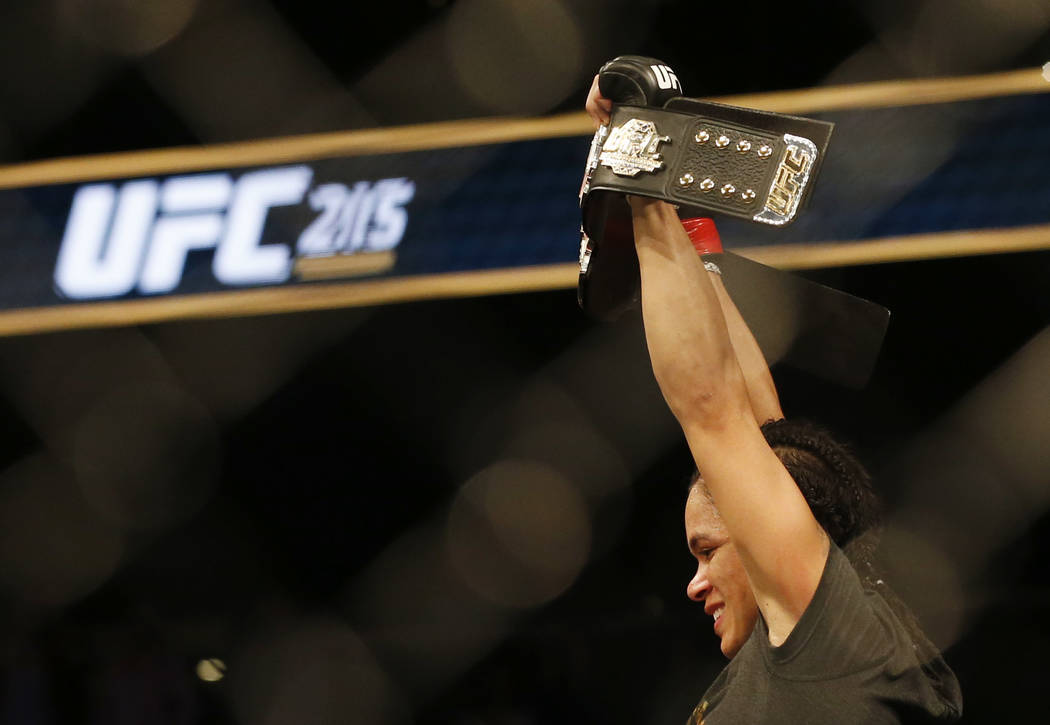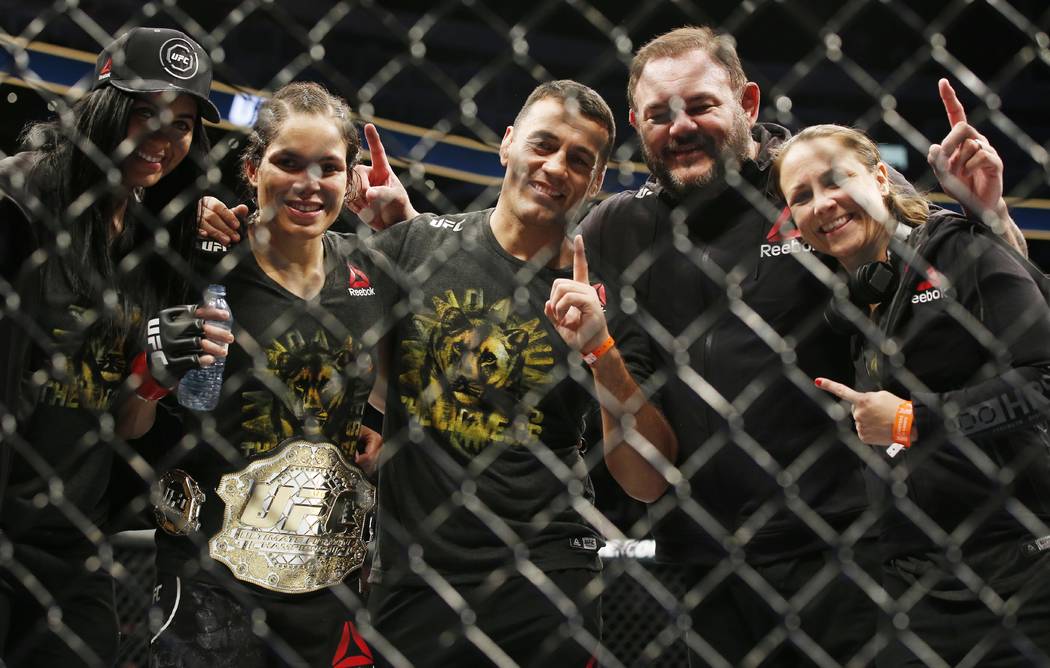 Valentina Shevchenko waited an extra two months to fight UFC women's bantamweight champion Amanda Nunes.
When her chance finally came, she lost a split decision to Nunes on Saturday night in the main event of UFC 215 in Edmonton, Alberta.
Nunes retained the belt after five close rounds, winning 48-47 on two scorecards. Shevchenko won 48-47 on the third. Two late takedowns in the fifth round might have sealed the deal for the champion.
The Review-Journal scored the bout 48-47 for Nunes.
The challenger vehemently disagreed.
"I don't understand how the victory went to the other side," Shevchenko said. "She didn't hit me one time. Not one punch. Look at her face. And she's still champion? For two takedowns in the whole fight? I hit her hard even (from my back).
"She didn't win this fight."
Shevchenko was to fight Nunes at UFC 213 in July at T-Mobile Arena, but Nunes pulled out of the bout the morning of the bout because of illness.
"I apologize to everyone for what happened, but I was really sick," she said after Saturday's win. "I got back and got treatment, and I was 100 percent tonight.
"I knew in the last round I was going to go for the takedown, and it got the round for me."
Nunes also won a decision over Shevchenko when both were rising contenders. Shevchenko said she wants a third shot.
"I definitely will win this belt," she said. "I want this fight (again)."
In other fights on the main card:
— Former lightweight champion Rafael dos Anjos improved to 2-0 since moving up to welterweight with a submission at 3:43 of the first round over Neil Magny.
Dos Anjos dropped Magny with a leg kick in the opening minute and worked for position until he knocked in an arm-triangle choke and forced the submission.
— Flyweight contender Henry Cejudo knocked out Wilson Reis 25 seconds into the second round to snap a two-fight losing streak.
The former Olympic gold medalist in wrestling, whose only MMA defeats came against champion Demetrious Johnson and No. 1 contender Joseph Benavidez, showed off greatly improved striking and could be on the verge of another shot at the belt, particularly with Benavidez injured.
— Light heavyweight Ilir Latifi wore down Tyson Pedro to win a unanimous decision and hand the Australian prospect the first loss of his career.
Pedro never had been out of the first round in six previous fights and was taken down several times by Latifi as the fight progressed.
— Jeremy Stephens cruised to a unanimous decision over Gilbert Melendez after damaging Melendez's leg with a kick early in the fight.
Melendez, a former Strikeforce lightweight champion who was fighting at featherweight for the first time, struggled to stay on his feet throughout the rest of the fight, as Stephens relentlessly attacked the injury until the final bell.
On the preliminary card:
— Women's bantamweight prospect Ketlen Viera remained undefeated in nine professional fights and improved to 3-0 in the UFC with a second-round submission of contender Sara McMann.
— Sarah Moras returned after more than two years away from competition in the same weight class and submitted Ashlee Evans-Smith in the first round.
— Rick Glenn dominated all three rounds of a featherweight bout to hand Gavin Tucker the first loss of his career, and Alex White knocked out Mitch Clarke in the third round of a lightweight bout.
— Canadian lightweight Kajan Johnson knocked Adriano Martins out cold with a right hand behind the ear early in the third round, and unbeaten heavyweight prospect Arjan Bhullar made a successful UFC debut with a unanimous decision over Luis Henrique.
Contact Adam Hill at ahill@reviewjournal.com or 702-277-8028. Follow @adamhilllvrj on Twitter.