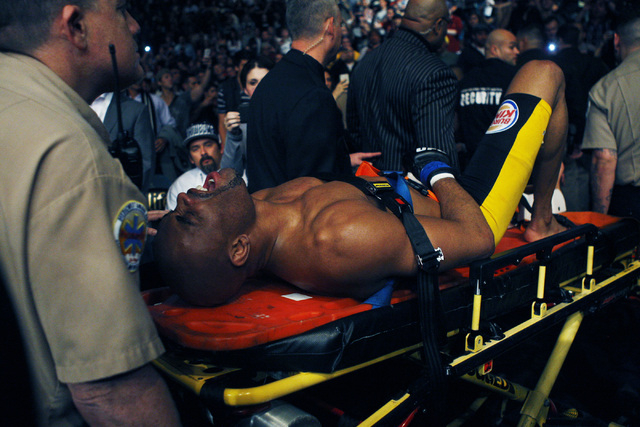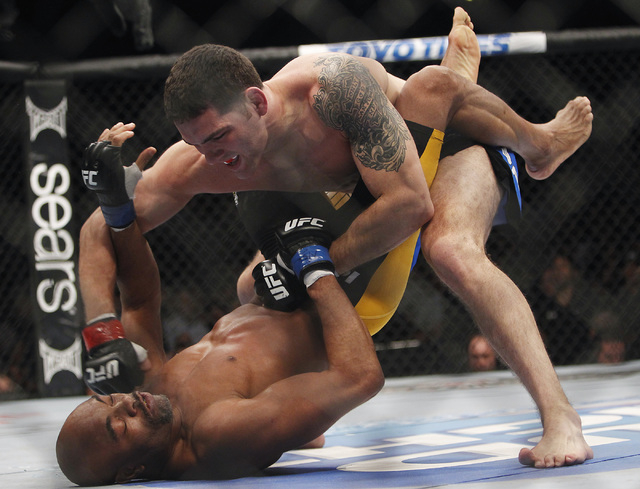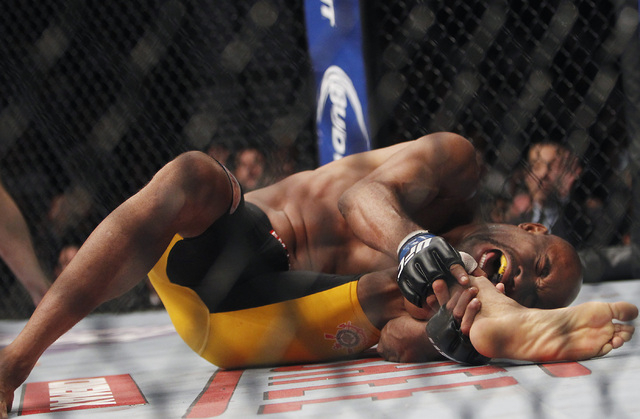 Former UFC middleweight champion Anderson Silva knows his career could have very well ended inside the cage at the MGM Grand Garden on Dec. 28.
Then 38, the Brazilian was perhaps the most successful champion in UFC history and is in the top two on just about every list of the all-time greats.
He had lost his belt to Chris Weidman in July and during the rematch on that December night, suffered a gruesome broken leg while attempting to kick Weidman's leg.
Silva had every reason to call it a career. Instead, he battled through the rehabilitation process — and depression — and is set to make his return against Nick Diaz at UFC 183 on Jan. 3.
Silva held a news conference in Brazil last week to discuss his recovery, his training and what life has been like the last 10 months.
"I'm very happy to be able to come back and do this again. I thought I wouldn't be able to fight again, so I'm training even more now. Every day I'm more enthusiastic about training," Silva said through an interpreter. "My (coach) is holding me back in training, he tells me I don't have to run every day. Now I want to run every day. I couldn't run for a whole month, I was just seeing people run, so now I'm running every day like Forrest Gump."
Silva officially announced his return in July. He said he is still working to rebuild the strength and trust in his leg, but fully expects that to happen by the time he steps back in the cage.
"I believe on fight night I will be 100 percent," Silva said.
Silva was far more open and upbeat than in his typical appearances in front of the media. He says dealing with the injury has made him more mature and provided a renewed focus on his career.
That didn't happen overnight, however.
"(The injury is) something I don't like to remember too much. I went through the worst month of my life. It was a lot of pain the moment when I broke my leg. When I realized my leg was broken, I thought my career was over. So a million things went through my mind," he said. "You might think that depression is not something serious, but I was depressed. I was very upset, and if I didn't have the people that I have by my side, maybe I wouldn't come back."
One thing that isn't driving Silva at the moment is the title. He didn't rule out pursuing the belt again at some point, but said it's not a motivating factor at the moment.
Plus, Silva said his friend and teammate Ronaldo "Jacare" Souza is in line to fight for the middleweight title soon and he wouldn't want to stand in the way of that.
UFC 183 will take place in Las Vegas, though no venue has been announced.
■ ST. PIERRE BACK IN GYM — Former UFC welterweight champion Georges St. Pierre has been cleared to return to training following surgery to repair a torn ACL in March.
It's still unclear whether St. Pierre plans to return to competition.
The 33-year-old vacated his title last December and announced an indefinite leave of absence, citing personal issues and the amount of stress that accompanied his long title run. His injury wiped out any talk of a return, but speculation is heating up now that he is back in the gym.
"They cleared (St. Pierre's) knee," UFC president Dana White said. "After surgery like that it still takes about another 30 days before you start to mentally feel right, but he's in a good spot. His knee just got cleared and he'll start training again and getting back into shape. He'll let us know when he's ready."
St. Pierre's friend and longtime trainer Firas Zahabi tweeted a picture of St. Pierre in the gym Monday.
"First day back in training. Georges looked awesome," Zahabi wrote.
■ WEIDMAN TO THE RESCUE — UFC middleweight champion Chris Weidman made headlines last week when he came to the aid of a 94-year-old neighbor who was bleeding profusely in her driveway after hitting her head on a glass table.
Weidman told UFC.com he heard noises and saw a figure through the torrential rain that was not exhibiting normal body language. He got closer to investigate and found the elderly woman attempting to summon help on her phone.
"She's completely drenched in blood, it was a nightmare scene. Blood is pouring out of her head," Weidman told the website.
The fighter attempted to call 911, but the lines were tied up. So he called a police officer friend in his Long Island town and summoned help.
Weidman said he tried to calm her down and applied paper towels to the wound until an ambulance arrived.
■ BREAK OVER — The longest stretch of the year without a scheduled UFC event ends Saturday when UFC 179 takes place in Rio de Janeiro.
Jose Aldo will defend the featherweight title against Chad Mendes in the main event. The bout is a rematch of a January 2012 contest that saw Aldo hand Mendes the only loss of his career with a knockout in the closing seconds of the first round.Mendes is 5-0 since with four knockouts.
Also on the card, Phil Davis takes on Glover Teixeira in a matchup of light heavyweight contenders.
Contact reporter Adam Hill at ahill@reviewjournal.com or 702-224-5509. Follow him on Twitter: @adamhilllvrj.