Bad break mars Weidman's win
December 28, 2013 - 10:56 pm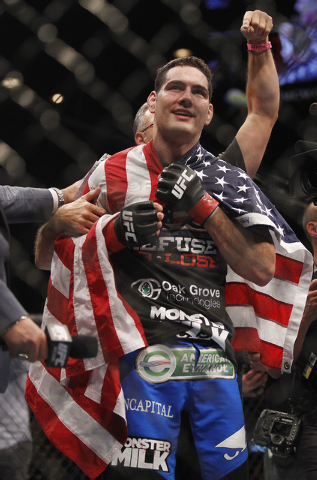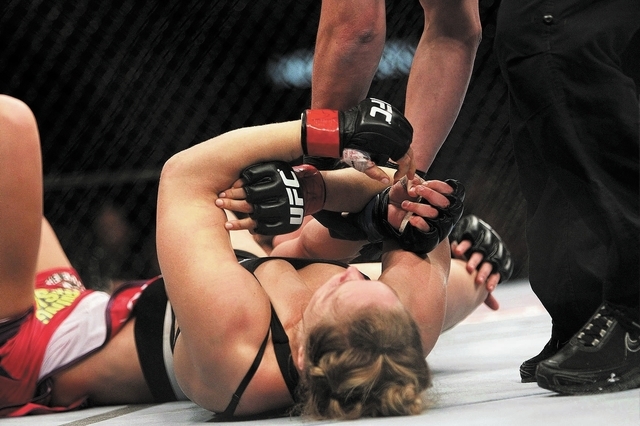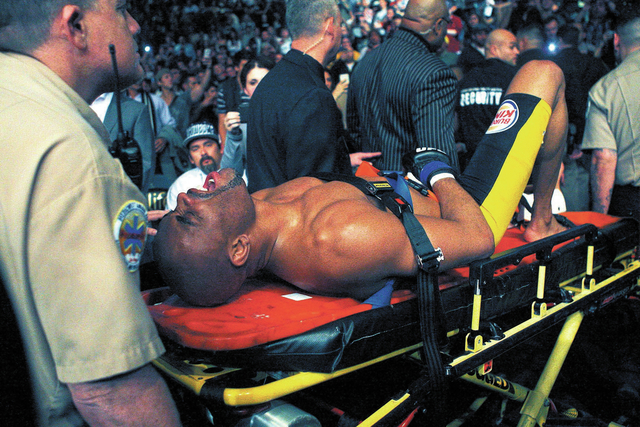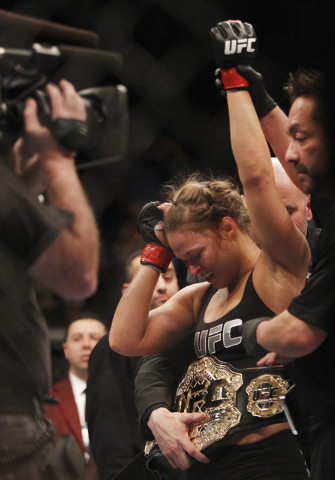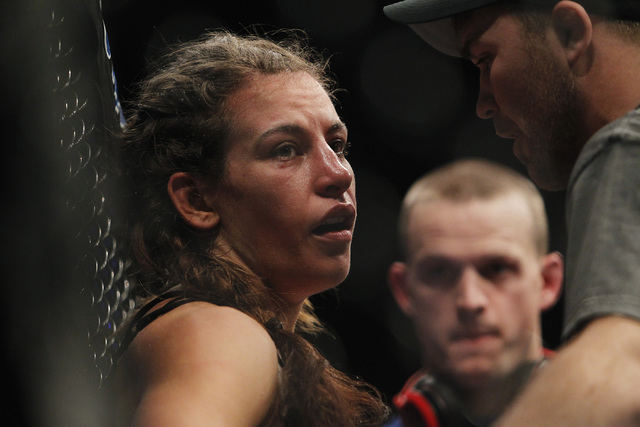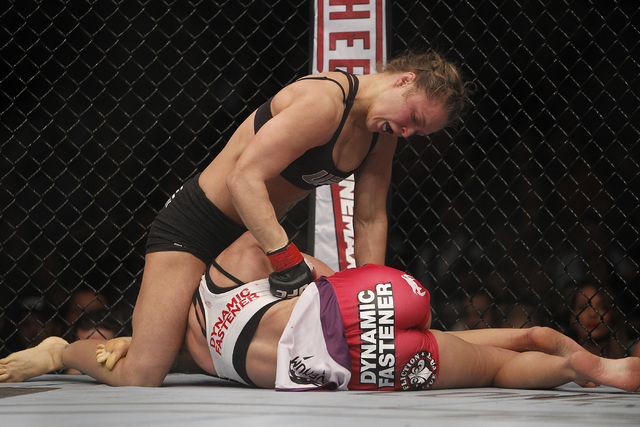 UFC middleweight champion Chris Weidman entered the cage Saturday night hoping to prove his victory over longtime champ Anderson Silva in July was no fluke.
Instead, he had to settle for retaining his title by way of perhaps the most bizarre ending to a title fight in UFC history in the main event of UFC 168 on Saturday night at MGM Grand.
Weidman was awarded a TKO victory early in the second round after Silva broke his left leg while attempting a low kick that Weidman checked with his shin.
Silva immediately dropped to the ground and referee Herb Dean called a stop to the fight as the 38-year-old Brazilian writhed around on the mat screaming in pain.
In the co-main event, Ronda Rousey was extended past the first round for the first time in her career but managed to retain the women's bantamweight belt with a third-round armbar submission of Miesha Tate.
Weidman dominated the first round, but was unable to finish off the man who held the belt for seven years before a one-punch knockout by Weidman in July.
Weidman said he always knew he would have to defeat Silva twice to firmly establish himself as champion, but this ending was hardly what he had in mind.
"There's no real excitement in a fight finishing like that because you never want to see anyone get hurt like that," he said.
Weidman knocked Silva down with a clean right hand in the clinch early in the first round and followed up with a flurry that he hoped would be enough to prompt Dean to stop the bout.
Silva recovered and spent the rest of the round on his back, Then came the ill-fated kick early in the second round.
"We knew that in the last fight he hurt me most with the leg kicks so we trained checking them a lot," Weidman said. "The goal is to get your knee up and allow it to make contact with their shin right there. As soon as he hit me with that kick and moved backwards I knew right away."
Silva was taken to the hospital and unavailable for comment. Rousey left no doubt as to her supremacy over her arch-rival. Each time Tate closed the distance to try for a takedown, Rousey answered by using her world-class judo to throw her opponent to the ground and end up in an advantageous position.
Tate was able to make it out of the first round, something no Rousey opponent had been able to do in seven previous pro fights or her three amateur contests.
"Going more than one round was a good experience. In judo, I had to go five founds," the 2008 bronze medalist said. "I needed that experience in the octagon, and as my mom said, 'Better to get it in a win than in a loss.' I feel fine. I was much worse off after the Liz Carmouche fight, where she dislocated my jaw. I feel pretty good other than a scratch under my eye.
The end eventually came the same way all of her other victories had concluded as Rousey locked in an armbar early in the third round and forced Tate to tap out.
Tate had her moments, but spent much of the fight toughing her way out of Rousey's submission attempts.
"She was the better fighter tonight," Tate said. Rousey drew overwhelming boos despite the fight-of-the-night performance by refusing to shake Tate's outstretched hand.
The champion said her disdain for Tate is real and it would have been disingenuous to shake her hand.
"I respect Miesha very much as a competitor but I can't respect a fighter who did what she did and I cannot shake her hand because of it," Rousey said.
Heavyweight Travis Browne recorded his third straight first-round knockout victory with a quick stoppage of veteran Josh Barnett Browne stunned Barnett with a knee as he charged in for a takedown, then rained down a series of elbows as Barnett's head was on the side of Browne's hip.
The win likely sets up a fight with top contender Fabricio Werdum as the division waits for champion Cain Velasquez to recover from shoulder surgery.
Lightweight Jim Miller secured an armbar during a transition on the mat to submit Fabricio Camoes in the first round.
"I was very focused on the armbar and when I saw the opening I attacked it," Miller said. "Luckily it held up."
Dustin Poirier took a few early shots from Diego Brandao in a featherweight bout before rallying for a knockout victory in the closing seconds of the opening round.
Poirier appeared on the verge on finishing the fight with about 30 seconds remaining before Brandao blocked a few shots. Poirier ratcheted up the attack in the final 10 seconds and prompted the referee to step in just moments before the bell in the first fight of the main card.
Middleweight Uriah Hall capped the undercard with a stoppage of Chris Leben in what could possibly be final UFC appearance of Leben's storied career.
Hall scored a quick knockdown with a flying knee in the opening seconds, then closed the round with a knockdown and a series of right hands as Leben sat with his back to the cage. Leben asked his corner to stop the fight between rounds and referee Steve Mazzagatti obliged.
The loss marked the fourth straight for Leben, a cast member on the first season of "The Ultimate Fighter."
Also, Michael Johnson continued his ascension in the lightweight division with his second impressive performance in a row as he scored a second-round knockout of Gleison Tibau.
Featherweight Dennis Siver earned a unanimous decision over Manny Gamburyan and welterweight John Howard defeated Siyar Bahadurzada in the same manner.
Robbie Peralta and William Macario picked up victories on the untelevised portion of the preliminary card
Contact reporter Adam Hill at ahill@reviewjournal.com or 702-224-5509. Follow him on Twitter: @adamhilllvrj.