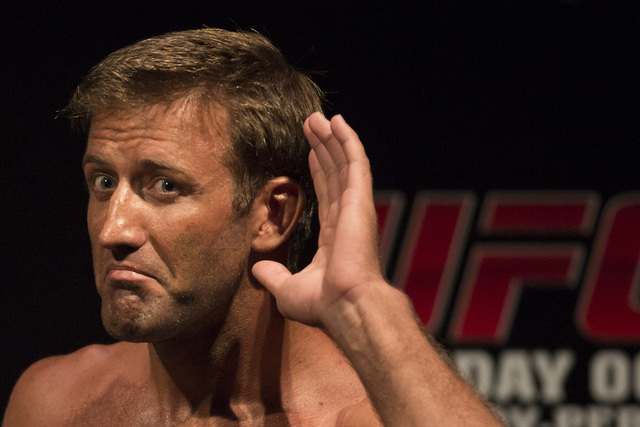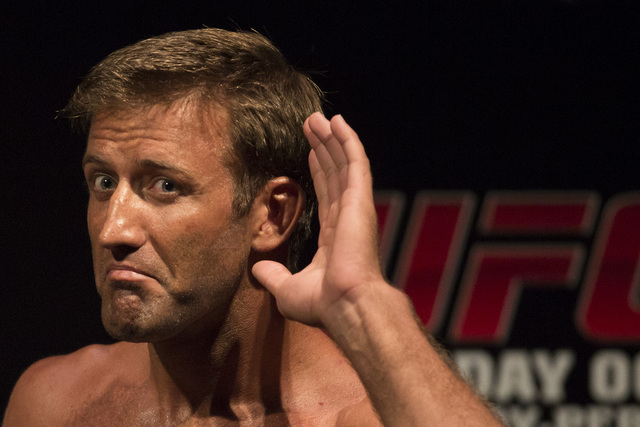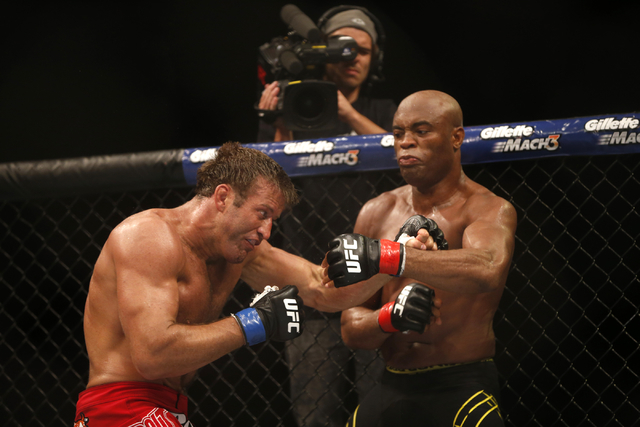 Las Vegan Stephan Bonnar was living the good life after stepping away from fighting for the first time in early 2012.
Bonnar had won three straight fights and attempted to parlay that into a third bout with Forrest Griffin, with whom Bonnar will be forever linked due to an epic slugfest that is largely credited with helping launch the success of the modern Ultimate Fighting Championship.
When he realized that fight wouldn't come together, Bonnar decided to call it quits. He took a job working for the UFC and enjoying his post-fighting gig.
"I had the good life on a silver platter. I was working for the UFC with health insurance, a pay check, everything. It was the good life," he said. "Just going around signing autographs, being cool and talking to people and telling them to do awesome things."
He also began taking steroids for cosmetic purposes.
Then, an offer came in to fight UFC legend Anderson Silva. Bonnar accepted, believing everything would be out of his system by the time of the fight. He was wrong.
Bonnar not only got knocked out in the first round of that November 2012 fight, he brought embarrassment to himself and the UFC with the failed post-fight drug test, the second of his career.
"That sucked, man. It sucked," Bonnar said. "I really in my mind thought the stuff would be out and I'd give him a great match and it would be back to the good life and being awesome. But no. It didn't work out.
"I had the good life handed to me on a silver platter and I dropped a deuce on it and got my self canned. That's the truth. I took that hard. Yeah, I hated myself for that."
Now he has a shot at redemption. Bonnar agreed to sign with Bellator Fighting Championships and will fight Tito Ortiz in the main event of a card in San Diego on Nov. 15. Bonnar insists he didn't take the fight simply as a way to re-write the ending of his career.
He also won't say whether he plans to continue fighting after the Ortiz fight.
It was just an offer the 37-year-old couldn't pass up.
"In a couple years I'll be too old to even consider taking an opportunity like this and if I don't do it now, I'll hate myself in the future," he said after a training session last week. "I gave it up. I was over fighting and content. It wasn't really so much about that as getting blessed with a great opportunity. That's the way I look at it. I don't see it as I need to redeem myself or whatever. I (expletive) up, got really mad at myself for it and was moving on with my life. Then I just got this great opportunity and I just can't say no. I couldn't say no to this.
Bonnar said fighting Ortiz specifically was appealing.
"I got asked by a big organization to star in a main event against the biggest douchebag our sport's ever known. I mean that," he said. "Opportunities like this don't come around often so when they do you have to jump on them.
"Sometimes it's a bomb that blows up on you and sometimes it's a nice cherry pie that tastes really good."
The event will air on Spike TV.
TWO EVENTS SATURDAY — The UFC will once again host two events on Saturday with cards in Australia and Brazil.
Michael Bisping will fight Luke Rockhold in the main event of a card in Sydney that will stream live on UFC Fight Pass early Saturday morning.
That event also includes a lightweight bout between Ross Pearson and Al Iaquinta.
Saturday night's event in Brazil on Fox Sports 1 will be headlined by a middleweight bout between former light heavyweight champion Mauricio "Shogun" Rua and Ovince St. Preux.
Rua was slated to face Jimi Manuwa, but Manuwa was forced to pull out of the event due to injury last week. St. Preux was moved up from another bout on the card to compete in the main event.
Also, John Lineker will fight Ian McCall in a matchup of flyweight contenders.
That card will air on Fox Sports 1 at 7:30 p.m.
CYBORG HURT — Former Strikeforce women's featherweight champion Cristiane "Cyborg" Justino suffered an ankle injury and will be unable to make her bantamweight debut on the Dec. 5 Invicta FIghts card in Houston.
Justino was hoping to successfully cut to 135 pounds for the first time in her career in an effort to prove to Ultimate Fighting Championship executives that she can make the weight in order to secure a contract and an eventual fight against UFC women's bantamweight champ Ronda Rousey.
Invicta announced an atomweight title bout between champion Michelle Waterson and Herica Tiburcio will serve as the new main event for the card.
VELASQUEZ GOES UNDER KNIFE — UFC heavyweight champion Cain Velasquez had surgery last week to repair a torn meniscus, or knee cartilage.
The 32-year-old had announced he would be forced to withdraw from a Nov. 15 title defense in Mexico City against Fabricio Werdum.
Velasquez last fought in October 2013. He has been out since due to a shoulder injury.
His coach announced after surgery Velasquez will likely be able to resume training in December and should be ready to fight as soon as March.
Werdum will instead fight Mark Hunt for the interim heavyweight title in the main event of UFC 180.
Contact reporter Adam Hill at ahill@reviewjournal.com or 702-224-5509. Follow him on Twitter: @adamhilllvrj.