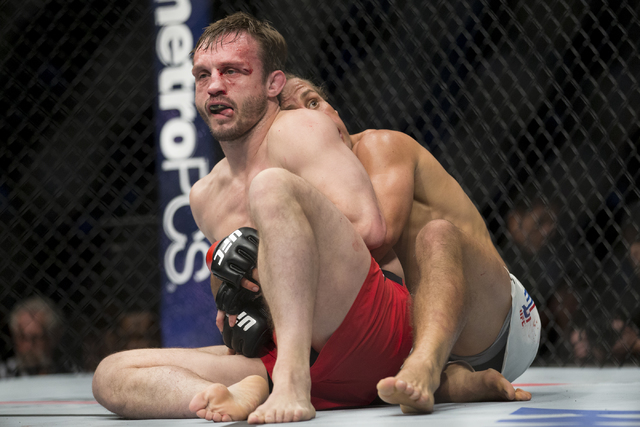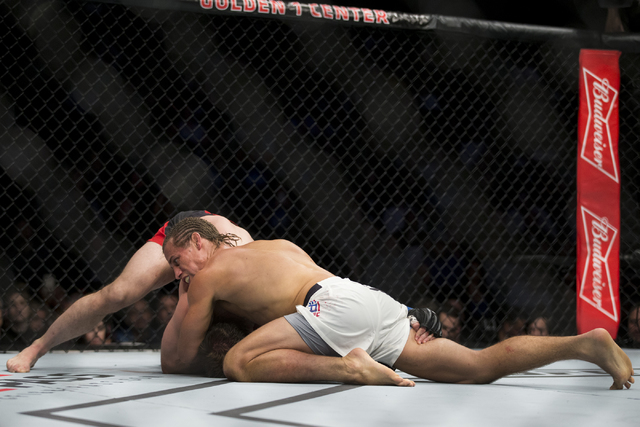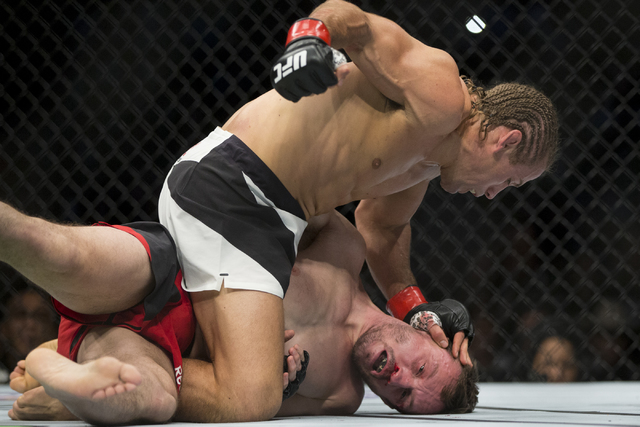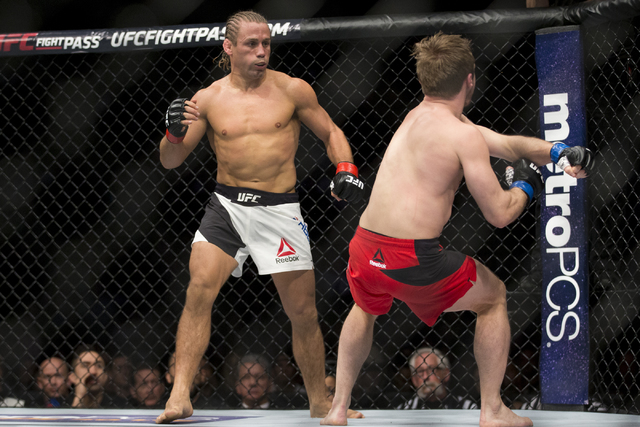 UFC veteran Brad Pickett's career didn't have the storybook ending that his fans hoped to see Saturday in London.
It was almost more fitting for the way his career played out.
Pickett won the first two rounds of his retirement bout against Marlon Vera at UFC Fight Night 107, but was knocked out in the third round by a head kick.
"It just shows I made the right decision," Pickett said of the anti-climatic ending in his hometown. "I was winning the fight for 14 minutes, and then I took a head kick the younger me would have chewed up and kept going.
"It's not the fairy tale ending me and probably a lot of other people would have wanted. I think everyone in there was rooting for me except for Marlon and his corner."
Pickett never won a world title in more than a decade as a contender in World Extreme Cagefighting and the UFC, but he's proud of his career.
"Zero regrets," said Pickett, who left his trademark fedora in the octagon after the loss. "I'm not one of those. I did everything I could to try to be No. 1 in the world."
The sold-out O2 Arena isn't far from the Wembley Conference Centre where Pickett began his pro career in 2004, but it felt like a different world.
He remembers receiving nothing more than a free table from which his friends could cheer him on when he first began fighting.
"When I started, it wasn't a legitimate career path," the 38-year-old said. "But now, if you take the sport seriously from a young age, there is a legitimate path for you to make life-changing money and support your family. It's a sport now."
The final fight became a microcosm of Pickett's career. He always has been known for entertaining fights, and Saturday was no exception.
"I went out on my shield," he said. "I could have played it really safe in the third round. I knew I won the first two rounds, and I could have just gotten a takedown and tried to run out the clock, but that's not me. It's never been me. Live by the sword and die by the sword. For me, I wanted to be in a typical Brad Pickett fight, and in a typical Brad Pickett fight, I would have gotten up and kept on fighting. I guess my age didn't allow that."
Pickett ends his career 25-14 with seven knockouts and 10 submission wins.
BADER SIGNS WITH BELLATOR
Light heavyweight Ryan Bader, a Reno native, has signed with Bellator MMA and will make his debut this year.
The McQueen High School graduate has been on the UFC roster since winning Season 8 of "The Ultimate Fighter" in 2008.
He became a free agent after his contract expired following a knockout of Antonio Rogerio Nogueira in November.
Bader, who won seven of his last eight UFC fights but never got a title shot, defeated current Bellator light heavyweight champion Phil Davis in January 2015.
HARDY NOT ON UFC 'RADAR'
Former NFL defensive end Greg Hardy has been training in Florida for his new career as a professional fighter, but don't look for the UFC to show an interest anytime soon.
UFC president Dana White told TMZ on Sunday the organization isn't interested in signing the beleaguered football star until he has proven himself in the cage.
"He would have to win some serious fights to even get on our radar," White said.
Not that the UFC is completely against looking outside the box. The organization once booked a fight for pro boxer James Toney, and last year former pro wrestler Phil "CM Punk" Brooks made his MMA debut in the UFC.
"We've tried some of these things, and they don't always work out," White said. "A lot of these fighters have been training since they were kids. He's been training to play football. He became great at it, but fighting's a whole different ballgame."
Hardy, 28, has been training at American Top Team. He played at about 280 pounds and will need to cut to 265 to fight at the heavyweight limit.
Follow all of our MMA and UFC coverage online at CoveringTheCage.com and @CoveringTheCage on Twitter.
Contact Adam Hill at ahill@reviewjournal.com or 702-277-8028. Follow @adamhilllvrj on Twitter.
CALENDAR
Saturday: Invicta FC 22 (Fight Pass), Kansas City, Mo.
March 31: Bellator 175 (Spike), Rosemont, Ill.
April 8: UFC 210 (FS1/PPV), Buffalo, N.Y.
April 8: Bellator 176 (Spike), Turin, Italy
April 14: Bellator 177 (Spike), Budapest, Hungary
April 15: UFC on Fox 24 (FS1/Fox), Kansas City, Mo.
April 22: UFC Fight Night 108 (FS2/FS1), Nashville, Tenn.