Brock Lesnar returns to UFC with score to settle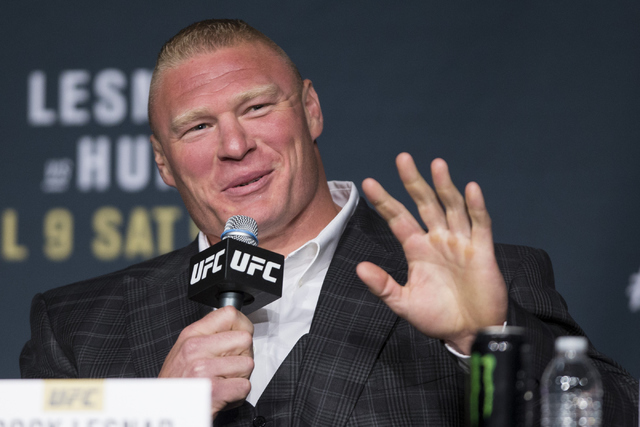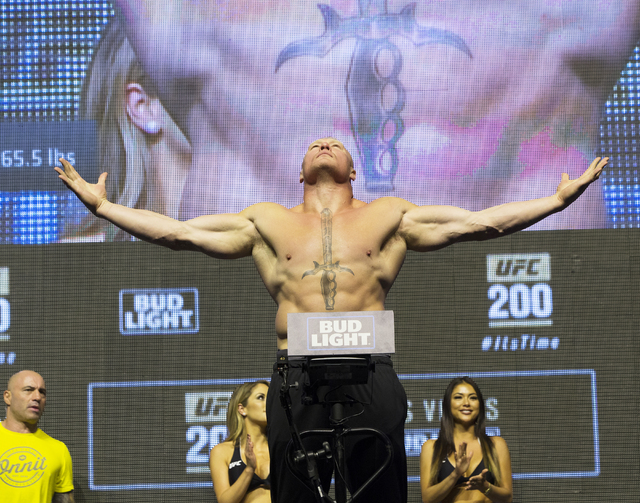 Brock Lesnar isn't sure he will fight again in the UFC after Saturday's UFC 200 bout against Mark Hunt.
He's not even certain when the nagging feeling of unfinished business in real fighting reached a boiling point that the idea started to turn into a possibility .
All the former heavyweight champion is certain about is that he had to fight at least one more time.
"I pondered for a while and literally I was sitting there one day on my property and it was just time," he said. "I can't sit and think about this and be caught up in this thought process wanting or wishing and wondering if I should do it. I'm a person that pulls the trigger. I'm the guy that doesn't want any regrets. So that's how simple it really was. I just didn't want to be a wrestler all the rest of my days on this earth wondering, 'Why didn't I step back in the cage again?' So here we are."
Lesnar, 38, announced his presence in the UFC in 2008 when the professional wrestling superstar manhandled former UFC heavyweight champion Frank Mir in his debut. Mir pulled out a victory by securing a submission from bottom position, but there was no doubt Lesnar belonged. In less than four years in the organization, Lesnar won the title and successfully defended it twice, drawing some of the UFC's biggest pay-per-view numbers.
He lost the belt in late 2010 and then endured a case of diverticulitis that forced him out of action. When he finally returned against Alistair Overeem in late 2011, Lesnar felt his strength had been zapped by the illness, and he was knocked out in less than three minutes.
Then, it was all over.
Lesnar returned to the WWE, and despite flirtations over the years, never looked back. He even announced last year in signing a new extension with the WWE that his real fighting days were over.
But he couldn't shake the feeling of how his career could have gone differently without the illness.
Once he was fully healthy, Lesnar decided to call UFC president Dana White, and with a historic event such as UFC 200 on the horizon, a deal was made.
Lesnar has an appearance booked with the WWE for its major SummerSlam show in August, but other than that, his future could largely hinge on how he performs against Hunt.
"This may be a teaser," Lesnar said. "I don't know. We'll see what happens."
Lesnar knows he can't regain the time he lost in the four-plus years he was away from the UFC, but he's trying to enjoy the process a little more this time around.
"I feel awesome," he said. "My health (problems are) behind me. I'm sitting here at UFC 200, soaking it all in."
The matchup with Hunt is an interesting one for his return. Lesnar's biggest weakness was his inability at times to take a big punch. Hunt might be the sport's hardest hitter.
Lesnar is aware of the conflicting styles and is ready to test himself.
"Is he better than I am at standup? Of course he is. Is he a better wrestler than me? Hell, no," Lesnar said. "And he'll probably tell you that, too. So I mean that's why we're fighting. We're going to see, see who the best man is with their discipline?"
For Lesnar, it's more about scratching the itch he has felt since 2011.
"Since I left the octagon after I got beat by Overeem and kind of forced out of the cage because of my illness, it haunted me," he said. "So, well, what do you do? Here I am, and before it's too late. I want to get back in the cage and have some fun with it. This is all about having fun. I'm not looking past this fight. I live one day at a time, one training session at a time. And I'm really looking forward to it."
The big question is whether he can keep that attitude once Hunt punches him in the face.
Contact reporter Adam Hill at ahill@reviewjournal.com or 702-224-5509. Follow him on Twitter: @adamhilllvrj
RELATED
Dana White's taxing week ends with UFC 200 intact
UFC 200 fight-by-fight breakdown