Burkman waits years to avenge Fitch loss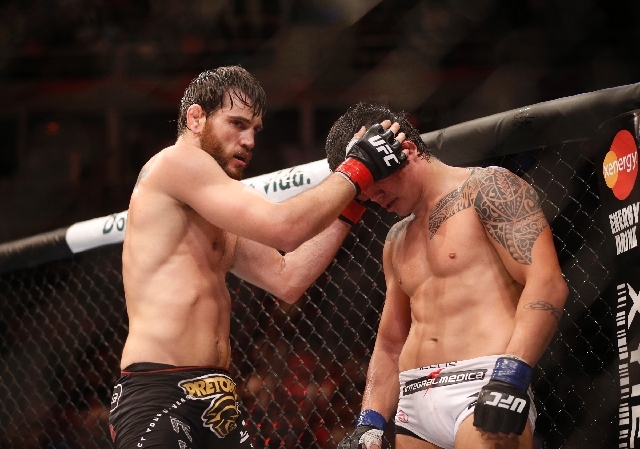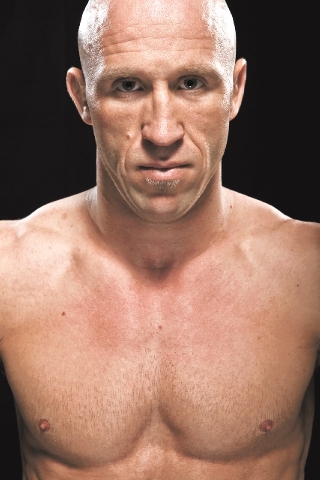 Beating Jon Fitch for the biggest win of his career made Friday night special for Josh Burkman. Doing it in spectacular fashion — in only 41 seconds — made sure Saturday was pretty good, too.
Burkman submitted Fitch in the main event of the World Series of Fighting card at the Hard Rock Hotel, exacting revenge for a 2006 loss in the Ultimate Fighting Championship.
It was the start of a weekend that included his wife's birthday party on Saturday at the Sunset Station pool.
"She got the win and I only got a couple marks on me. She just asked me not to get beat up too much so I didn't have a black eye on her birthday," Burkman said, adding he also played it safe by buying her some jewelry just in case.
The win puts Burkman in position to pick up his own glittering accessory — his next fight now is expected to be for the inaugural WSOF welterweight title.
It also showed Burkman how much progress he has made since getting dominated by Fitch seven years ago.
"The first fight was probably one of the biggest lessons of my career. I was coming off 'The Ultimate Fighter' and had won my first two fights really fast," Burkman said. "I think I was overconfident. I underestimated Jon Fitch and he beat me up. It taught me to be more disciplined and not get so high on yourself and respect all your opponents."
Burkman eventually was released from the UFC in 2008 after losing three straight fights. Since then, those lessons have really taken effect. He has won five straight fights and eight of nine.
The win over Fitch, however, felt different. Fitch, a former UFC title challenger, was a consensus top-10 welterweight going into the fight.
"I think (the win) validates that streak I've been on," Burkman said. "It also kind of brings everything full circle for me. My career went up and down after Jon Fitch. To get this one back is good for me and good for my career."
The Las Vegas-based WSOF will host its fourth event Aug. 10 in Ontario, Calif. Ray Sefo, the organization's 42-year-old president and a decorated kickboxer, will fight heavyweight Dave Huckaba. The event also will mark the WSOF debut of Nick Newell, an undefeated lightweight who was born without a left hand.
■ WHITE CHAMPIONS NELSON — Roy Nelson's decision to pass on a lucrative contract extension before taking a short-notice fight at UFC 161 on Saturday has been criticized in the wake of a three-round beatdown by Stipe Miocic.
Despite Nelson's lackluster effort and his well-documented rocky relationship with UFC president Dana White, all hope is not lost on salvaging a new deal.
"I want Roy Nelson in the UFC," White said of the 36-year-old Las Vegan after the event in Winnipeg, Canada. "Roy and I don't have to see eye to eye and be best friends for him to fight here."
But White said the performance did not help Nelson's bargaining leverage.
"Roy Nelson rolled the dice tonight. He had a high-stakes poker game, and he lost," White said.
The most logical competitor for Nelson's services would be Bellator. The Viacom-owned company hasn't been shy about pursuing fighters it believes can attract viewers to Spike TV, and Nelson has proven to be a draw over his 10 fights in the UFC.
Nelson, who had won three straight fights by first-round knockout, said his focus is on getting back on track with a win. He left the ball in the UFC's court on his contract status.
"If they want me here, I'll be here," Nelson said.
■ TITLE FIGHTS SCHEDULED — Featherweight champion Jose Aldo no longer will fight Anthony Pettis, who partially tore the meniscus in his knee. Chan Sung Jung, the "Korean Zombie," will step in to fight Aldo for the belt at UFC 163 on Aug. 3 in Rio de Janeiro.
Light heavyweight champion Jon Jones will fight Alexander Gustafsson at UFC 165 on April 21 in Toronto.
White told reporters in Canada the welterweight title fight between champion Georges St. Pierre and top contender Johny Hendricks probably will happen in Las Vegas in November, while the rubber match between heavyweight champion Cain Velasquez and former champ Junior dos Santos probably will headline UFC 166 in Houston.
Contact reporter Adam Hill at ahill@reviewjournal.com or 702-224-5509. Follow him on Twitter: @adamhilllvrj.