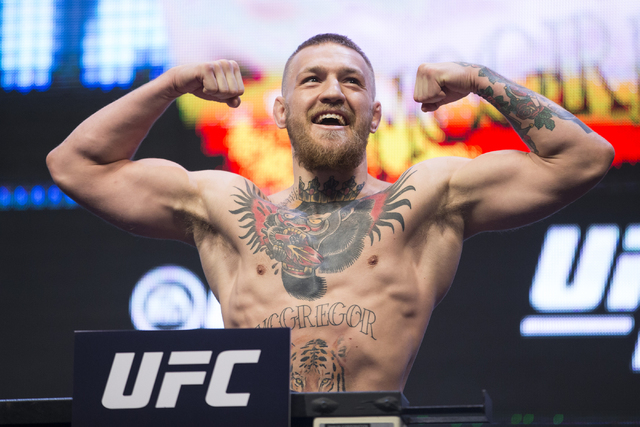 No.
It's the short and simple, yet very accurate answer to whether there is any merit to the ridiculous charade of a proposed boxing match between Floyd Mayweather Jr. and Conor McGregor.
There are several obstacles in the way, but one stands above all the others.
McGregor is under contract with the Ultimate Fighting Championship. The organization would almost certainly have to be a part of promoting any such spectacle and that's not the way Mayweather does business, even if UFC officials wanted to participate in such a farce.
It hasn't stopped both McGregor and Mayweather from continuously feeding the media with stories to fuel speculation for the better part of two weeks.
The latest came on Sunday night when McGregor posted a picture of several pairs of boxing boots on his Twitter account.
Boxing boots. pic.twitter.com/LBI1xo4Hiy

— Conor McGregor (@TheNotoriousMMA) May 17, 2016
Cue the online frenzy.
McGregor's photo came on the heels of Mayweather's comments during a Showtime boxing broadcast on Friday night.
"It's really not a rumor," Mayweather said of the possibility of fighting the UFC featherweight champion. "The fight may happen. We really don't know, as of right now. But do I think the fight will happen? Absolutely.
"We're the A-side, of course. It has to be a boxing match, because most fights that Conor McGregor won inside the octagon, he was a stand-up guy. So I'm pretty sure it's gonna be a tough fight for me. We really don't know as of right now, but there's been a lot of talk, and hopefully we can make the fight happen."
Even the network itself got in on the act, posting a mocked-up poster featuring both fighters with a poll asking who would win the hypothetical matchup.
#MatchupMonday: Who do you think would win @FloydMayweather or @TheNotoriousMMA? pic.twitter.com/aaT7kj1jKc

— SHOWTIME SPORTS (@SHOsports) May 16, 2016
Mayweather and McGregor are without peer in their respective sports in terms of self-promotion.
A retired boxer and a mixed martial artist that currently doesn't have a fight scheduled have managed to stay in the headlines just about every day for the past few weeks.
Bravo.
But fans probably shouldn't start saving money for tickets.
UFC president Dana White encapsulated the situation during an appearance on The Dan Patrick Show last week.
"Conor McGregor is under contract with the UFC," White said, before offering some advice on how Mayweather could make the fight happens if he really wants it. "Call me, Floyd."
The fantasy matchup is fun to talk about, but Mayweather's not going to agree to a mixed martial arts bout under the UFC banner. He's also very unlikely to co-promote a boxing match even if the UFC were to want to pursue such an endeavor.
There is some speculation McGregor could try to challenge his UFC contract in court. While it's certainly a possibility, that would require him to spend time fighting in a courtroom instead of in the cage during his prime earning years.
By the time a resolution was reached, even if it does work out in McGregor's favor and he was allowed to accept a fight, Mayweather could be well into his 40s.
None of this makes any sense.
Mayweather has been unrivaled in the combat sports world in terms of keeping himself in the news. He may have met his match in McGregor.
While both fighters are staying relevant on a daily basis without actually having to do anything, the end game isn't completely clear.
An actual fight between the two just isn't it.
Contact reporter Adam Hill at ahill@reviewjournal.com or 702-224-5509. Follow him on Twitter: @adamhilllvrj
RELATED
Report of Conor McGregor-Floyd Mayweather bout greatly exaggerated
UFC star Conor McGregor posts social media pics of potential Floyd Mayweather Jr. fight poster