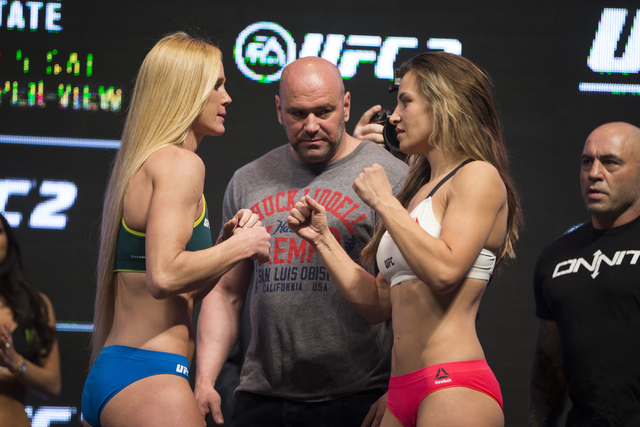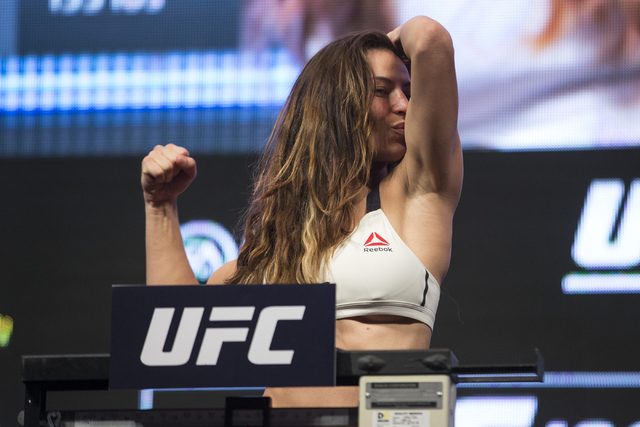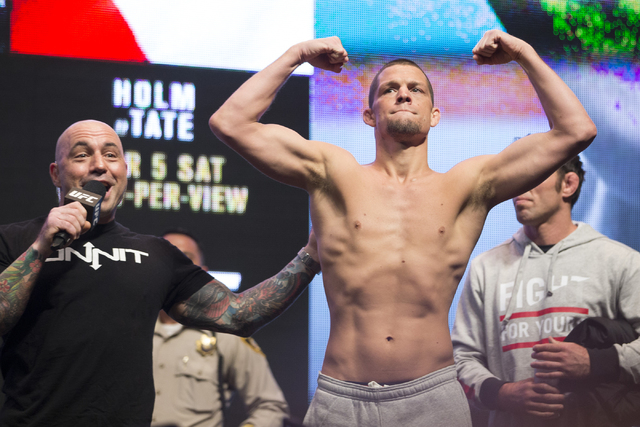 When tonight's UFC 196 card was announced several months ago, the major narrative was featherweight champion Conor McGregor getting a shot at history with the chance to defeat lightweight champ Rafael dos Anjos and become the first fighter to simultaneously hold two belts.
That plan evaporated when dos Anjos was injured last week and replaced by Nate Diaz.
Somehow, the fight feels even bigger now.
McGregor appears to have reached a point in which he transcends storylines. Just ask him.
"It's always a superfight when I'm in town," he said. "This is the numbers and straps life. Take out the strap, it's still the numbers life. This is always history every damn time. The gate keeps rising, the pay-per-views keep rising.The attendance. Everything keeps rising. It's always history every time I step in the octagon."
The bout headlines a pay-per-view card at 7 p.m. at the MGM Grand Garden that includes a women's bantamweight title bout between Las Vegan Miesha Tate and champion Holly Holm. Four fights from the preliminary card will air live on Fox Sports 1 at 5 p.m., with the first fight scheduled for 3:30.
McGregor said he isn't bothered about losing out on the opportunity to win a second Ultimate Fighting Championship belt when he meets Diaz.
"I'm seriously considering just making my own damn belt, and then I'll decide who fights me and at what weight," he said. "Why not? Who cares about the belts, it's the money fights. This is the money fight everyone wants, so they should be chasing for it, trying to knock everyone out of the way to get to it, not crying and complaining and sitting around waiting for Uncle Dana to make a phone call."
McGregor was referencing UFC president Dana White, who was left scrambling to find McGregor an opponent when dos Anjos was injured. McGregor has fought in the UFC at 145 pounds, where he holds the belt, but was going to take on dos Anjos at 155. He will take on Diaz at 170 pounds, where McGregor hinted he may stay after this fight.
Should he win, he said a welterweight title fight against champion Robbie Lawler at UFC 200 in July is a strong possibility.
White said McGregor has reached a status in which he has earned a say in what comes next.
"I'm open to whatever he's considering doing," White said. "If he wants to fight at 170, and he wants to fight Robbie Lawler, Conor is tough to deny these days."
It's the second major pay-per-view event in less than a year that McGregor has headlined in which his opponent pulled out less than two weeks before the fight. Jose Aldo withdrew from a July bout and was replaced by Chad Mendes.
This time, McGregor moving up two weight classes has added more of a challenge.
"Nobody has ever done this — 145 pounds going to 170," White said. "And it's one of those things that when you talk about these guys and the money is in the bank and all the things are going on and they have all this opportunity, Conor really does step up and fight anybody, anywhere, any time. It's impressive, it's fun. And this is what makes you love the fight business."
McGregor believes his willingness to take chances is a major factor in his rise to such unprecedented levels so quickly in the sport.
"There's a lot of people that play it safe in the game. There's a lot of scared (expletives) in the fight game. They don't take risks and people who don't take risks will never climb to that next level. I take risks all the time and I continue to do so," he said. "The fans show up here every time. They pay their hard-earned money to travel and then one person pulls out and the opponent just scraps the whole card only thinking of themselves as they sit in their comfortable home while the fans have saved up money and been hyped for an event. Me, I appreciate the fan support, I enjoy showing up and giving them a show and that's it."
McGregor truly believes the opponent doesn't matter, particularly when it comes to the bottom line.
In fact, he can think of only one challenger who could have any positive impact on the financial numbers in one of his fights.
"I'd love to fight myself if I really could," he said. "Imagine the numbers that would do, if there was two of me."
While the UFC closely guards financial information, McGregor said he thinks he will carry the company to its first year of revenues exceeding $1 billion at some point in his career.
"The company has been around for (just over) 20 years, and 2015 was its biggest year," he said. "Who was 2015? That was everything to do with me.
"The numbers continue to rise on all channels, even the Embedded series. All the numbers continue to rise. You're damn right we'll hit that billion mark."
He takes particular joy in pointing out how he makes money for others, too.
McGregor has consistently jabbed at Diaz about getting him the first massive paycheck of his career this week.
He's also aware of how much money he generates for Las Vegas and, in particular, the MGM Grand, where he is fighting for the third consecutive time.
"I know the people in the MGM are singing all the way to the bank," he said. "Maybe they'll take out that lion statue and put in an Irish lion. Or put me up there."
What McGregor really enjoys is fighting, however. He finally gets to do so once he steps into the cage with Diaz. After a news conference skirmish on Thursday, there was a lot of posing and gesturing with middle fingers during Friday's weigh-in.
McGregor believes Diaz is in trouble once the fight starts.
"You're like a gazelle. You're all hunched up together hoping to be spared. I'm a lion," McGregor said to Diaz on the dais Thursday. "I'm going to eat you alive in there, and your little gazelle friends are going to be staring through the cage at your carcass getting eaten alive. All they're going to do is say, 'We're never going to cross that river again.' "
Contact reporter Adam Hill at ahill@reviewjournal.com or 702-224-5509. Follow him on Twitter: @adamhilllvrj.