Conor McGregor, Khabib Nurmagomedov face formal complaints over UFC 229 melee
Updated December 3, 2018 - 8:46 pm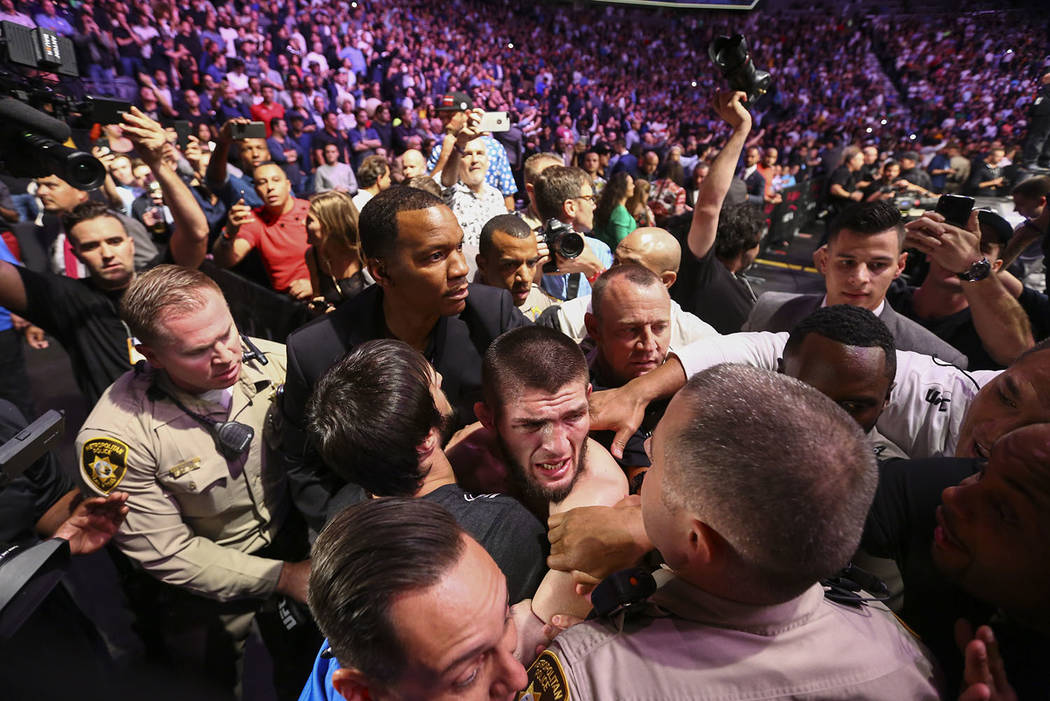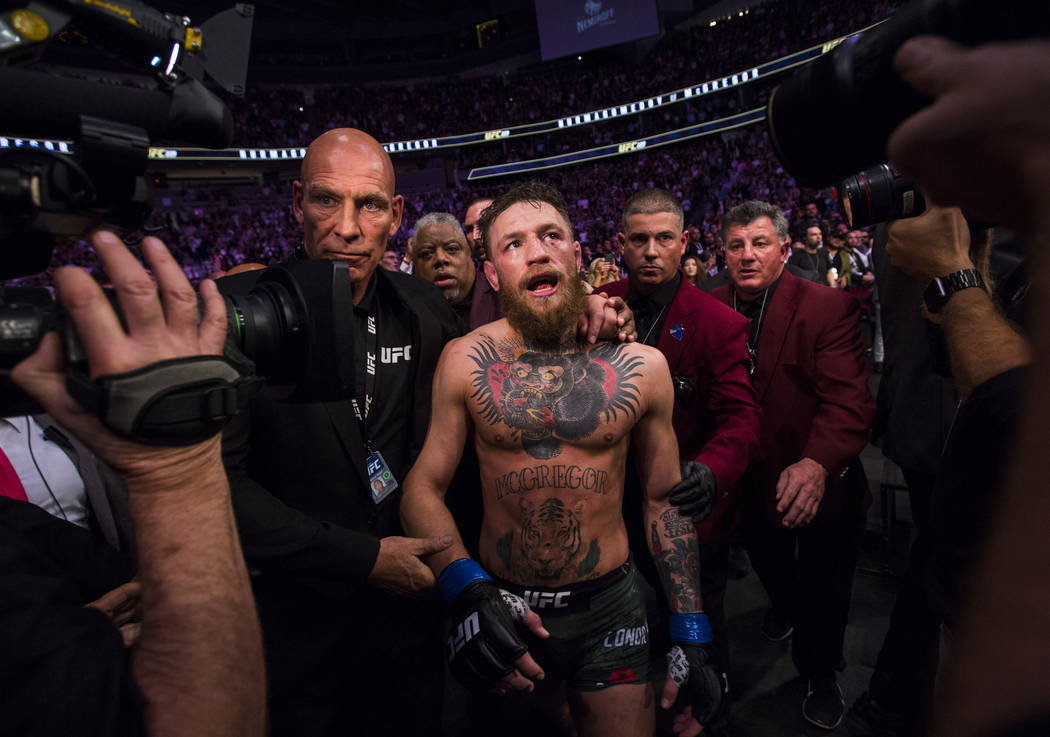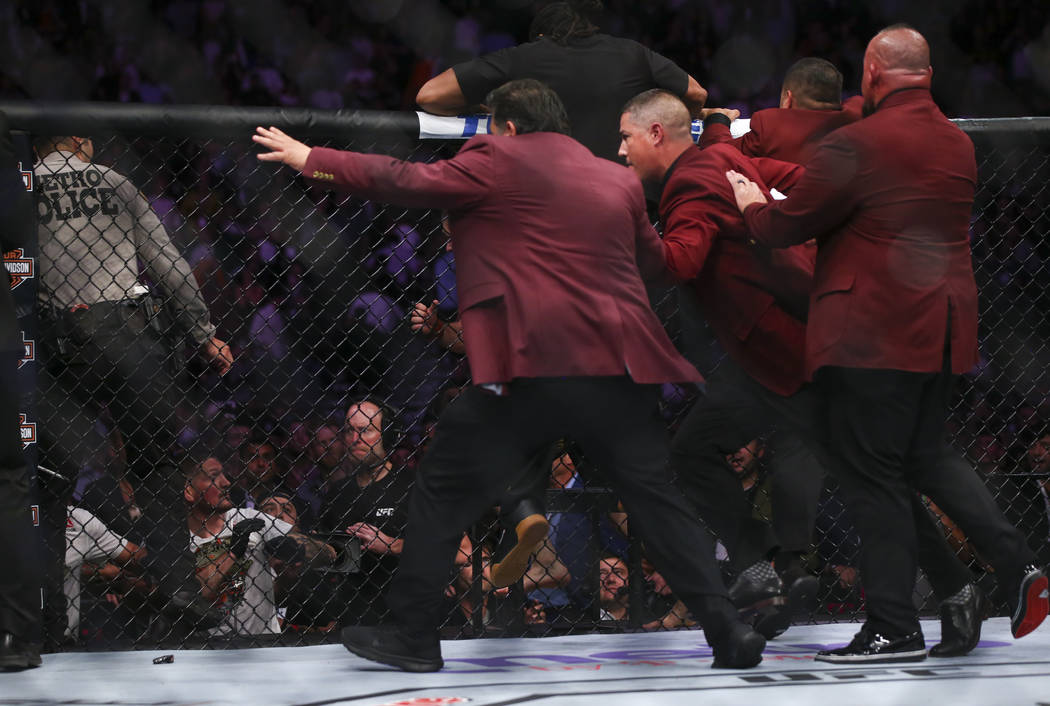 The next fights for UFC lightweight champion Khabib Nurmagomedov and former two-division champ Conor McGregor will take place in a hearing room at the Grant Sawyer Building in Las Vegas.
Both fighters have been served with formal complaints ahead of their Dec. 10 disciplinary hearings in front of the Nevada Athletic Commission.
The complaints spell out the NAC's jurisdiction over the punishments for a melee that was ignited when Nurmagomedov argued with one of McGregor's cornermen following their October fight at T-Mobile Arena that led to Nurmagomedov climbing over the cage and sparking a brawl. McGregor also attempted to join the fray outside the cage, but was held back by security before a brief skirmish between him and one of Nurmagomedov's friends.
Each fighter faces a fine up to 100 percent of his purse in addition to a suspension up to and including a lifetime ban and attorneys' fees, as well as other sanctions the commission sees fit. The complaint was issued by NAC executive director Bob Bennett.
Both are accused of "bringing disrepute to unarmed combat" and breaking state laws with their actions.
Bennett did not recommend a course of action in the written complaint, but is expected to advise the commission on the day of the hearing. He conducted the investigation and is not one of the five voting members who will decide the fate of the fighters.
UFC president Dana White, who was angry and dismayed immediately after the brawl, is hoping for leniency.
The commission is expected to come down harder on Nurmagomedov. White believes the penalty has to be enough to discourage similar acts but thinks there should be a limit.
"I can't see them giving Khabib over a year," White said. "If it's over a year, 'C'mon man.' That would not be fair. The whole thing was over in 40 seconds, nobody got touched, nobody got hurt. Nothing happened"
Still breathing
The UFC flyweight division isn't extinct just yet, but it's certainly on the endangered species list.
Las Vegan Joseph Benavidez made an impassioned plea for the survival of the 125-pound weight division after several reports of its demise.
Longtime champion Demetrious Johnson was even traded just months after losing his belt and record-setting title reign.
There is a flyweight title bout scheduled next month between champion Henry Cejudo and bantamweight champ T.J. Dillashaw, but the picture is cloudy beyond that.
White said there is no official plan to elimate the weight class. "We'll just see how this thing plays out."
The rest of his comments didn't exactly serve as a pep talk for the 125-pounders under contract.
"That division is a division that I battled for for a very long time, and defended, and said, 'Are you people crazy? How do you not like these fights? How do you not like the champ?'" White said. "But it never really stuck. It never really became a popular division – even with such a dominant champion. Even with an incredibly dominant champion, it didn't do it."
"Even if it goes away, guys like Benavidez could move up a weight class. A lot of those guys cut a lot of weight.
Contact Adam Hill at ahill@reviewjournal.com or 702-277-8028. Follow @AdamHillLVRJ on Twitter.