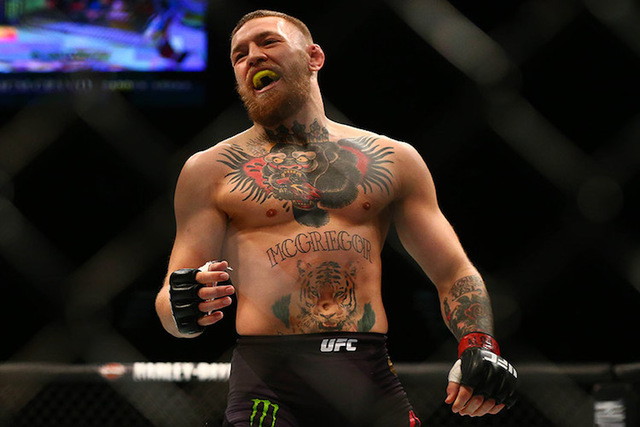 Conor McGregor left the door open to a possible boxing match against Floyd Mayweather Jr. when he broke his media blackout to talk to ESPN, but the UFC star scoffed at numbers that had been reported in the media.
A report McGregor said was leaked by Mayweather indicated the boxer would pull in $100 million from the proposed fight while McGregor would take home around $7 million.
"That's a pay cut to me. I don't take pay cuts," McGregor told Kenny Mayne in an interview that aired Sunday. "I thought boxing was where the money was at. The $7 million is absolutely laughable. He's talking $100 million — I'm also talking $100 million. I'm 27 years of age, and I'm just about halfway through a $100 million contract. At 27 years of age, Floyd Mayweather was on Oscar De La Hoya's undercard. So, compare that."
McGregor said he will continue to entertain the idea, even though he is under contract with the Ultimate Fighting Championship and the organization would almost certainly have to be involved in any negotiations. He wants to be clear, however, who holds the power between himself and Mayweather.
"He needs me. I don't need him. That's the truth of it. Who else can he fight?" McGregor said. "He fights someone else in the boxing realm and all of a sudden the pay goes from $100 million to $15 million. So, he needs me. If he wants to talk, we can talk. But it's me who's in control here."
As for his future with the UFC, McGregor says he is on good terms with his bosses after a dinner meeting in Los Angeles last week.
He tweeted last month he was retiring and was subsequently pulled from July's historic UFC 200 card when he did not show up in Las Vegas to begin a media tour to promote a planned rematch against Nate Diaz.
McGregor referred to the event as a "publicized civil war."
He said his relationship with the UFC is "good." The rematch with Diaz is expected to be re-scheduled, though UFC president Dana White indicated a conversation with Diaz in California last week after his meeting with McGregor didn't yield much progress.
BISPING READY FOR TITLE SHOT
Veteran Michael Bisping has been one of the top contenders in the Ultimate Fighting Championship middleweight division for the better part of a decade without ever getting a title shot.
That will change June 4.
Bisping will step in for an injured Chris Weidman to challenge champion Luke Rockhold in the main event of UFC 199 in Inglewood, California.
Weidman, the former champion, was forced to pull out of the scheduled rematch last week due to herniated discs.
Ronaldo "Jacare" Souza would have likely been next in line after a first-round knockout win over Vitor Belfort at UFC 198 in Brazil last week, but he will require surgery on a meniscus injury.
So Bisping will get the title shot he has worked toward since the Season 3 winner of "The Ultimate FIghter" dropped to middleweight in 2008.
"Weidman pulled out again, Jacare had no balls. They needed a real fighter's fighter to step in, so look no further than yours truly," Bisping said on Fox Sports 1. "I know what he's capable of. There's nothing about Luke that scares me.
"Yes, I'm taking it on short notice, but I hit as hard in the first week of camp as I do in the last week. I'm coming for Luke. All the pressure is on him. Be careful Luke, I'm coming."
Bisping has won his last three fights since a submission loss to Rockhold on a card in Sydney, Australia, in November 2014. He is coming off a unanimous decision victory over former champion Anderson Silva in February.
"I don't want the title shot, I want to be world champion," Bisping said. "I just beat the greatest of all time, Anderson Silva. I'm a better fighter now. If Luke thinks it's the same as last time, then he's mistaken."
Rockhold claimed the belt with a fourth-round knockout of Weidman in December. He has five consecutive, finishing all five opponents.
UFC 199 also features a bantamweight title bout between Urijah Faber and champion Dominick Cruz.
UFC RETURNS TO LAS VEGAS
A matchup of undefeated top bantamweight contenders will headline the UFC's return to Las Vegas on Sunday in UFC Fight Night 88.
Cody Garbrandt will take on Thomas Almeida in the main event of the card, which airs live on Fox Sports 1.
Also, former bantamweight champion Renan Barao will make his featherweight debut against Jeremy Stephens.
The preliminary card, which also airs on Fox Sports 1, features a women's bantamweight contender bout between Sara McMann and Jessica Eye.
The main card will begin at 6 p.m., with the preliminary card starting at 4.
Contact reporter Adam Hill at ahill@reviewjournal.com or 702-224-5509. Follow him on Twitter: @adamhilllvrj
UFC Fight Night 88 (FS1)
May 29, Mandalay Bay Events Center
UFC 199 (FS1/PPV)
June 4, Inglewood, Calif.
Bellator 156 (SpikeTV)
June 17, Fresno, Calif.
WSOF 31 (NBC Sports Network)
June 17, Mashantucket, Conn.
UFC Fight Night 89 (FS1)
June 18, Ottawa, Canada