'Cowboy' Cerrone not about to take a back seat
December 29, 2014 - 6:38 pm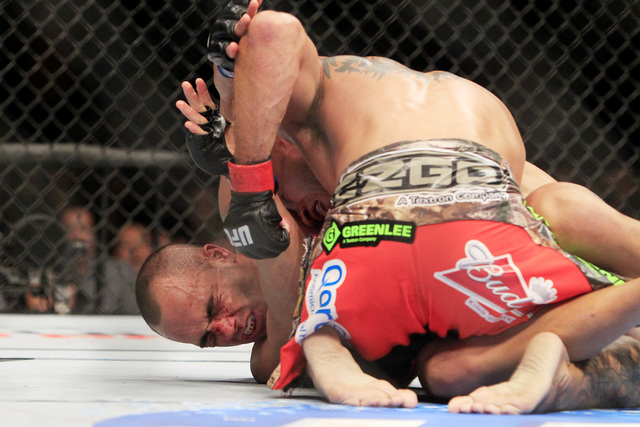 One of the most anticipated fights in Ultimate Fighting Championship history is set for Saturday night when Jon Jones defends his light heavyweight title against bitter rival Daniel Cormier in the main event of UFC 182 at the MGM Grand.
Veteran Donald Cerrone, who will fight unbeaten Myles Jury on the card, has never been one to take a back seat to anybody and he doesn't plan on starting now.
Cerrone said fans who buy the pay per view will be treated to more than one featured attraction.
"They're going to watch 'Cowboy' fight, I already know. Yeah, D.C. and Jones is awesome, but we're before them," Cerrone said, referring to himself by his nickname. "It doesn't even register to me at all like I'm getting overshadowed and so what if I am? I'm going to go out there and fight my ass off. Whether I'm in the main event or on the preliminary card, the same Cowboy is going to be out there.
"I think people are excited for my fight stylistically. Myles is undefeated and Cowboy is Cowboy. So let's get out there and (expletive) and get."
Not that Cerrone isn't excited for the main event. He trains with Jones at Greg Jackson's gym in Albuquerque, N.M., and hopes he's able to get through his fight and back out to the arena in time to watch.
Much of the hype around Jones and Cormier has been because of their hatred for one another, which boiled over in a brawl at a news conference back in August.
Cerrone has fought with too much emotion at times in his career, but he insists those days are behind him.
He previously made statements about wanting this fight because of some comments Jury had made about Cerrone's friend Diego Sanchez after Jury had defeated Sanchez.
Once the fight was booked, Cerrone said he moved on.
"I stay away from all that emotional stuff. I'm going to go out there, shake his hand and say, 'Let's go get paid.' I hope you're in shape and you want to get fight of the night (bonus), because that's what I want," Cerrone said. "You're telling me all we have to do is fight really hard and we'll get an extra $50,000. Come the (expletive) on. It's a no-brainer for me."
It hasn't always been that way. Cerrone admits most of his worst performances have come when he let his emotions dictate too much.
He points to a fight against Nate Diaz in late 2011 as a major turning point where he learned a lesson in the loss.
"I'm 31 now, not a wild crazy punk kid any more," he said. "I see the business side of it and moving up the ladder towards the title. That's where the money's at. That's the overall goal."
He has now won five fights in a row and would certainly move even closer to getting that shot with a win over Jury on Saturday.
FIGHT WEEK — UFC fans in Las Vegas will have plenty of opportunity to see Daniel Cormier and Jon Jones before they meet Saturday night.
Open workouts for the event will take place on the MGM Grand casino floor on Wednesday afternoon. The event is free and open to the public, as are the weigh-ins at Marquee Ballroom on Friday at the hotel.
Wednesday's open workouts will take place near the sports book. Cormier, the challenger, is scheduled to appear at 11:30 a.m. Jones, the light heavyweight champion, is set for a 1 p.m. workout.
Cerrone and Jury will take their turns in between the headliners.
Friday's schedule includes a question-and-answer session with Phil Brooks, who was known in professional wrestling as C.M. Punk, beginning at 2 p.m.
The weigh-ins will follow at 4 p.m.
MAYNARD BACK — Former UFC lightweight title challenger Gray Maynard has re-signed with the organization and hopes to fight by the end of March.
The 35-year-old is also back in his hometown of Las Vegas.
Maynard left the city in late 2011 in search of more consistent training. He spent time at American Kickboxing Academy in San Jose, Calif., and also lived and trained for a stint in Arizona.
Now he has moved back to Las Vegas with his family and is set to resume a career that has gone downhill since two unsuccessful title bids against then-champion Frankie Edgar.
Maynard fought Edgar to a draw in early 2011, then lost the rematch later that year.
After a win over Clay Guida, Maynard has suffered three straight knockout losses.
He has now returned to Xtreme Couture, the gym where he launched his MMA career and went unbeaten in his first 12 fights.
Contact reporter Adam Hill at ahill@reviewjournal.com or 702-224-5509. Follow him on Twitter: @adamhilllvrj.