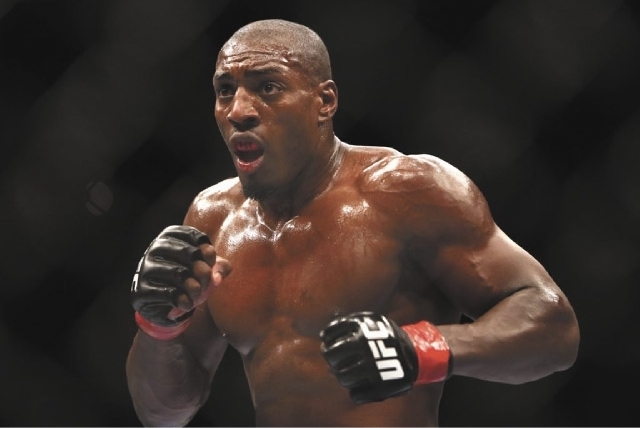 Perhaps no fighter in the Ultimate Fighting Championship has so quietly put together as good a resume as light heavyweight Phil Davis.
He has clearly decided the time has come to make some noise.
Davis, a four-time NCAA all-American wrestler and the 2008 national champion at Penn State, was unhappy with a recent suggestion from UFC president Dana White that Davis' lack of bluster equated to a lack of interest in becoming a UFC champion.
"He's one of the best light heavyweights in the world, but he doesn't come off to me like the guys (who are) breathing down my (expletive) neck for fights, like 'I want this fight. I want this, I want that,' " White said to a group of reporters in Orlando, Fla., last week. "Phil Davis is like, 'Eh, I'll hang out around No. 4 here. He's not that guy that comes across to me like, 'I (expletive) want it. I want to be the champ. I want to be the best in the world.' He's just sort of, 'Eh.' "
If White's goal was to light a fire in the normally reserved Davis, the plan appears to have worked.
Davis, who will fight Anthony Johnson at UFC 172 in Baltimore on Saturday night on the same card where Jon Jones defends the belt against Glover Teixeira, took over a conference call Monday involving all four fighters.
He cracked jokes at Jones' expense, talked plenty of trash about the champion and even played the role of reporter in asking his own questions of the champion.
"The last time you said you could handle somebody in the striking department, (Alexander Gustafsson) hit you so many times in the right eye you almost turned into a pirate," Davis said. "How are you so sure you can be better than Glover standing up? Because let me tell you, I've seen Glover before. He throws heat. What are you going to do?"
Davis called his lack of speaking up to White about exactly what he wants a "miscommunication."
"I try to let my fighting do the talking, but I'm going to have to let my talking do the talking for a little bit," Davis said. "I guess that's part of the game. You definitely can't neglect any of it. So it's just going to be the next step."
He's ready to make that progression in his career.
"If you want Phil Davis calling and texting your phone every day telling you he wants to fight Jon Jones and beat up the champion, then that's fine. We'll get it done," Davis said. "I'm just going to make sure I have to do what I have to do on Saturday. Then I'll call out whoever's the champion after Saturday night — simple as that. You've got to win. You've got to look good winning. Then you've got to tell everybody you're going to break apart Jon Jones, and that's that."
After opening his career 9-0, Davis suffered his only loss by unanimous decision to former champion Rashad Evans in January 2012. The 29-year-old, who lives and trains in San Diego, has won three straight, including a unanimous decision over former champ Lyoto Machida in his last fight back in August.
Davis took the time on the phone with Jones to correct a quote that had been attributed to him recently.
"Jon Jones said that I said I was going to break him apart like a sugar cookie. That's not exactly correct," Davis said. "I promised I was going to break him apart like a sugar cookie — big difference."
Jones was unimpressed with Davis' new approach, saying he thought the two were on good terms. Several times during Davis' rants, Jones said he wasn't being very nice.
The champion refused to strike back against Davis.
"I think if anything Phil's kind of embarrassing himself with all the antics," Jones said. "It's what he's deciding to do today. I'm not going to sit here and belittle myself by entertaining Phil. At first I thought it was funny, but it's just silly. I'm fighting Glover and he's fighting Anthony Johnson. I really need to stay focused on Glover. Glover is a great challenge for me."
The fight between Jones and Teixeira headlines Saturday's card. Davis hopes to make the most noise.
■ NOTE — A bout between light heavyweight contenders Dan Henderson and Daniel Cormier has been announced as the co-main event for UFC 173 on May 24 at MGM Grand. The matchup had previously been linked to UFC 175 in July, but was moved up more than a month to bolster the Memorial Day weekend event.
Contact reporter Adam Hill at ahill@reviewjournal.com or 702-224-5509. Follow him on Twitter: @adamhilllvrj.