Cruz hears boos; Ortiz resuscitates UFC career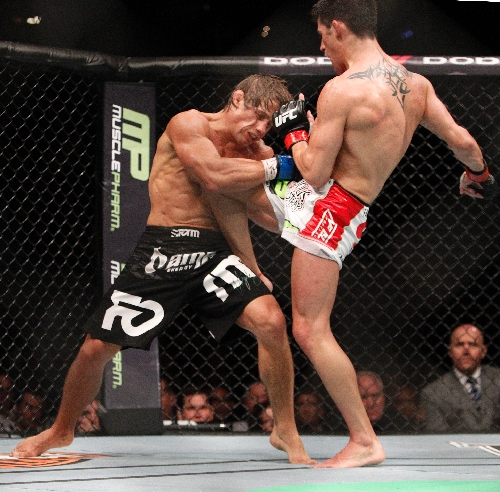 On a night in which one storied career was revived and another possibly ended, Dominick Cruz staked his claim as a star in the Ultimate Fighting Championship.
Whether he will be able to achieve the same type of fan support Tito Ortiz and Wanderlei Silva received at UFC 132 on Saturday night at the MGM Grand is a different story.
Cruz made his UFC debut in the main event of a card that featured both Ortiz and Silva, two of the pioneers and biggest early stars in all of mixed martial arts.
While Cruz announced his presence on the scene with a thrilling 25-minute battle with Urijah Faber, it was evident he has a long way to go to win over the fans.
Cruz was booed as he walked to the cage to fight fan-favorite Urijah Faber and booed even louder as he was introduced. A "Faber" chant erupted through the crowd early in the fight and started back up several times throughout the bout.
It's something Cruz has come to accept.
"I'm not trying to be a villain. I'm just being me and I'm just scrapping," Cruz said. "I can't remember the last time I got cheered coming out for a fight, so I just go with it. Love me or hate me, it hypes me up."
Ortiz saved his career and rejuvenated his massive fan base with a first-round submission of Ryan Bader.
After entering the cage to mixed reactions from the arena, Ortiz got a thunderous ovation as he performed his usual gravedigger victory routine for the first time since his last win in 2006.
The night didn't go so well for Silva, a Las Vegan who was knocked out in just 27 seconds by Chris Leben, prompting UFC president Dana White to say Silva was "probably" finished.
Silva's ring entrance sparked the loudest cheers of the night.
If White has his way, it will be the last time fans get to welcome Silva to the cage. White said he may have to talk Silva out of fighting again, much like he did with another aging star.
"I think it's one of those ones where I'd like to sit down and talk to him," he said. "Kind of Chuck Liddell him into it. The guy has nothing left to prove. He's a warrior and people love him all over the world. I just don't want to see that happen to him anymore."
As for Ortiz, he indicated he would like to face the winner of next month's bout between former champions Forrest Griffin and Mauricio "Shogun" Rua.
Ortiz beat Griffin by split decision in 2006, and has been seeking a rubber match after he felt he was robbed in a split decision loss in 2009.
Another rematch might be in order for Cruz. White deferred the question of whether an immediate rematch would be booked against Faber to his matchmakers, but no decision has been made yet.
If not Faber, Cruz may fight Brian Bowles, from whom he took the World Extreme Cagefighting bantamweight belt in March, 2010. Demetrious Johnson is also in the mix for a title shot.
Two other fighters from Saturday night's card put themselves in position for title considerations with outstanding performances.
Carlos Condit won his fourth straight bout and handed Dong Hyun Kim his first loss after a devastating flying knee that could make him next in line for a welterweight title shot after Nick Diaz challenges Georges St. Pierre.
White was still impressed with Condit's performance on Sunday when he took to Twitter.
"@CarlosCondit still blown away by ur performance last nite!!!!!," White posted.
Melvin Guillard also solidified his place in the crowded lightweight title picture with a first-round knockout of Shane Roller.
Contact reporter Adam Hill at ahill@reviewjournal.com or 702-224-5509.