Demian Maia submits Carlos Condit with ease on UFC on Fox card
August 27, 2016 - 10:35 pm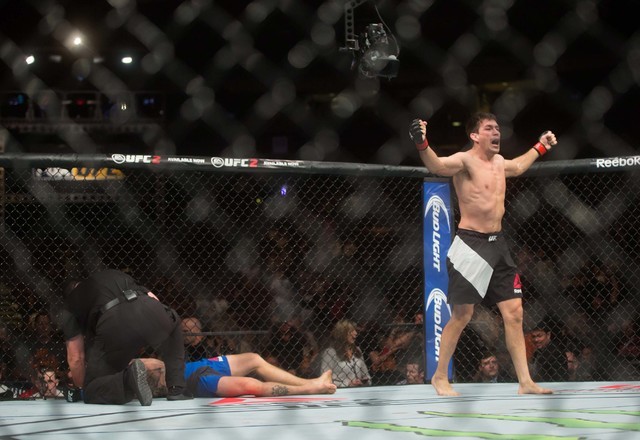 UFC welterweight title contender Carlos Condit had not been submitted since he fought on the regional circuit more than a decade ago.
But he had not faced a juggernaut on the mat like Demian Maia during that time.
Maia got an early takedown and methodically worked to take Condit's back before locking in a rear-naked choke at 1:52 of the first round of the main event of the UFC on Fox 21 card Saturday in Vancouver, British Columbia. The victory was his sixth straight.
Condit had considered retirement after losing a split decision to then-champion Robbie Lawler in January. Maia said Saturday he thought Condit should have been awarded a decision over Lawler and thus viewed this as a title fight.
"For me, he was the true champion," Maia said of Condit. "I knew it would be a hard fight. I'm just so happy that I think I've now earned a title shot and I will finally get a chance to fight for the title (again)."
Maia lost a decision to Anderson Silva for the middleweight title in 2010. He will have to wait longer because Stephen Thompson is next in line to challenge Tyron Woodley for the welterweight belt.
"If I have to wait, I'll wait," Maia said.
Condit, 32, said he wasn't ready to make any decision on his future.
"I have no idea what's next," he said. "Obviously, I'm disappointed tonight. What are you going to do? It wasn't my night."
The night went much better for women's strawweight star Paige VanZant.
The Reno resident answered any questions about whether her hiatus to compete on "Dancing with the Stars" had taken away her focus with a second-round knockout of Bec Rawlings.
VanZant even flashed some of her dancing skills in disposing of Rawlings.
While she has spent much of her career aggressively coming forward and trying to overwhelm her opponents, VanZant showed more finesse Saturday, attacking Rawlings from the outside before landing a jumping switch kick to knock her down and lead to the finish.
"Apparently I needed a little bit of that dance movement," VanZant said. "I didn't try to move straight forward so much; I danced around a little bit and got a knockout."
VanZant has acknowledged that her appearance on the reality show has opened many doors in Hollywood, but she appears committed to the UFC for now. She requested a spot on the UFC's next Fox card Dec. 17 in Sacramento, California, where she trains.
Former lightweight champion Anthony Pettis also got a badly needed win. After three straight losses, he made his featherweight debut a success with a third-round submission of Charles Oliveira.
Pettis found success early with kicks to the body, then fought off several good positions that Oliveira achieved on the mat before locking in a guillotine early in the final round.
In a rematch of one of the most entertaining fights of 2012, Jim Miller won a split decision over Joe Lauon.
The judges had been unanimous in awarding the first fight to Miller. He won this one, too, even though Lauzon spent much of the second and third rounds in top position.
"I thought I had this one," Lauzon said. "I felt incredibly confident at the end of the fight. I knew it was close, but I thought I took rounds two and three for sure, especially with my takedowns and my strikes that landed."
The second round appeared to be the source of the controversy. It was Lauzon's best round, and one judge gave it to Miller. Otherwise, Lauzon would have won the fight.
On the preliminary card:
• Middleweight Sam Alvey won by second-round knockout against submission specialist Kevin Casey.
• Featherweight Kyle Bochniak won a split decision over Enrique Barzola.
• Middleweight Alessio Di Chirico claimed a split decision over Garreth McLellan.
• Lightweight Jeremy Kennedy won a unanimous decision over Alessandro Ricci.
• Lightweight Chad Laprise, who missed weight by 3 pounds, stopped Thibault Gouti at 1:36 of the first round.
• Lightweight Felipe Silva made his UFC debut by finishing veteran Shane Campbell 1:13 into the fight.
Contact reporter Adam Hill at ahill@reviewjournal.com or 702-224-5509. Follow @adamhilllvrj on Twitter.