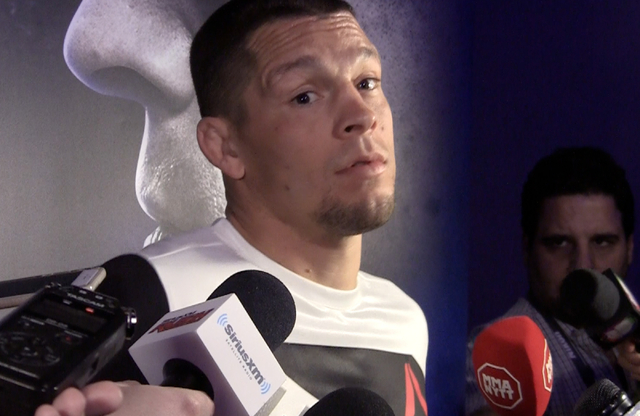 If Conor McGregor's goal in delivering a profanity-laced, racially tinged performance at a news conference in Los Angeles last week was to get under the skin of Nate Diaz, it appears the Irish Ultimate Fighting Championship star failed miserably.
Diaz faced a swarm of reporters during an open workout Wednesday at the MGM Grand Garden in advance of Saturday's UFC 196 main event welterweight bout against McGregor.
The 30-year-old UFC veteran was unfazed when asked about McGregor's comments, highlighted by references to Diaz as a "cholo gangster" and a "fajita."
"I've seen him do his thing," Diaz said. "I pictured how it was going to go. He's saying what he's got to say, so it's all good. I'm coming to fight. It is what it is."
Diaz went so far as to call himself a fan of how McGregor has conducted business since entering the UFC in 2013 and becoming the organization's biggest star within three years.
"A lot of talk," Diaz said. "A lot of exposure. A lot of cameras. It puts money in everybody's pocket, so obviously it's good for the sport. He says a lot of stuff that I've felt the same way about. At least they're listening to somebody. I'm a big fan of what he does. He puts it out there, he says the real (expletive) like I do."
Diaz accepted the fight on less than two weeks notice after lightweight champion Rafael dos Anjos was forced to pull out because of a fractured foot. McGregor, who holds the featherweight belt, had planned on taking the lightweight title to become the first fighter in UFC history to have two belts simultaneously.
When the fight was canceled and the chance at history gone, a scramble began to fill in against McGregor. There was no shortage of candidates jumping at the chance for one of the biggest possible paydays in the sport, particularly one that also will increase a fighter's star power and earning potential.
Diaz won the sweepstakes, largely because his fighting style and brash attitude have helped make him a fan favorite.
After delivering the best performance of his life in a win over Michael Johnson in December, Diaz had called out McGregor. He said the bout would be entertaining and a massive draw, and now it has come to fruition.
While Diaz has praised McGregor, he says he has been pushed aside for saying many of the same things over the years.
"I'm more criticizing the push that he's getting," Diaz said. "When he does it, everyone's like, 'Yeah, keep talking, this is great.' When I do it, they're like, 'Hey, put him in the back. Keep him on the down low.' He's doing a good job at what he's doing. I don't know if it was the media or the UFC, but I felt like they didn't want my stock getting any higher. But they couldn't stop it. Look where I'm at now."
Diaz has remained popular despite losing three of his past four fights before the win over Johnson. That performance was enough to erase much of the past three years, a period that included a public comment from UFC president Dana White that Diaz wasn't a "needle mover."
It's a critique that stuck with Diaz, who was always confident his time would come.
"With that whole 'needle-moving' thing, I knew who moved the needle," Diaz said. "I knew this was going to happen sooner or later."
Though the opportunity sprung up seemingly out of nowhere, Diaz said he wasn't caught completely off guard.
He said he had done several three-day training camps to prepare his mind and body for the possibility of having to jump into a short-notice fight at some point.
Diaz typically fights at 155 pounds, while McGregor is the champ at 145 pounds. The fight against dos Anjos was supposed to take place at 155, but after some back-and-forth communications between McGregor, Diaz and White, this fight was booked for the welterweight limit of 170 pounds.
McGregor said he preferred 170 to a catch weight of 160 or 165 pounds because he wanted to let the welterweight division know he was on his way eventually. He even said he might challenge Robbie Lawler for the welterweight belt at UFC 200 should he defeat Diaz.
Diaz, as is his custom, said he didn't care about the machinations of how the fight came together.
"I'm a martial artist," he said. "No weight classes necessary."
He does, however, gain confidence from the fact he has fought at 170 pounds and, more important, against 170-pounders.
"He's real pumped up and confident on his predictions and who he's beat, but look at his (opponents) and look at my (opponents)," Diaz said. "I've been fighting top five guys at lightweight and welterweight the last nine years. He's been fighting little guys. We'll see what happens.
"It's a different type of person he's fighting now."
No matter the opponent, McGregor has had little problem steamrolling the opposition. He has six knockouts in seven UFC fights, including four in the first round. The other two came in the second round.
But Diaz says he knows better than anyone else that feeling of invincibility can be fleeting.
After winning four straight fights to become the Season 5 champion on "The Ultimate Fighter," he won his next four UFC fights before losing back-to-back decisions to Clay Guida and Joe Stevenson in 2009.
"I won my first (eight) fights in the UFC, too," Diaz said with a smile. "I was 'unstoppable.'"
The bout headlines a pay-per-view event, which includes a women's bantamweight title bout between Las Vegan Miesha Tate and champion Holly Holm, that begins at 7 p.m. Saturday.
Four fights from the preliminary card will air on Fox Sports 1 at 5 p.m., with the first bout in the arena set to begin at 3:30.
Contact reporter Adam Hill at ahill@reviewjournal.com or 702-224-5509. Follow him on Twitter: @adamhilllvrj