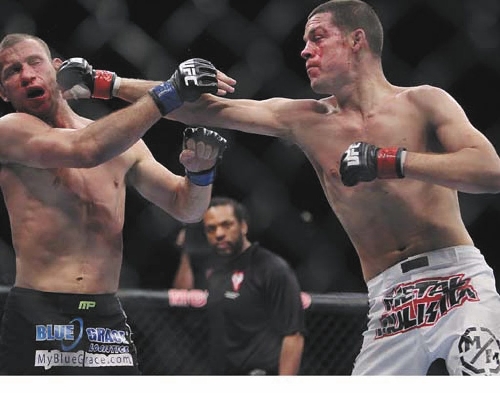 A win over Benson Henderson would make Nate Diaz a champion. It could also help make him quite rich.
The Ultimate Fighting Championship lightweight belt and the money could help Diaz show his appreciation to all those in his camp who have helped him get to this point.
Winning the title Dec. 8 on the UFC on Fox 5 card in Seattle would allow Diaz to attract more lucrative fights and let him spread the wealth among his training partners.
"If I do win this fight, I think the point of the belt would be to reward the people around me that have worked so hard," Diaz said.
Diaz trains with his brother Nick and other star fighters such as Jake Shields and Gilbert Melendez. Some training partners aren't as successful, however, and the Diaz brothers often have discussed needing to earn more money to compensate training partners.
Beating Henderson would be just the type of exposure that will greatly increase the younger Diaz's earning power.
He feels he can do it.
"I've been watching Ben for awhile. He's a really good wrestler, good at punching and kicking and jiu-jitsu, as well," Diaz said. "But I'm good at those things, too."
The fight is the main event of a loaded Fox card that also features a light heavyweight bout between former champion Mauricio "Shogun" Rua and top contender Alexander Gustafsson, and a welterweight contest pitting rising prospect Rory MacDonald against BJ Penn.
The preliminary card, highlighted by a heavyweight bout between Brendan Schaub and Lavar Johnson, will air on FX.
■ UFC 155 UPDATE – Undefeated UFC middleweight contender Chris Weidman suffered a shoulder injury and will be unable to fight Tim Boetsch at UFC 155 in Las Vegas. Weidman was expected to earn a title shot if he won the bout.
Boetsch instead will fight Constantinos Philippou on the card, which takes place Dec. 29 at the MGM Grand.
It was not all bad news for the event this week, however.
Heavyweight Todd Duffee re-signed with the organization and will return against Phil De Fries. A replacement opponent was needed for De Fries after Matt Mitrione was moved to a main event spot against Roy Nelson on the Dec. 15 "The Ultimate Fighter" finale card at the Hard Rock.
Duffee, 26, is an intriguing prospect. He is huge and athletic, having proved his power with a seven-second knockout of Tim Hague in his 2009 UFC debut. But Duffee was released by the UFC after just one loss in 2010 under odd circumstances, which appeared more personal than professional.
Duffee went on to lose to Alistair Overeem in late 2010 in the Dream organization, then knocked out Neil Grove in less than a minute in a Super Fight League bout in India in April.
His career has been somewhat sidetracked by injury, but he is healthy now and apparently back in the good graces of UFC brass.
UFC 155 features a main event title bout between Cain Velasquez and champion Junior dos Santos.
■ SILVA FAILS ANOTHER TEST – UFC light heavyweight Thiago Silva failed a postfight drug screening for the second time in his career.
Silva's sample taken after his UFC on Fuel TV 6 bout against Stanislav Nedkov in Macau on Nov. 10 came back positive for marijuana metabolites.
The UFC, which acts as the athletic commission when it hosts a card where no commission is in place, announced Silva will be suspended for six months and must participate in a rehab program. He must pass a drug test upon completion of the suspension before being cleared to fight again. Also, Silva's win over Nedkov was changed to a no contest.
Silva previously faced discipline from the Nevada Athletic Commission when he was found to have submitted a falsified urine sample after a November 2011 bout.
Contact reporter Adam Hill at ahill@reviewjournal.com or 702-224-5509. Follow him on Twitter: @adamhilllvrj.