Dos Santos ends 19-month drought
December 14, 2014 - 12:15 am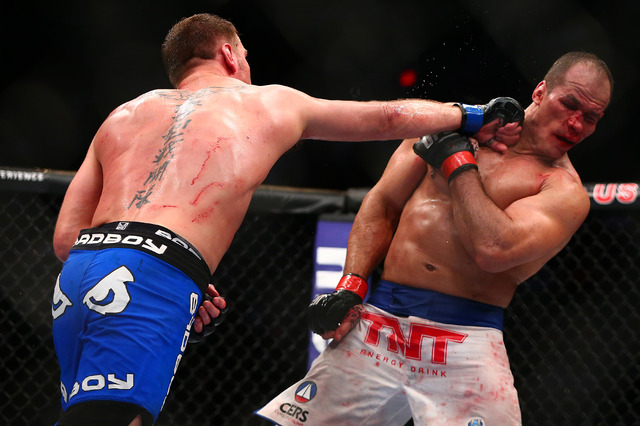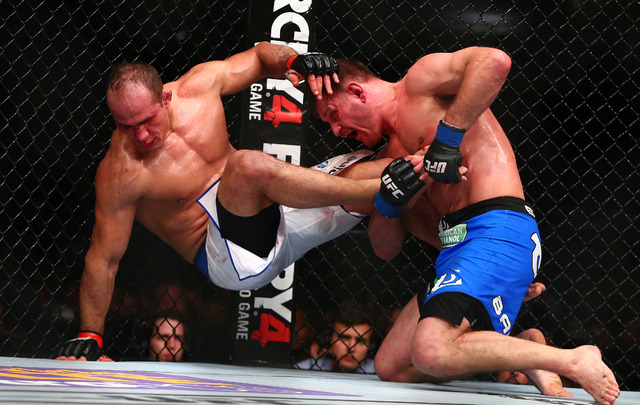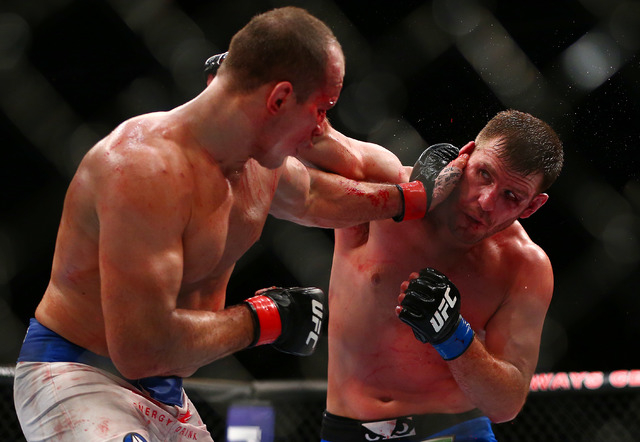 PHOENIX — It had been quite some time since former Ultimate Fighting Championship heavyweight champ Junior dos Santos had his arm raised in victory inside the octagon.
For much of his main event bout Saturday night against Stipe Miocic at Talking Stick Resort Arena, it looked as if that drought might continue.
But dos Santos turned around the fight with a big left hand midway through the third round and went on to claim his first win since May 2013 by unanimous decision in a slugfest that left both fighters bloody and battered.
"It doesn't matter what happens during a fight, I will keep believing I will win until the end of the fight," dos Santos said. "It's hard to explain, but I think I have a warrior's heart."
Dos Santos had defeated Mark Hunt in May 2013 before losing a title fight to Cain Velasquez in October 2013. He had hoped to return in May 2014 but suffered an injury.
He found a way to win in his return despite not being completely on his game.
"I think the second round was tough on me, but I think I did better after that," dos Santos said. "It was a very close fight. I did what I could do today. I think I'm a little bit off my timing, but I'm glad I won."
Miocic settled into a rhythm early. He appeared quicker in the exchanges and abused the former champion on the breaks.
The tide changed after he was dropped with the left and nearly finished, though Miocic wasn't ready to concede the punch was solely responsible.
"I did slow down in the third round, I did," Miocic said. "I don't know why. I trained my ass off."
While Miocic said he thought he should have been awarded the fight on the scorecards, he hopes the competitive loss to the former champion will pay dividends.
"What doesn't kill you makes you stronger," he said. "I think I proved a lot of people wrong. I'll step back and get on my horse again."
Also on the card, lightweight contender Rafael dos Anjos stated his case for a potential title shot by winning for the eighth time in nine fights with a unanimous decision over Nate Diaz.
Dos Anjos abused Diaz's legs with kicks throughout the fight, almost completely shutting down his ability to mount an offensive attack.
"I am very happy with my performance," dos Anjos said.
The two heavyweight fights that opened the main card ended in first-round knockouts.
Alistair Overeem spoiled the return of Stefan Struve with a series of right hands as Struve was on his back against the cage.
Struve had been out since March 2013 after he was diagnosed with a career-threatening heart condition. He had tried to return in July, but fainted in the locker room before his scheduled fight. Overeem had dropped three of his previous four fights.
Matt Mitrione needed 1 minute, 59 seconds to knock out Gabriel Gonzaga. Mitrione dropped him with a left hook and followed with a series of right hands.
Gonzaga covered up with both hands, and Mitrione eventually backed away. As Gonzaga uncovered and started to stand up, Mitrione dived back in with a crushing right to end the fight.
Former World Extreme Cagefighting champion Jamie Varner made the biggest news of the night on the preliminary card by announcing his retirement after a first-round submission loss to Drew Dober.
Varner, 30, said he had made up his mind about leaving the sport regardless of the outcome. He said he wanted to compete one final time at the UFC's first event in his hometown.
"I had planned this a long time ago," Varner said after his fourth consecutive loss. "I knew it was going to be my last fight. I can't keep up with these young kids anymore. It's been a better part of a decade since I've gotten a win in my hometown. I think it's God's way of saying it's over. I've had a great, fun career, and I've done everything I wanted to. It's been a real fun ride. I can't believe it's over."
A day after Carla Esparza became the first UFC women's strawweight champion, Joanna Jedrzejczyk emerged as the top contender to the belt with a split decision over Claudia Gadelha.
Ben Saunders and John Moraga each won by submission. Saunders prevailed when Joe Riggs was forced to tap out after suffering an injury while attempting a takedown in a welterweight bout. Moraga, a onetime flyweight title challenger, tapped out Willie Gates with a rear naked choke in the third round.
Henry Cejudo, the 2008 Olympic gold medalist in wrestling, was successful in his UFC debut. The bantamweight won a unanimous decision over Dustin Kimura to improve to 7-0 in his professional MMA career.
Ian Entwistle, Bryan Barberena and David Michaud also picked up victories.
A scheduled middleweight bout between Ed Herman and Derek Brunson was canceled after Brunson became ill hours before the fight.
Contact reporter Adam Hill at ahill@reviewjournal.com or 702-224-5509. Follow him on Twitter: @adamhilllvrj.