Eddie Alvarez returns to roots to prepare for UFC Fight Night 90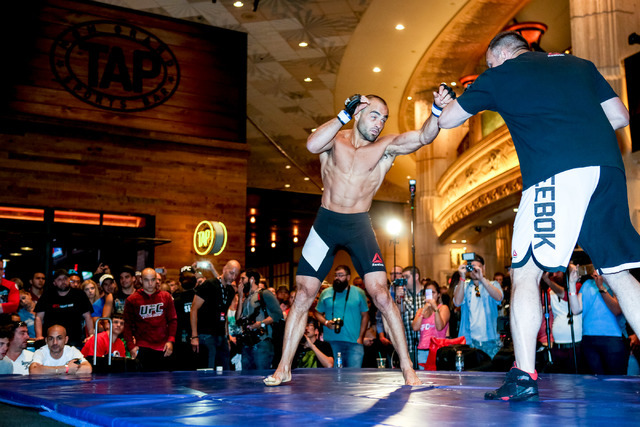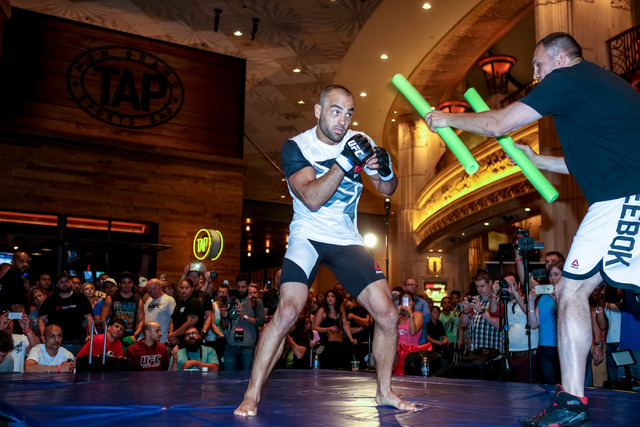 Well-traveled veteran Eddie Alvarez has been a champion or contender in every mixed martial arts organization in which he's competed since turning pro in 2003.
He saw no reason to believe things would be any different once he finally signed with the UFC in late 2014.
Then he lost his debut to contender Donald Cerrone.
While it was a shock, Alvarez knew he had a decision to make. He had watched many fighters in similar situations take on weaker opponents in an attempt to rebuild their confidence and start the climb back.
Alvarez instead lobbied for another contender. The strategy paid off. After a split-decision win over Gilbert Melendez and another over Anthony Pettis, Alvarez finds himself challenging Rafael dos Anjos for the lightweight belt Thursday in the main event of UFC Fight Night 90 at the MGM Grand Garden.
The fight headlines a card that will stream live on the UFC's online platform, Fight Pass, beginning at 3 p.m.
"I never thought that I'd lose my UFC debut," Alvarez said. "That wasn't an expectation of mine. Unfortunately that happened. I could have done what a lot of fighters do and fight a top-30 guy and build myself back up, but it was important to me to stay with the same plan that I came here with and to fight the absolute best that the UFC had to offer. I just thought with that mindset as long as I'm fighting the guys who are in front of me and beating them that I couldn't be denied a title shot.
"I think the strategy was correct."
The 32-year-old Philadelphia native knows what it takes to be a champion. He won the Reality Fighting welterweight title in his third fight as a professional, then went on to capture the Mixed Fighting Championships welterweight belt (which was renamed the BodogFIGHT title) in 2006. Alvarez reached the finals of the Dream Lightweight Grand Prix in 2008, but withdrew from the finals because of an injury.
From there, it was on to Bellator. That's where Alvarez truly made his name, winning the title twice and constantly hearing the debate about how he would do in the UFC.
Now he finally has a chance to prove he's the best lightweight in the world by adding the most illustrious belt in the sport to his collection.
"It's the best organization in the world for MMA," he said. "The most followed, most eyes are on the UFC title. It's the only title, one of the only titles, that I didn't hold. But for me, it's this same exact formula.
"Go to a promotion, beat the best guys, get my hands on the guy who has the title and win the title. Nothing changes and nothing will change (Thursday)."
For the most important fight of his career, Alvarez returned to his roots. He has spent much of the past few years training at various camps, particularly with the Blackzilians in Florida.
Alvarez, however, is back in New Jersey with coach Mark Henry and training partner Frankie Edgar, who will fight for the interim featherweight title at UFC 200 on Saturday at T-Mobile Arena.
"I'm ecstatic to be home and just back with the team that I sort of started with," he said. "We got together in 2007. I think at that time we were both training on a little small mat, so we both came a long way. Frankie, the UFC champion. I've also been champion at numerous promotions. But just working hard.
"When you're having a day maybe when you're not feeling it, you look across the room, he sort of gives you that energy, you know what I mean?"
It also has been good for Edgar.
"It's motivating to see a guy across the gym working hard towards the same goal as I am," the former lightweight champion said. "You definitely don't lose sight on what's ahead. It's been a long road for both of us. We've been at the top of our divisions at the same time, and here we are trying to get back to the top of our division. He's in there working hard; I'm in there working hard, so we have each other's backs."
Despite his success, Alvarez might not get the credit he deserves for sustained excellence if he can't complete his journey to a UFC title. That's not something he thinks about often, though.
"I don't even like to say the word legacy. It's a weird thing," he said. "The goal for me is the same as it was Day One when I started this, to beat the guy in front of me. Legacy and all this other stuff is nonsense. I just always want to beat the guy in front of me. That's always the goal. Everything else is it comes as a byproduct of doing that."
Contact reporter Adam Hill at ahill@reviewjournal.com or 702-224-5509. Follow him on Twitter: @adamhilllvrj
UFC Fight Night 90
When: 3:30 p.m. Thursday
Where: MGM Grand Garden Arena
Main event: Rafael dos Anjos (24-7) vs. Eddie Alvarez (27-4)
TV: UFC Fight Pass
Tickets: $44-$204