Edgar feeling light as a feather
February 1, 2013 - 2:02 am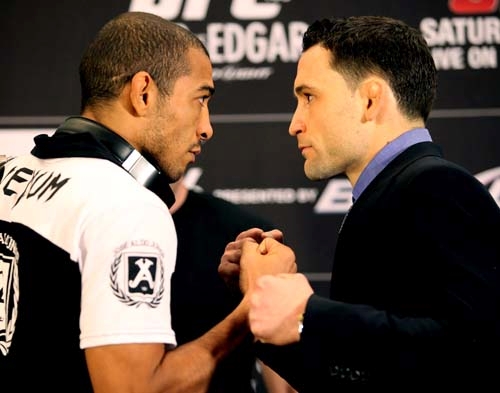 Talk of Frankie Edgar dropping from his preferred lightweight class to featherweight began before he even entered the Ultimate Fighting Championship.
By the time Edgar tried out for Season 5 of "The Ultimate Fighter" in 2006, he already was 5-0 as a professional as a lightweight (155 pounds), and that even included one fight at 170 as a last-minute replacement.
Edgar went through his tryout, then met UFC president Dana White for the first time.
"He shook my hand and he was like, 'You're kinda small to be a 155er,' " Edgar recalled. "I was like, 'Wow, we're gonna start out like that?' It never ended."
No matter how much Edgar accomplished, he could never shake the questions.
After 11 fights in the UFC, he held a 9-1-1 record and was the lightweight champion. Still, he couldn't do an interview without being asked when he was going to drop to featherweight (145 pounds).
Then Edgar ran into Benson Henderson. After losing the title to Henderson last February, Edgar lost the rematch in August and again had a choice to make.
That decision became easier when he was offered an immediate title shot at 145.
On Saturday night, Edgar makes his featherweight debut against champion Jose Aldo in the main event of UFC 156 at Mandalay Bay.
"To be honest, I was talking about it with my team that we were going to go down whether I lost to Benson or not," the 31-year-old Edgar said. "It wasn't set in stone, but I'm sure the loss helped push me in that direction.
Edgar, who stands 5 feet 6 inches tall, said the weight reduction was surprisingly easy, and he looked noticeably smaller than usual at Thursday's media day event.
"I feel great, maybe better than ever. I did everything I need to do to make sure my hand gets raised on Saturday night. I feel like I'm at my best," he said.
However, Edgar said his current condition doesn't mean the critics were right all along and he always should have fought at this weight.
"I don't think it's because of the drop, I think it was because the drop forced me to eat better. You put better things in your body, you feel better and perform better. That's just science," he said.
"If I go back to 155 now, I will continue to eat properly, just eat more, and I'm sure I'll feel just as good."
As for what all this will mean in the cage, Edgar said he will find out Saturday when he fights Aldo, the dangerous featherweight champion.
Edgar is used to being the smaller, faster fighter in most of his matches. Even against Aldo, he says he might not have a size advantage.
"I don't think I've ever been the bigger guy in an MMA fight," Edgar said. "From what I understand, he's cutting more weight than me, so he'll probably be a little bit bigger than me, but not as big as everyone else I've been fighting.
"I'm just going to approach it the same as always. Maybe when the fight starts, I'll feel a little bit stronger than him or I'll feel quicker than normal, or maybe a little bit of both.
"I guess we'll find out."
Aldo said he always has kept an eye on Edgar because of the rumors he would drop to featherweight and he has respect for his opponent's ability.
"He moves fast and has really good hands," Aldo said. "He's very, very tough, but I'm always well prepared for any kind of fight style."
Despite theoretically being the bigger fighter and a former champion, Edgar enters the fight as almost a 2-1 underdog. That's nothing new to the New Jersey native.
"It's a familiar spot for me. That's where I've been most of my career. I'm the undersized overachiever," he said. "That's just fine by me."
Edgar said he hopes to win the belt so he can take it back to share it with the storm-ravaged area that has been so supportive of his career.
He also knows exactly what he'll have for dinner at the victory party.
"I had to cut out pizza (to cut weight). That's probably the biggest thing I miss right now," he said. "I'll probably wait until I get back to Jersey, though. I don't know about the pizza in Vegas."
Contact reporter Adam Hill at ahill@reviewjournal.com or 702-224-5509. Follow him on Twitter: @adamhilllvrj.