Esparza beats hyped Namajunas to claim new title
December 12, 2014 - 11:15 pm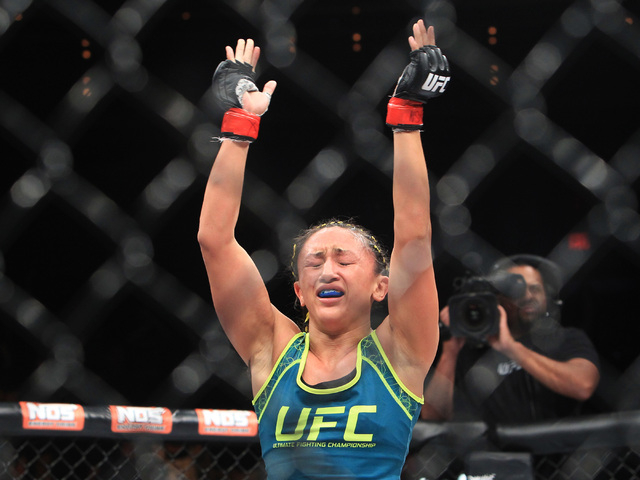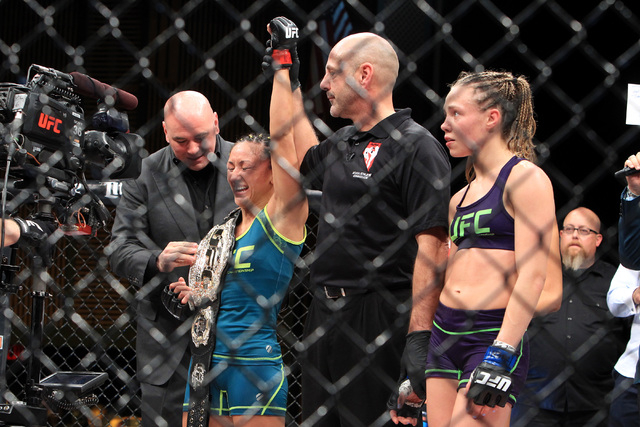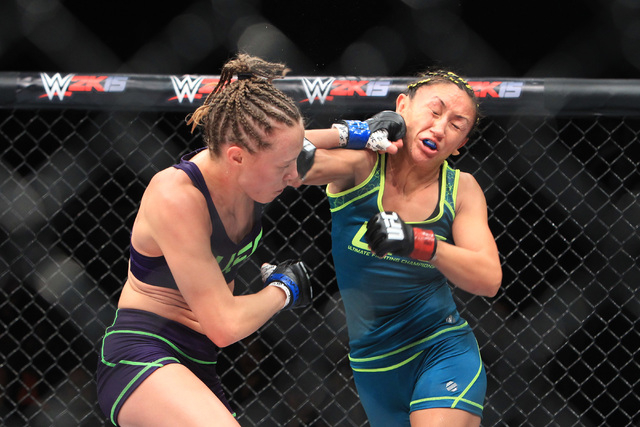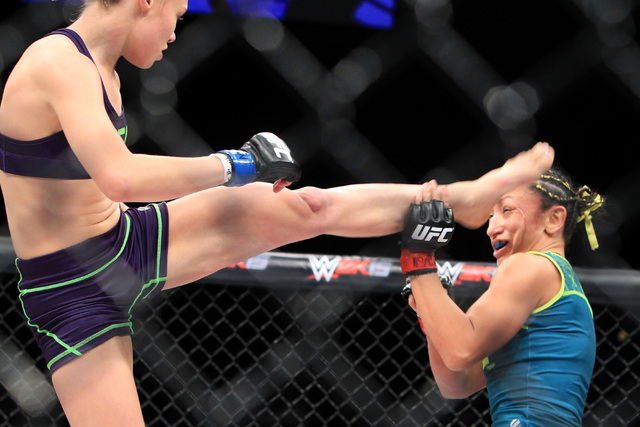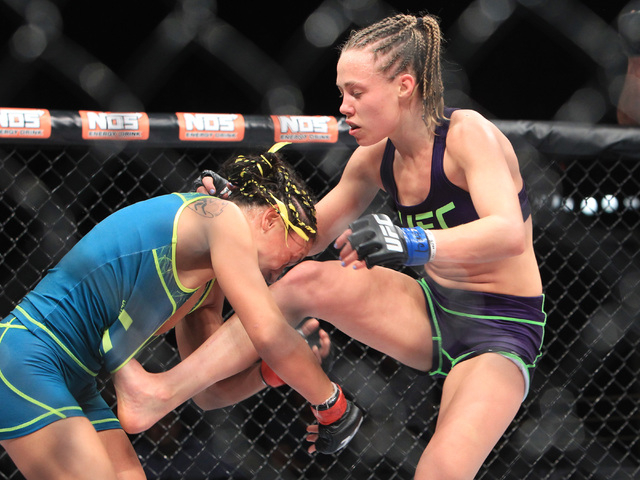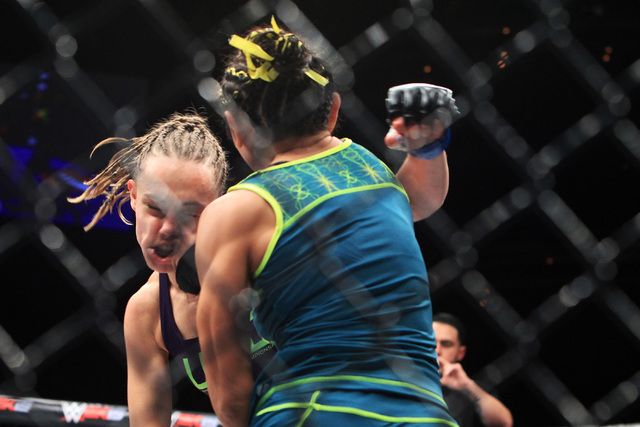 Three flashy submission victories in the first three rounds of the tournament to determine the first Ultimate Fighting Championship women's strawweight champion and obvious star power had Rose Namajunas stealing all the headlines entering Friday night's title bout.
But Carla Esparza reminded everyone why she was the top seed with a third-round submission of Namajunas in the championship bout on an UFC card at the Palms.
"This is the most amazing feeling I've ever had in my life," Esparza said.
Esparza took control late in the first round, using her superior wrestling to neutralize the aggressive striking of Namajunas.
She wasn't able to hold Namajunas down for long, but that changed in the second round.
Esparza worked another takedown and secured top position for an extended period, landing several hard shots.
The trend continued in the third round, as Esparza immediately took down a frustrated Namajunas and eventually secured a rear-naked choke that forced her to tap out.
"She's such a phenomenal athlete," Esparza said. "She's so dangerous. I knew it was going to be tough. She really cracked me with a few things. In the end, I knew my wrestling and my training were going to win it for me."
Namajunas knew she was in for a challenge even though she was favored to win the title.
"I always thought she was one of the toughest people in the house," Namajunas said. "I went in there trying to be super aggressive and put it all on the line. This was an investment in the future. I'll tweak some things and work harder, and I'll be back."
Esparza had been the champion in Invicta Fighting Championships before the UFC added the women's strawweight division and purchased many of the contracts. In the past, the UFC has handed belts to reigning champions in similar situations.
Esparza said she was thankful to have been given the task of working her way through a tournament to claim the belt.
"I wanted to leave no doubt that I am No. 1 and I am the champion," she said. "I had a lot of expectations on me being the one seed. I didn't know if I could do it, but I proved myself."
She accomplished that by taking out the competitor who had wowed everyone, including UFC president Dana White, with her incredible performances in the first three rounds of the tournament.
Esparza said she was aware the seventh-seeded Namajunas was favored.
"It was hard to ignore," Esparza said. "A lot of people doubted me and saw her as the next champion, but I don't blame them. She has a great style and looked so good in the house. It's hard to have people not believing in me, but in the end I win people over with my fights."
Jessica Penne won a split decision over Randa Markos in another matchup of fighters from the reality show.
Also, Charles Oliveira grappled his way to a unanimous decision over Jeremy Stephens in a featherweight bout that was contested at a catchweight after Oliveira came in overweight Thursday.
A lightweight fight between K.J. Noons and Daron Cruickshank was ruled a no contest after Cruickshank suffered a torn tear duct after being poked in the eye twice.
"I knew right it away something was wrong because I couldn't see, and I don't think the ref realized it, so I tried to circle away from K.J. and buy some space to get the fight broken up and see what kind of damage I had," Cruickshank said.
Noons was apologetic.
"I don't think I've ever eye-poked a guy," he said. "I'm so bummed right now, especially for Daron. I totally didn't mean to do that. It was going to be fight of the night, too, I think."
In another lightweight fight, Yancy Medeiros submitted Joe Proctor late in the first round.
Las Vegan Heather Jo Clark made her official UFC debut after her time on the reality show with a unanimous decision over Bec Rawlings.
Clark said after the fight she will have knee surgery next week and miss six to eight months.
When I come back, I think I'm one of the top girls in this division, and I think I deserve a top-five girl," she said.
■ UFC IN PHOENIX — Another UFC card is on the docket tonight, with the organization staging an event in Phoenix for the first time.
The main card, which airs live on Fox (5) at 5 p.m., is headlined by a heavyweight bout between Stipe Miocic and former champion Junior dos Santos.
Heavyweight Stefan Struve, who last fought in March 2013, will fight Alistair Overeem. Struve was diagnosed with a potentially career-threatening heart condition last year. He was cleared to return in July after undergoing treatment, but fainted backstage before the fight and was pulled from the card.
A fight between Nate Diaz and Rafael dos Anjos will be contested at a catchweight of 160 pounds after Diaz missed the lightweight nontitle limit of 156 pounds Friday.
The preliminary card will air live on Fox Sports 1 (Cable 329) at 2 p.m.
Contact reporter Adam Hill at ahill@reviewjournal.com or 702-224-5509. Follow him on Twitter: @adamhilllvrj.