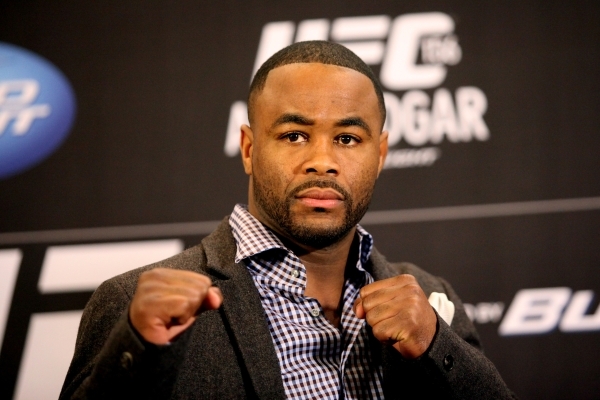 Rashad Evans, a former Ultimate Fighting Championship light heavyweight champion, knew deep down he was still capable of competing at the highest levels of mixed martial arts.
But his body sure didn't feel like it.
Evans had been out of action with a series of knee injuries for more than 18 months when he attended a workout, nutrition and physical therapy program with several other fighters at the EXOS training center in Arizona.
It was during that time in early June, a week after Evans was partying in Las Vegas over Memorial Day weekend, when the now 36-year-old came to a realization.
"I had a good time in Vegas, and I (wasn't) really feeling it," Evans said. "But I made myself do it. I was so out of shape, and I just thought to myself, 'You're way better than that.' I was really upset with myself. It was a really good opportunity for me to step out of myself and assess things. 'Dude, look at you. This is not you.'
"There's not many times in life where you're able to take that critical look at yourself and say, 'Listen, you need to make some changes.' That's what I decided to do."
Evans decided to refocus his training and is set to finally make his return tonight against Ryan Bader on the main card of UFC 192 in Houston. It will be Evans' first fight since a win over Chael Sonnen in November 2013.
It's been a long road back. Evans suffered a torn anterior cruciate ligament in his knee and had surgery not long after the Sonnen fight. It happened again just as he was ready to make his return a year ago.
"I wasn't able to stay completely positive," Evans said. "I'd be lying if said I did. I was very depressed. I was second-guessing my ability to come back. I didn't know if I'd be able to fight. I was hanging out, drinking too much, and I had put on a bunch of weight.
"I looked at myself in the mirror one day and just said, 'What the hell am I doing, man? I'm a world-class athlete. I don't want to live like this. This is not how I want to go out.'"
That was on the training trip in Arizona. Now, Evans is back with a big opportunity.
Although it has been quite awhile since he competed inside the octagon, it wasn't long enough for him to forget the emotions of the final days before a fight.
"I remember this feeling," Evans said. "It's familiar. It's a feeling I haven't had in a while, but at the same time, I've had a bunch of fights and I know what it's supposed to feel like. It's a feeling I've missed. I'm battling between not getting too excited and too nervous. I knew I missed it. I missed it a lot."
Evans admits he feels like somewhat of a forgotten man among the contenders at light heavyweight. He is still working on a two-fight winning streak, though, and could put himself back in the discussion for the next title shot with a victory over Bader.
He knows that's not as easy a task as it might have been a few years ago. While champion Daniel Cormier referred to Bader as the easiest fight of all the contenders, Evans says that was for entertainment purposes.
In fact, Evans says Bader has shown significant improvement.
"Ryan has definitely got a lot better, and now he's starting to put together his game and understand it a lot better, and that's something he didn't always have," Evans said of the Reno native. "He wasn't the most cerebral fighter in the world. He was actually kind of a stupid fighter. But now he's started to figure it out. He's started to figure out his style and how to implement it.
"I've been pretty impressed in his last two fights because he seems to be following a game plan and doing really well with it. This is going to be a good fight."
A spectacular performance could vault Evans into title contention. The winner of the bout will have a solid case to next challenge the winner of tonight's main event, which pits Alexander Gustafsson against Cormier.
Of course, the shadow of former champion Jon Jones hangs over the division. He was stripped of the title after a hit-and-run incident in New Mexico this year and suspended indefinitely. But Jones entered a plea deal last week in an Albuquerque courtroom and will avoid jail time, opening the door to a potential return to action.
Evans has a long-standing rivalry with Jones, a former friend and training partner. He lost to Jones for the title in 2012. While Evans would like another shot at Jones, it wouldn't bother him to win the belt by beating someone else.
"For me, getting the title again would be more about my personal journey," he said. "Everything that I would have overcome to get to that spot again. I would be just as happy if I get the title without having fought Jon because it's all about that journey."
Should Evans become champion again, he insists he would be better prepared the second time around. He said that wasn't the case when he won the belt in 2008.
The Michigan State alumnus remembers a whirlwind stretch that never enabled him to savor the moment.
After bursting into contention with a second-round knockout of Chuck Liddell in September, Evans was immediately placed in a title fight against Forrest Griffin in December and won the belt.
"Everything happened so fast," Evans said. "I knocked out Chuck, and then I didn't even have a chance to go home and enjoy it because a couple weeks later I was in training camp to prepare to fight Griffin. Before I got a chance to wrap my head around everything that was happening, I was already defending the belt against Lyoto Machida (in May 2009). I don't feel like I was in a good head space as the champion. It takes a different kind of hunger and a different sort of drive once you're champion.
"I feel like having that experience, it's something I definitely would know now."
He'll need to win tonight to have any chance to find out if that's true.
The bout is part of the main card, which airs on pay per view at 7 p.m. The preliminary card will air live on Fox Sports 1 (Cable 329) at 5.
* NOTE — Former UFC welterweight champion Johny Hendricks was taken to a hospital Thursday night because of complications from his weight cut and will be unable to fight Tyron Woodley tonight.
A flyweight bout between Joseph Benavidez and Ali Bagautinov will replace the fight on the pay-per-view broadcast.
Contact reporter Adam Hill at ahill@reviewjournal.com or 702-224-5509. Follow him on Twitter: @adamhilllvrj