Fighter Ana Julaton looks to MMA for respect lacking in boxing
November 23, 2015 - 7:48 pm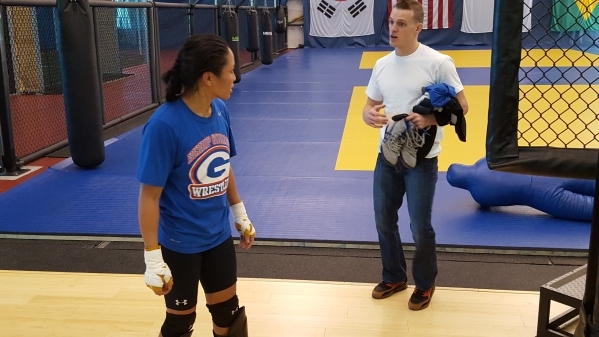 Perhaps nobody outside Holly Holm's friends and family was more thrilled with the new UFC champion's stunning victory and overnight superstardom than Las Vegan Ana Julaton.
Like Holm, Julaton is a former world boxing champion. She left the sport after years of dissatisfaction and headed for the greener pastures of mixed martial arts.
Julaton competes for ONE Championship, the largest MMA organization in Asia. She will fight Irina Mazepa in the co-main event of a card at Mall of Asia Arena in Manila on Dec. 11.
Julaton said the way women are treated in MMA is a far cry from the sport she left behind.
"It's such a breath of fresh air to see female fighters on national TV when you've spent an entire decade of your life dealing with people not even bothering to say your name right, where you have to travel all over the world to get a fight and you've had to deal with promoters that just lie right to your face," the former WBO and IBA super bantamweight world champion said.
"I'm not complaining. I understand it's part of the business. But it's just so nice to be in a sport where you can see women getting the notoriety I feel they deserve."
Ironically, Julaton said Holm's success in the UFC might help the perception of women in the boxing world.
"I think it created a lot of excitement in the boxing community. A lot of males are starting to take a more serious look at female boxers," Julaton said after a sparring session Monday afternoon. "I went to a Nevada Boxing Hall of Fame event and talked to a lot of big-time boxing guys and they're excited about Holly. Now they like to attach their name to her and call her their own."
Julaton's boxing coach, Angelo Reyes, believes Holm's knockout of Ronda Rousey shows the women's divisions in the UFC are deeper than just Ronda Rousey, which will help further legitimize women's MMA.
Reyes, a convert to MMA who spent years working for famed boxing trainer Freddie Roach, thinks it also validates the thoughts of Julaton and other women who decided to make the switch.
"I definitely think it proved we have talented female boxers who have analyzed the situation and said, 'MMA is our path. It's the mainstream sport and the one giving us a stage. Boxing will never do it. HBO is too stupid to do it. Showtime just doesn't care. NBC won't run us, so forget it,' " Reyes said. "Thank you Dana White, thank you Ronda Rousey for what she has done and thank you Holly Holm for showing everyone."
Julaton, who once fought on a boxing card headlined by Holm, is 2-1 as a professional with a controversial split-decision loss to Ann Osman in August 2014 the only blemish.
She's not relying solely on her boxing background. Julaton is working under the tutelage of Ricky Lundell, a wrestling and grappling coach who is known as one of the brightest young minds in MMA.
Lundell also is the wrestling coach at Bishop Gorman. Julaton, along with several other professional fighters, spends a great deal of time working alongside the Gaels wrestling team as part of her training.
She and Reyes credit Lundell for her all-around game growing by leaps and bounds, particularly in the last year as she has waited for ONE Championship to book her a fight following a win over Walaa Abas Mohamed Kamaly last December.
Still, she's a boxer at heart and Holm's win can only help Julaton's profile as she climbs the ranks in MMA.
"I think it's awesome for fighters like me who have a background in boxing because it sparks the interest. In this business, it's all about image and I feel Holly was able to create that image for the female boxers in MMA," Julaton said. "Obviously, I have a lot of work to do and I have to put it down on the day of my fight, but it's certainly nice what Holly was able to do for us. It was a big deal."
* UFC IN SEOUL — The UFC will host its first event in Seoul on Saturday. UFC Fight Night 79, featuring a main event welterweight bout between Benson Henderson and Jorge Masvidal, will air live exclusively on the organization's online platform Fight Pass at 2 a.m.
Henderson was scheduled to fight Thiago Alves on the card, but a broken rib forced Alves out of the fight two weeks ago. Masvidal was bumped up to the main event from a bout with Dong Hyun Kim, who instead will face Dominic Waters. The main card begins at 5 a.m.
* TUF TRYOUTS — FIghters interested in appearing on the upcoming season of "The Ultimate Fighter" are invited to try out at Las Vegas' Red Rock Casino on Dec. 14, the Ultimate Fighting Championship announced Monday.
Fighters from ages 21 to 34 with a winning record in professional fights in either the 115- or 135-pound female division or 205-pound male division are eligible for the show. Tryouts begin at 8 a.m.
— Contact reporter Adam Hill at ahill@reviewjournal.com or 702-224-5509. Follow him: @adamhilllvrj