'Fights of the Night' take toll on UFC champion Robbie Lawler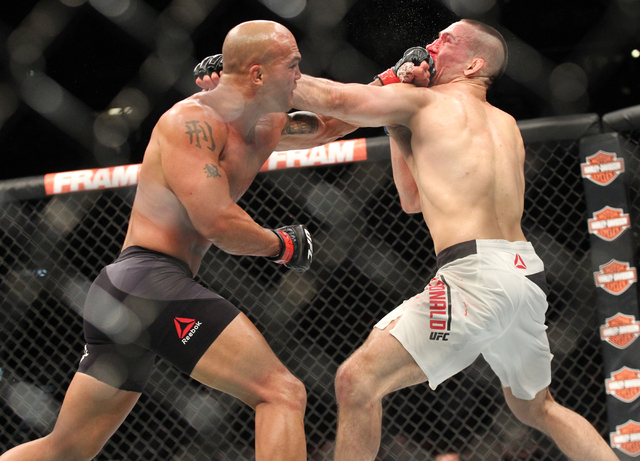 UFC welterweight champion Robbie Lawler is on one of the most entertaining runs in mixed martial arts history.
He would love for that to come to an end when he defends his title against Tyron Woodley in the main event of UFC 201 on Saturday in Atlanta.
Lawler has earned a "Fight of the Night" bonus in four of his past six fights. Two were voted fight of the year.
The recognition — and bonus money — is nice. But the toll it takes on the body is not.
"No one ever wants fight of the night," he said on a conference call this week. "Every fight I've gone in I want knockout of the night. I want to be in and out quick. Sometimes these guys just have a lot of grit, they're highly trained, and I just can't get them out of there so I get fight of the night. So it's not necessarily I'm changing anything, I'm just sick of fight of the night.
"I want to knock people out."
Lawler, 34, has been sensational since getting a second chance in the UFC in 2013. The former Strikeforce middleweight contender enjoyed a career resurgence when he dropped to 170 pounds for his return to the UFC, where he had last fought in 2004.
He won three straight fights in 2013 to set up a shot at the vacant title against Johny Hendricks in March 2014. Though Lawler lost a unanimous decision, he solidified his status as a contender with an outstanding performance in what was generally considered the most entertaining bout of the year.
After knocking out Jake Ellenberger, Lawler won a unanimous decision in a fight-of-the-night performance over Matt Brown to set up a rematch with Hendricks for the title.
Lawler became champion with a split decision win in December 2014. He has successfully defended the title twice, though it hasn't been easy.
He knocked out Rory MacDonald in his first title defense, but it came in the fifth round of a back-and-forth bout that was named the top fight of 2015.
A split decision win over Carlos Condit in January was just as grueling.
While Lawler hopes to have a shorter night Saturday, he knows Woodley, a two-time NCAA All-America wrestler at Missouri, presents a unique challenge.
"Obviously he brings a lot to the table: (particularly) speed and his wrestling ability," Lawler said. "So I have to listen to my coaches. They've done a good job of putting me in situations that I need to be in to be prepared for this fight, so we've been working and trying to get better every day."
His coaches should have pretty strong insight on Woodley. While Lawler has downplayed the significance of the few training sessions they have had together, they are technically teammates at American Top Team.
Woodley decided to take his training camp on the road, preparing for the title fight at several gyms and allowing Lawler to remain at home in Florida.
"Robbie was the first guy that brought home UFC gold from the American Top Team," Woodley said. "It just feels like the right thing to do to give him the home-court advantage, to train 100 percent there and make things as professional as possible."
Woodley, 34, had one previous shot at a belt. He suffered his first career loss when he was knocked out by Nate Marquardt in a Strikeforce bout in 2012.
He thinks he will deliver a much better performance this time.
"The difference between me then and me now is that I'm putting everything together," Woodley said. "You guys have seen the submission games, you've seen the wrestling game, you've seen the striking game. Over time, I just matured as a fighter, and it's my time to seize it. I'm putting everything together, and I'm ready to take off."
He might have to overcome a bit of rust. Woodley became the top contender with a split decision win over Kelvin Gastelum in January 2015 but has not fought since. He was supposed to fight Hendricks in October, but Hendricks pulled out the day before the fight because of complications during the weight-cutting process.
Also on the card, Rose Namajunas has a chance to earn her first title shot when she fights fellow strawweight contender Karolina Kowalkiewicz.
A main-card flyweight bout between Ian McCall and Justin Scoggins was called off after Scoggins ran into difficulty cutting weight Thursday night and was forced to withdraw. The pay-per-view portion of the card now will be led by a flyweight bout between Ryan Benoit and Fredy Serrano at 7 p.m.
The preliminary card airs on Fox Sports 2 at 5 p.m.
Contact reporter Adam Hill at ahill@reviewjournal.com or 702-224-5509. Follow @adamhilllvrj on Twitter.