Forget Lawler, Pettis wins, buzz belongs to CM Punk
December 7, 2014 - 10:51 pm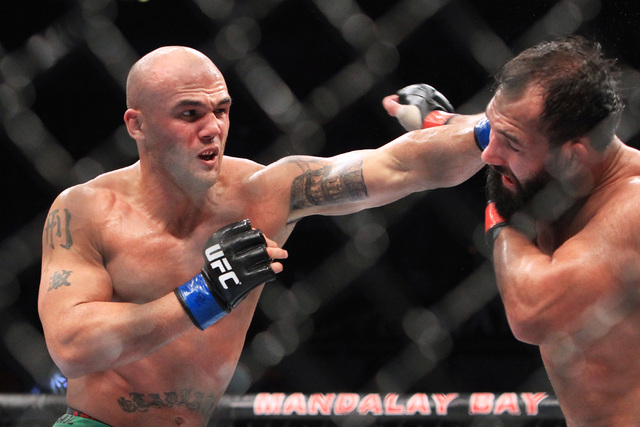 One champion retained his belt with a virtuoso performance while another was crowned by the narrowest of margins in what was a memorable Ultimate Fighting Championship card at Mandalay Bay on Saturday night.
Yet so much talk coming out of UFC 181 was focused on the organization's signing of a man with no real fighting experience.
None.
The UFC's announcement that former WWE champion Phil Brooks, better known as CM Punk, had joined the organization with the intention of beginning his mixed martial arts career sometime in 2015 dominated the conversation coming out of the event.
Brooks acknowledged the oddity of the situation after he was brought in for a news conference after the event late Saturday night at Mandalay Bay before the fighters had made their way to the dais.
"I just want to say I'm glad we took care of this before the fighters come out, " he said. "This night is about them."
But the announcement of Brooks' signing certainly stole the thunder from another tremendous performance by Anthony Pettis and the incredible story of veteran Robbie Lawler's journey finally culminating in a UFC title.
Pettis retained the belt with a flashy second-round submission of Gilbert Melendez. It was the fifth straight win for Pettis, with only one of those fights going the distance, and the first time Melendez had been stopped in 26 professional bouts.
"I feel like I had a great performance," the 27-year-old Pettis said. "Gil's a tough guy. I was expecting a war out there and he delivered. The first round, I tried to avoid the takedowns as best as possible. But I think once I got to striking range, I delivered. I hit him with some good shots. I hit him with some nice jabs. I think I did enough to prove that I deserve this belt."
His next opponent will quite possibly be unbeaten phenom Khabib Nurmagomedov, who is currently recovering from a knee injury. Nurmagomedov crashed the news conference to ask Pettis if he would be willing to put his belt on the line against him in April or May when he's healthy. Pettis quickly accepted, though neither has official matchmaking powers.
Lawler finished strong to capture the fourth and fifth rounds on his way to securing a split decision victory as he took the welterweight belt from Johny Hendricks.
Lawler, 32, is a well-traveled veteran. He had his first professional fight in 2001 when he was just 19. He made his UFC debut a year later at UFC 37. Lawler parted ways with the UFC and competed in just about every other organization that was putting on fights, eventually losing five of eight fights between 2009 and 2012.
He was brought back to the UFC immediately after that disappointing run, which he chalked up to essentially being bored and unfocused due to the level of competition he was facing.
He's been great ever since, with the only loss coming in a title bout to Hendricks in March.
Lawler won his third straight fight since that setback and walked out of Mandalay Bay with a UFC belt around his waist.
"(It's been a) really amazing journey," Lawler said. "This wasn't easy."
The winner was supposed to fight Rory MacDonald, but UFC president Dana White hinted late Saturday at the possibility of a third fight between Lawler and Hendricks.
It's not likely Brooks, who at 36 has never competed in MMA and was not an amateur wrestler before turning to the professional version, will ever have to worry about title shots.
He is excited to find out what he can do in real fighting, though.
"I finally feel like there's something I can put 100 percent of myself into and I'll get 100 percent back," he said. "If I slack off, if I just sit on the couch and eat Doritos and give 50 percent and only train 50 percent, that will obviously show."
Brooks has trained in karate and jiu-jitsu for several years. Comparisons were immediately made on social media to Brock Lesnar, who left the WWE and became a UFC champion. Lesnar was an NCAA wrestling champion prior to going to the WWE.
Brooks on the other hand, isn't even clear what weight class he will fight in. It appears likely he will start at middleweight when he makes his debut sometime in 2015, but little is set in stone regarding Brooks' MMA career. He said he had never really even given it a thought until he was joking around about the possibility with UFC CEO Lorenzo Fertitta last year.
Brooks said that planted the seed in his mind that ultimately led to his decision.
He said he avoided social media on Saturday night because he expected negative feedback from fans not happy a fighter with zero experience landed a UFC deal.
Brooks isn't concerned with anyone's opinion.
"I know there are a lot of kids out there that look up to me," he said. "I always just tell them to not let anybody tell you you cannot do something if you want to do something. As long as it doesn't harm anyone else, do it. Choose a path and work towards it to the best of your ability. That's all I'm doing here."
That, and drawing a whole lot of attention.
Contact reporter Adam Hill at ahill@reviewjournal.com or 702-224-5509. Follow him on Twitter: @adamhilllvrj.