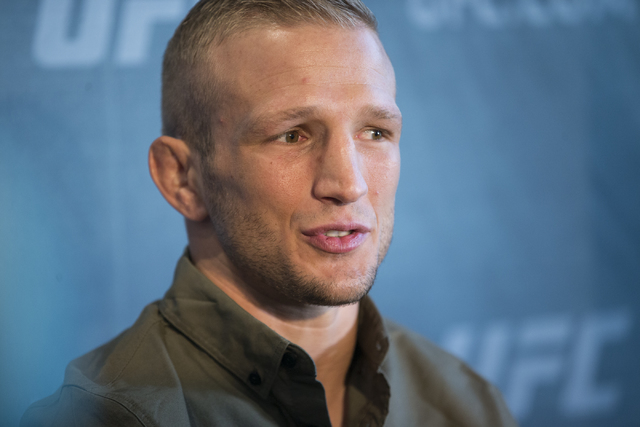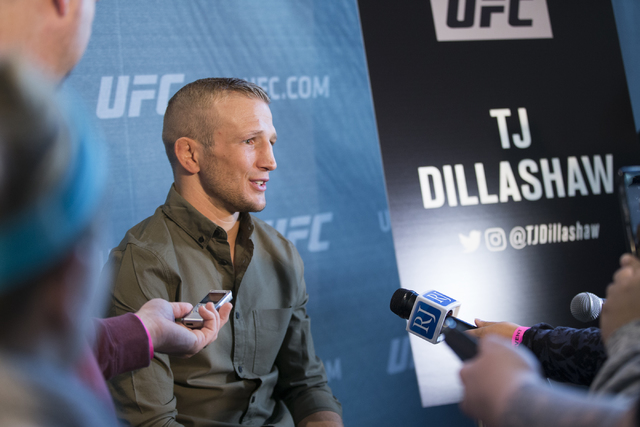 Top UFC bantamweight contender TJ Dillashaw doesn't believe his former teammate Cody Garbrandt is quite ready for the title shot he has been granted on Friday's UFC 207 card at T-Mobile Arena.
"I think he's getting the shot a little too quick," Dillashaw said of Garbrandt's fight against champion Dominick Cruz. "I think he needs to evolve a little more and get more of those tough fights under his belt. He's had guys tailor-made to his style that will just stand right in front of him. Dominick's not going to be that way. Anything can happen, though."
Dillashaw, who will fight John Lineker on the main card of the event, isn't exactly a neutral observer.
He believed he would be next in line to challenge Cruz. Dillashaw hoped to get an immediate rematch after losing the belt to Cruz in a narrow split decision in January.
Instead, Cruz fought his old rival Urijah Faber in June and Dillashaw was matched up with Raphael Assuncao the following month.
After Cruz and Dillashaw emerged with victories, Dillashaw knew it was just a matter of time before he got the call to challenge Cruz.
Then he had to watch Garbrandt and Cruz get in a verbal battle after Garbrandt's first-round knockout of Takeya Mizugaki in August.
"You saw the buildup," Garbrandt said. "After Cody beat the No. 11-ranked guy, they're going back-and-forth with Cruz up in the booth. It was built from the beginning."
Still, Dillashaw went to work lobbying for a shot against Cruz, both publicly and through UFC officials.
He says he couldn't get a call back from anyone and now believes it was because they had already signed the fight between Cruz and Garbrandt.
"I found out from social media that I didn't get the title fight," Dillashaw said. "I thought that was a little disrespectful. I wish I would have known they had already agreed to the fight so I didn't come off looking like an (expletive). They already knew they were fighting and I'm in there begging. It sucked."
Dillashaw believes he has to be next in line with a victory over Lineker, but knows nothing is guaranteed.
"I thought after I beat Assuncao there was no way I wouldn't get it, so who knows?" Dillashaw said. "I just have to keep winning and keep a smile on my face. Who knows what's going to happen?
"I'm annoyed, but I've got John Lineker to fight. He's trying to knock my head off."
Besides a difficult opponent in the cage, Dillashaw might have a political battle standing between him and the title shot he so covets.
Dillashaw was one of of five fighters who held a news conference last month announcing their participation as leaders of the Mixed Martial Arts Athletes Association, aimed at securing more money and benefits for UFC fighters.
He hopes he won't face repercussions as a result.
"I hope it doesn't come down to that because I'm 'Team UFC,' man," he said. "I told them I'd even leave my agency because (new UFC owners) WME-IMG doesn't like CAA. I don't want to fight for any other promotion, I just want to be treated right."
Dillashaw admits it's all a lot to deal with while preparing for an important fight. He said he's trying to block everything out as much as possible.
"I'll just continue to beat the top contenders," he said. "That's all I can do."
The bout is part of a main card, headlined by a women's bantamweight title bout between champion Amanda Nunes and former champ Ronda Rousey, that airs on pay per view at 7 p.m.
Contact Adam Hill at ahill@reviewjournal.com or 702-277-8028. Follow @adamhilllvrj on Twitter.
UFC 207 main card
The preliminary card begins at 4:30 p.m. and the pay per view at 7 on Friday at T-Mobile Arena.
• Amanda Nunes (13-4) vs. Ronda Rousey (12-1), for Nunes' women's bantamweight title
• Dominick Cruz (22-1) vs. Cody Garbrandt (10-0), for Cruz's bantamweight title
• TJ Dillashaw (14-3) vs. John Lineker (29-7), bantamweights
• Dong Hyun Kim (21-3-1, 1 No Contest) vs. Tarec Saffiedine (16-5), welterweights
• Louis Smolka (11-2) vs. Ray Borg (9-2), flyweights