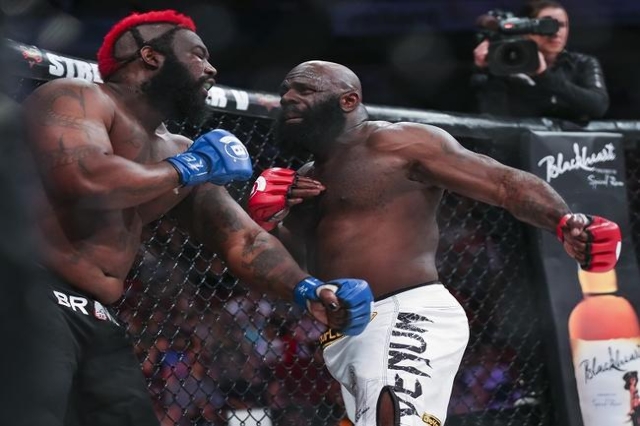 After all the hype and anticipation for Friday night's Bellator MMA card in Houston, the worst-case scenarios played out in the headlining bouts.
Kevin "Kimbo Slice" Ferguson and Dhafir "Dada 5000" Harris slogged through three rounds of heavy breathing occasionally interrupted by a sloppy punch or one of the aging street fighters falling clumsily to the ground and awkwardly clutching each other before Harris finally staggered around the cage until he fell face first to end the fiasco.
That was followed by 49-year-old Royce Gracie knocking out 52-year-old Ken Shamrock in the light heavyweight main event only to have Shamrock dispute the outcome by vehemently insisting he was felled by a low blow.
It was everything skeptics of the event feared could happen when Bellator 149 was announced.
Replays appeared to show Shamrock may have had a valid argument as one of the knee strikes fired by Gracie in the clinch looked low.
Shamrock, who falls to 2-9 in his last 11 fights, crumpled to the ground and Gracie finished him off with hammerfists to improve to 2-0-1 in the trilogy, which dates back to UFC 1 in 1993.
"I got kneed in the nuts. I don't know what else to say," Shamrock said at the news conference. "I apologized to Royce and his corner because it wasn't his fault," Shamrock said. "He was doing what he had to do. But I wanted this fight. It bothered me a lot, because I figured that in a main event fight with something like this, you have all those fans there, they're waiting to see us end this our way, and all he had to do was stop and give me a chance to recover, tuck my nuts back in and go again.
"That's all that had to happen. Instead they call the fight? I mean, it was pretty clear to me."
Gracie was unapologetic after securing a win in his first fight since 2007.
"I'm a fighter. I'm here to fight," he said. "We come from the beginning. No gloves. No rules. No time limit. No weight divisions.
"Groin shot (were) allowed (then), but it did not catch his groin."
Shamrock had wanted this fight for years as he hoped to settle the score with Gracie after losing at UFC 1 and then battling to a 36-minute draw at UFC 5 before the introduction of rounds and time limits.
With the way Friday night's fight ended, Shamrock still doesn't feel he has closure.
"In my opinion, it's not over," he said. "I wouldn't want to win that way. If it was me, personally, if I had hit somebody in the nuts and they went down I would probably put my hands up and go, 'Sorry,' out of a reaction, out of courtesy. Out of a reaction, I would've went, 'Whoa. Sorry, dude.' and given him time to get his five minutes to recover. That's what I would've done."
The co-main event could have actually used a groin shot, eye poke or anything else to spruce up the action.
Ferguson and Harris were old friends who worked together to become street fighting legends in Miami through videos posted on YouTube.
After a falling out nearly a decade ago, Ferguson went on to achieve more mainstream notoriety as a professional fighter while Harris was the subject of a documentary about the fights he was promoting out of his backyard.
Bellator booked the heavyweight street brawlers hoping for a knockdown, drag out affair between the bitter rivals. Instead, Ferguson used his rudimentary takedown skills to take a seemingly helpless Harris to the mat in each of the first two rounds where they engaged in prolonged periods of inactivity on the ground in an apparent effort to rest. Midway through the first round, both fighters were exhausted and barely moving. At times, they appeared to simply lean on each other until referee John McCarthy would pull them apart and instruct them to fight.
By the third round, both fighters were completely out of gas. Harris couldn't even manage to lift his hands up and after taking several big punches, stumbled around the cage before faceplanting into the mat to prompt McCarthy to stop the fight.
Ferguson attributed his exhaustion to training with smaller fighters and not being prepared for Harris's size.
He said the outcome was never in doubt, however.
"Losing is not an option for me," Ferguson said. "You've got to really just beat the hell out of me. I'm not going to give up. I don't care of you have a submission, you're going to have to break it or choke me out and put me to sleep. And if you've got better hands, you're going to have to knock me silly for the ref to stop it. I'm that type of fighter. I'm not going to ever give up. As long as I can breathe, and I can get back to my feet, we're going to go."
Harris had fought just twice professionally and hadn't competed in more than five years.
Also on the card, Ultimate Fighting Championship veteran Melvin Guillard was knocked out in the second round by Derek Campos in a lightweight bout.
Contact reporter Adam Hill at ahill@reviewjournal.com or 702-224-5509. Follow him on Twitter: @adamhilllvrj